Facebook silent on ads next to graphic Buffalo shooting posts, McDonald's and Wendy's sued over burger size and what consumers want from influencers
Also: KIND celebrates World Bee Day with influencer campaign.
Hello, communicators:
Buzz, buzz. No, that's not your phone — it's World Bee Day!
Health food company KIND is celebrating by teaming up with TikTok influencers Mr. and Mrs. Bee Rescue to raise awareness about the role that bees play in food production.
The press release highlights KIND's commitment to sourcing more than half of its almond supply from bee-friendly farms by the end of 2022 and requiring its almond suppliers to reserve up to 5% of their land for pollinator habitats by 2025.
"Pollinators, like bees and butterflies, are central to the plant-based ingredients that many of KIND's products depend on. We are excited about the leadership we've seen from the almond grower community over the past few years to expedite the transition to bee-friendly practices," said KIND CEO Russell Stokes in the release. "We are eager to continue to build on this momentum as we approach our 2025 target and hopeful we can complete this transition ahead of schedule."
Here are today's other top stories:
Facebook quiet amid reports of ads running beside Buffalo shooting posts
New reporting from The New York Times found that social media giant Facebook is allowing advertisements to run alongside posts showing graphic footage of a gunman's deadly attack on Buffalo grocery store patrons.
NYT's Ryan Mac reports:
Searches for terms associated with footage of the shooting have been accompanied by ads for a horror film, clothing companies and video streaming services in tests run by The New York Times and the Tech Transparency Project, an industry watchdog group. In some cases, Facebook recommended certain search terms about the Buffalo gunman video noting that they were "popular now" on the platform.
In a statement to the Times, Meta spokesperson Andy Stone did not address the ads.
"Our aim is to protect people using our services from seeing this horrific content even as bad actors are dead-set on calling attention to it," he said.
What it means: A response to scandal or wrongdoing by your organization that doesn't directly address the allegations is the worst kind of nothingburger. Failing to respond to an issue, while making a statement about something else, can make it seem like your organization doesn't care about the issue — optics that should be avoided in times of PR crisis.
---
MEASURED THOUGHTS
A new report from Sprout Social reveals that marketers and consumers believe the most important qualification of an influencer is the creator's experience with a brand product.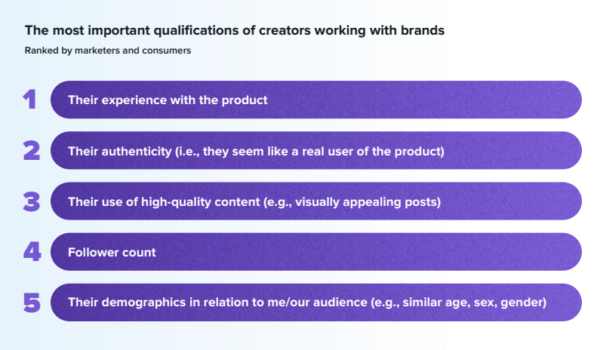 Polling of marketers and consumers shows experience is the most important qualification of creators who work to promote brands' goods and services, followed by authenticity, high-quality content, follower count and creator demographics.
The data shows that consumers crave authentic, experienced content from influencers and creators, and viewers value good content traditional markers of social media success, like follower counts.
Read more from the Sprout Social report here.
McDonald's, Wendy's sued over misleading advertisements
A lawsuit accusing McDonald's and Wendy's of intentionally misleading consumers about the size of their hamburgers is drawing mixed reactions on social media.
The BBC reports that a New York man is suing the chains, accusing them of "unfair and deceptive trade practices," and seeking $50 million in damages for himself and other customers.
"The lawsuit against McDonald's and Wendy's says the burgers in the marketing are at least 15% larger than they are in real life," writes the BBC. "It includes some of the reactions on social media calling out the firms for the discrepancy."
On Twitter, some users agreed with the basis of the suit:
It's about time. All the burgers have gotten smaller and the prices gotten higher.

— Johnny Guzman (@AngelsnLakers) May 19, 2022
we should normalise this, food should exactly the same as in the ad, just like in Japan

— Amir (@Amirkodi91) May 19, 2022
While others claimed customers should expect discrepancies between advertised and actual fast-food meals:
It's a fact that the pictures of McD's burgers look incredibly enticing, but the real thing is some scrawny, shriveled thing. People might not buy if the pictures were showing the real deal.

— Nick (@nickfcng) May 19, 2022
Erm…it's called food styling!🤦🏾

Unless McDeez & Wendy can afford to have 1 for every single order made, y'all have to settle for what you get!

— Kęz•ኬዝያ (@K_ez1ah) May 19, 2022
Neither company has publicly commented on the issue.
Why it matters: The fact that the lawsuit makes use of social media posts — regardless of the legal efficacy of that strategy — is a testament to the importance of social media in brand perception. People want honest, authentic communications from the businesses they patronize and are willing to take legal action to get it.
COMMENT