FDA authorizes vaccine booster for immunocompromised, 2020 Census data highlights American diversity, and McDonald's responds to diaper mask lawsuit
Also: Taco Bell announces 'Defy' restaurant, Verizon commits to low-income customers, and more.
Hello, communicators:
While many brands have capitalized on this age of dystopian disruption by leaning more heavily into virtual experiences or e-commerce, Taco Bell has replied "hold my chalupa" and introduced a new restaurant concept designed for the pandemic age.
The fast-food chain has announced it will build a two-story restaurant in Minnesota called Taco Bell Defy that will feature four drive through lanes, three of which are dedicated to mobile or delivery order pickups. The restaurant will also use digital check-in screens that let mobile order customers scan their order using a QR code and provide contactless delivery of their food using a proprietary lift system. Taco Bell Defy will also use two-way audio and video tech to allow for direct contact between customers and employees.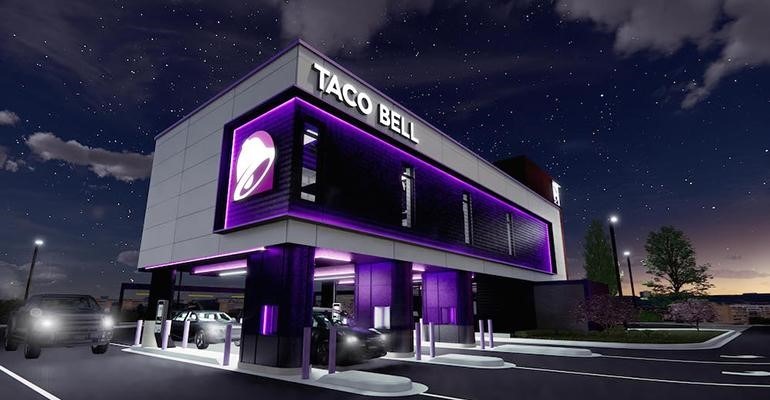 "In 2015, we created the Taco Bell Cantina concept with an open kitchen environment in urban markets. In 2020, we introduced the Go Mobile concept much earlier than anticipated with the help of quick collaboration with franchisees just like Border Foods," Taco Bell President and Global COO Mike Grams said in a press release. "Partnering with our franchisees to test new concepts is a huge unlock of learning for us. What we learn from the test of this new Defy concept may help shape future Taco Bell restaurants."
Twitter was ready with the jokes:
Just squirt nacho cheese into my mouth at this pointhttps://t.co/SKcMsMrH4i

— Jason Abbruzzese (@JasonAbbruzzese) August 12, 2021
this is the pinnacle of American ingenuity

it's all downhill from here https://t.co/WRnmF3HJw8

— Mike Murphy (@mcwm) August 12, 2021
As businesses are forced to adapt to the changing consumer habits of a world in flux, Taco Bell's announcement serves as a reminder to communicate how your innovations and new developments put customers and external stakeholders first. Be sure to also communicate how your innovations are rooted in data and consumer trends that will be sustained beyond any current period of industry disruption.
FDA explains vaccine booster authorizations
The FDA has announced that immunocompromised people are authorized to get a third dose of the Moderna or Pfizer COVID-19 vaccine, framing the decision around newly rising infection rates caused by the Delta variant.
"The country has entered yet another wave of the COVID-19 pandemic, and the FDA is especially cognizant that immunocompromised people are particularly at risk for severe disease," acting FDA Commissioner Janet Woodcock said in a statement. "After a thorough review of the available data, the FDA determined that this small, vulnerable group may benefit from a third dose of the Pfizer-BioNTech or Moderna Vaccines."

"As we've previously stated, other individuals who are fully vaccinated are adequately protected and do not need an additional dose of COVID-19 vaccine at this time," Woodcock continued. "The FDA is actively engaged in a science-based, rigorous process with our federal partners to consider whether an additional dose may be needed in the future."

The number of people who will be eligible for the third dose is a fraction of those who are fully vaccinated, experts said. "That encompasses a relatively small proportion of the population, around 3% or so of people would fall into that category," Dr. Anthony Fauci, chief medical adviser to the White House, said in an interview on ABC's "Good Morning America" Thursday.
What it means:
While the CDC's messaging emphasizes that extensive research preceded this decision, more specific explanations of what that process looks like could help dispel the flood of disinformation circulating around the efficacy of vaccines. These statements being shared with ABC News, meanwhile, also fuel conspiracy theories around collusion and raise questions about whether the messaging will resonate with all its target audiences. Be sure to consider the highly polarized, bipartisan news media ecosystem when building your media relations strategy.
MEASURED THOUGHTS
Recently released data from the 2020 U.S. Census shows that diversity is rising in the U.S., as the number of white people in the country fell for the first time since 1970. Hispanics, meanwhile, have doubled in population since 1990 to now make up 18.7% of the population. People of Asian descent have doubled their population since then, too, to account for 6.1% of the population. The nation's population of Black Americans has remained steady according to the Census, at 12.1%.
Nicholas Jones, director and senior adviser of race and ethnic research and outreach at the Census Bureau's population division, told The Washington Post these results indicate that our country is "much more multiracial and much more racially and ethnically diverse than what we measured in the past."
Diversity, Equity and Inclusion [DE&I] leaders have long shared a version of the aphorism that "Diversity is a fact, Inclusion is a practice, and Equity is the goal." This new data from the U.S. Census Bureau backs up the notion that diversity is a fact. The numbers create an opportunity to advocate for launching DE&I initiatives at your organization by drawing a parallel between how changing audience demographics connect to your business' bottom line.
RAGAN'S WEBINAR WITH GRAMMAR GIRL
With language being so fluid, you can't rely on that tattered old copy of the AP Stylebook from eight years ago. What can you do to ensure your communications are stylistically modern and professional?
Join Ragan Communications and Grammar Girl for a webinar on Thursday, Aug. 19, as Grammar Girl herself, Mignon Fogarty, leads us through her advanced course on AP style . You'll gain more confidence in your messaging efforts, and you'll get clarity on thorny issues that vex even experienced writers.
TACTICALLY SPEAKING
Verizon has announced a wide range of commitments following the company's acquisition of prepaid, no-contract mobile provider TracFone. The commitments, which were conditional to the acquisition and discussed with public interest groups and The Communication Workers of America [CWA], includes Verizon continuing TracFone's Lifeline subsidy program for at least three years and offering a subsidized 5G program for low-income TracFone customers.
"These commitments ensure TracFone customers will continue to have access to Lifeline, an essential program for millions of families," senior CWA researcher Brian Thorn said in a statement Thursday. "Today's success would not have been possible without the support of our allies and an FCC interested in protecting the interests of customers over corporations."
"Today, we filed a letter at the FCC reflecting Verizon's commitments resolving those concerns. Our letter sets out enforceable commitments that will ensure that consumers benefit from the stronger prepaid competition that this transaction will bring," Verizon said in a statement. "We've said all along that providing great service to value-conscious consumers, including Lifeline customers, is what this deal is all about, and today's letter reflects that commitment… We look forward to discussing these commitments with the FCC, so that we can bring the benefits of the transaction to value-conscious prepaid consumers as soon as possible."
Verizon's acknowledgment of how important the Lifeline subsidy program is to TracFone customers demonstrates empathy and a familiarity with what makes TracFone unique beyond its potential for profitability. By compromising with its industry's leading union, the telecom giant also holds itself accountable to the newly acquired TracFone customers.
RAGAN'S 2021 BENCHMARK REPORT
Ragan has released its annual Communications Benchmark Report, an exclusive study from Ragan's Communications Leadership Council that analyzes the major trends in the profession over the last year.
During that time, comms pros have been called on to develop and distribute messages on new policies that affect internal and external stakeholders alike. Their role has become more essential as they helped keep their organizations focused and moving forward. They've seen their access to the C-suite increase throughout 2020, and they forged important new alliances with peers in other departments, including HR, finance and workplace wellness.
Culled from more than 750 respondents, the 32-page report is available in its entirety exclusively to members of the Communications Leadership Council.
Download your copy of the exclusive Benchmark Survey Executive Summary today and get a crucial competitive advantage that will fuel your success for 2021 and beyond.
McDonald's responds to franchise lawsuit over workers wearing dog diaper face masks
The owner of a McDonald's franchise in Oakland, Calif., has settled a lawsuit with employees that claimed the restaurant provided them with masks made of dog diapers and coffee filters at the start of the pandemic last year. The lawsuit claimed that the franchise owner's failure to follow safety protocols resulted in a COVID-19 outbreak among employees. Included in the settlement are new safety measures that include social distancing, contact tracing and paid sick leave, along with the establishment of a management-worker committee that will meet monthly to discuss compliance of the new policies.
The McDonald's Corporation was not a defendant in the Oakland lawsuit or a party to the settlement, but the legal complaint argued that the company "misleadingly sought through extensive advertising to reassure customers" that its stores had effective safety protocols in place.

 The company said in a statement, "While we're confident that any outlier conduct like that alleged in these complaints does not reflect what has broadly happened and continues to happen across 14,000 U.S. McDonald's locations, we're no less focused on ensuring that we have clear processes and the right resources to promote the safety and well-being of crew and customers."
Why it matters:
McDonald's statement on the settlement tactfully mentions the company's large number of franchises to position this crisis as an outlier case. Its vague mention of process and resource, however,  invites additional questions as to why the corporation's COVID-19 safety and well-being policies were not standardized or enforced across franchises in the first place. When establishing a crisis command center, be sure to include tools and resources that allow for real-time messaging between corporate and your partners. This will ensure that communications best practices are strategically embedded everywhere where your corporate team can't have eyes and ears 24/7.
COMMENT
One Response to "FDA authorizes vaccine booster for immunocompromised, 2020 Census data highlights American diversity, and McDonald's responds to diaper mask lawsuit"
Ronald N Levy

says:

Will all this vaccine news get us to consider a far-out sounding idea that could importantly help our clients and our careers? It's that some of us in PR could guide clients to help create a cancer vaccine.

It could happen. Look at (a) the need for a cancer vaccine, (b) the chance of creating one, and (c) how a company could benefit hugely by supplying some of the money needed for success.

THE NEED is clear from the fact that one in five people eventually dies of cancer. The world has over six billion people so a cancer vaccine that's even 10% successful could save 120 million lives. Sounds fantastic but do the math.

OPPORTUNITY FOR SUCCESS is shown by three things.

.1. The most popular Covid vaccines are over 50% to 90% effective although largely developed in less than three years.

.2. Surprisingly to many, successful cancer vaccines for limited uses already exist and one is FDA approved! We can see this on the website of Memorial Sloan Kettering Cancer Center.

.3. The top developers of cancer vaccines are not hotshot kids with big talk and small if any achievements but are two of the most respected cancer doctors alive: Stanford University's Dr. Ronald Levy (no relation to me) who has been researching a cancer vaccine for over 30 years, and his colleague Dr. Andrew Zelenetz of Memorial Sloan Kettering Cancer Center in New York. These doctors are like the Elon Musk and Jeff Bezos of cancer medicine.

CORPORATE PR REWARDS from sponsoring cancer vaccine research can be worth billions.

.1. Washington action that could cost major companies billions a year in lost earnings and lost market value could be averted because damn few politicians will support added taxes or regulations that would impair a company's ability to keep funding cancer vaccine research the public loves.

.2. We can easily judge whether 100 million or more consumers would gladly spend billions a year more for groceries, pharmaceuticals or fast foods from a company looking for a cancer vaccine that could save our lives.

.3. Gelt by asssociation could result from company executives and worldfamous doctors having worldwide media every few months on their progress and prospects in finding a vaccine for us.

.4. By just TRYING to find a vaccine, a company's top executives and even factory employees will be appreciated more by neighbors and family members, and may become safer because it's true that "the life you save may be your own."

PR can do this for the public and for each of us in PR who make it happen.