Google and Robinhood receive backlash over GameStop trading moves, Levi's creates lifestyle collection for Target, and Dunkin' offers fans the chance for a drive-thru wedding
Also: The majority of PR pros consult on DE&I issues, DiGiorno offers free 'pi' for the Super Bowl, Kraft offers sweet, pink macaroni and cheese, and more.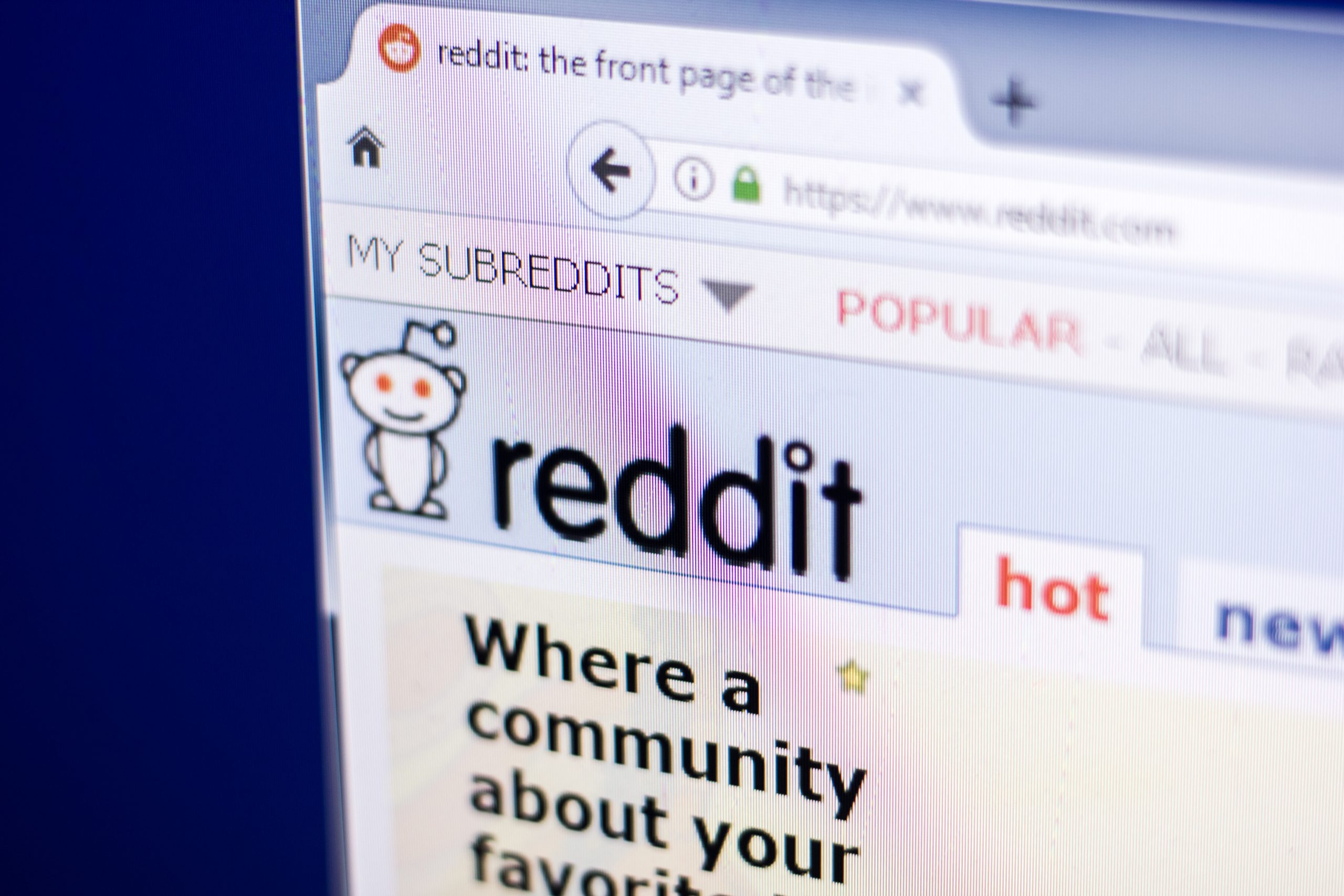 Hello, communicators:
Dunkin' is giving its fans an opportunity to get married at one of its drive-thru locations in New York:
In a press release, Dunkin' said:
Dunkin' has teamed up with I Do Drive Thru, an international drive-up wedding service created to help people get married in a fun and safe way during the pandemic, to perform the ceremonies. In addition to the Dunkin'-themed ceremony – complete with festive décor and picture perfect photo moments – each couple will receive special wedding presents from Dunkin', including a gift basket of Dunkin' wedding gear and accessories, professional photos from the big day, and a $500 cash prize.
The contest winners' wedding will kick off Valentine's Day weekend on Friday afternoon, February 12, at a Dunkin' location in the Town of Wallkill, New York (address: 350 Route 211 East, Middletown, NY 10940). Other couples can also visit this location between 3:00 p.m. and 4:00 p.m. for a drive-thru vow renewal or commitment ceremony conducted by I Do Drive Thru.
Dunkin's "Marriage is on the Menu" contest is open to consumers in the state of New York, and interested couples should submit a photo on Instagram, including a caption explaining why they want to get married in Dunkin's drive through. You can enter through Jan. 30 under the hashtag #DunkinIDoContest, and winners will be chosen Feb. 2.
The stunt is a fun way to market for a holiday, while adapting your efforts to meet COVID-19 safety measures.
Here are today's top stories:
Google and Robinhood receive backlash from 'WallStreetBets' subreddit
Investment and trading app Robinhood prompted criticism after it blocked purchases of GameStop, AMC Theaters and additional stocks that were quickly increasing in value, thanks to a concentrated effort from Reddit's r/WallStreetBets users. Consumers quickly organized efforts to give Robinhood a slew of one-star reviews on both Apple's App Store and the Google Play Store—until Google stepped in, removing more than 100,000 reviews to bring Robinhood back up to a nearly four-star rating.
The move received additional backlash from angry consumers looking to have their voices heard.
It's not outside Google's purview to delete these posts. Google's policies explicitly prohibit reviews intended to manipulate an app's rating, and the company says it has a system that "combines human intelligence with machine learning to detect and enforce policy violations in ratings and reviews." Google says it specifically took action on reviews that it felt confident violated those policies, the company tells The Verge. Google says companies do not have the ability to delete reviews themselves.
… Unhappy Robinhood users aren't just using reviews to show their ire — they're also calling for a class action lawsuit. Later on Thursday, Robinhood said it would allow "limited buys" of certain stocks on Friday. The company said that halting purchases on Thursday was "a risk-management decision."
Why it's important: Being on the receiving end of internet users' rage is an unsavory position, but consider your options carefully when crafting your responses and deciding on your crisis reactions. Usually deleting comments and reviews are one of the worst things you can do, because it shows that your organization isn't willing to listen to consumer complaints and concerns. Coordinated efforts to crash an app's ratings aside, remember to listen and incorporate audience feedback when reacting to a crisis.
---
TACTICALLY SPEAKING
DiGiorno is bringing back a delicious promotion for Super Bowl LV by offering consumers the chance to win a free pizza "pi" if the score between the Tampa Bay Buccaneers and Kansas City Chiefs reaches 3-14 or 14-3. This can happen at any point in the matchup, and doesn't have to be the final score: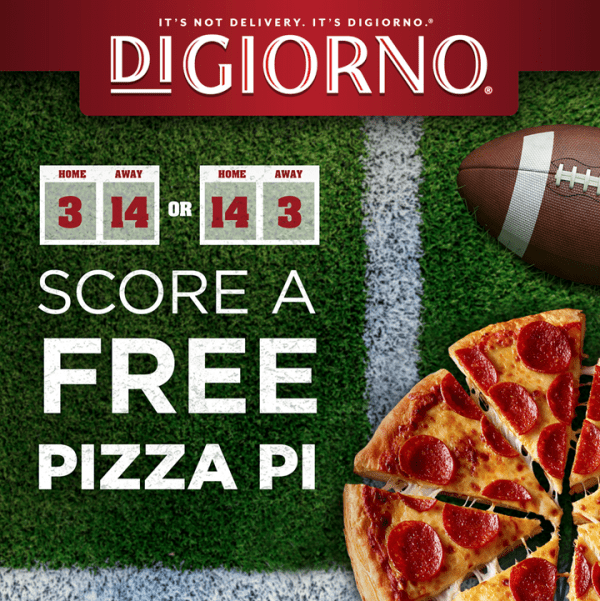 If the "pi"-worthy score hits, DiGiorno's social media team will tweet a link for consumers to enter, and prizes are awarded on a first-come, first-serve basis.
Adam Graves, president of pizza and snacking at Nestlé, said in a press release:
We were overwhelmed by the positive response to the DIGIORNO Pi Score Promotion during last year's Big Game – an obvious fan favorite. It was a no-brainer to bring it back for year two and give fans another fun rooting interest in the game.
Are you working on efforts for the big game on Feb. 7? Share with us under the hashtag #DailyScoop.
---
MEASURED THOUGHTS
Muck Rack partnered with The World in 2020 Project to publish its 2020 State of Diversity, Equity and Inclusion in PR report, which can provide important insights for communicators working on these initiatives in 2021 and beyond.
Seventy-nine percent of communicators said they "sometimes," "usually" or "always" provide strategic counsel for DE&I issues, with 20% reporting it's a focus. Most communicators (93%) said they're confident in advising on these issues, with 39% pointing to their organizations' or agencies' mission and values as a driving factor: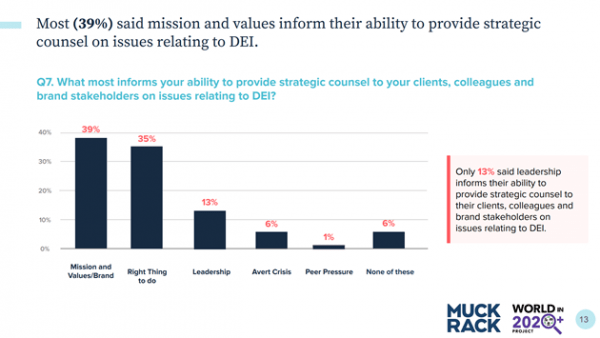 Though most communicators are working with stakeholders on DE&I issues and initiatives, only 42% report that their organizations have set aside a budget for these efforts. A lack of resources can slow down the efficacy behind DE&I commitments, leaving communicators to fight for a bigger piece of the pie for purpose-driven efforts: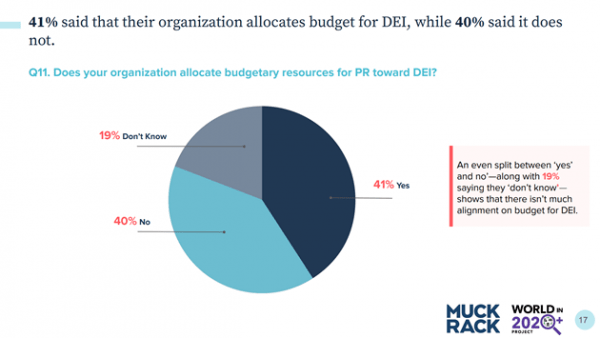 You can read the entire report here.
---
TACTICALLY SPEAKING
Kraft Heinz's Macaroni & Cheese announced a contest in which consumers can enter to win one of 1,000 boxes of "sweet, pink #CandyKraftMacAndCheese":
This Valentine's Day, we're giving 1,000 lucky lovebirds the chance to turn their mac and cheese into sweet, pink #CandyKraftMacAndCheese. To enter and see official rules, visit: https://t.co/4IVysaCuYy. NO PURCHASE NECESSARY. Ends 2/8/2021 pic.twitter.com/gOFvEr6D5Z

— Kraft Macaroni & Cheese (@kraftmacncheese) January 27, 2021
As Kraft explains, "Candy Kraft Mac & Cheese is made with the same cheesy Kraft Mac & Cheese Americans know and love, but includes a candy flavor packet to turn the mac & cheese pink and add hints of sweet candy flavor." Yes, this is a regular pasta dinner with a touch of decidedly Valentine's Day candy-inspired sweetness.
"After our success with Pumpkin Spice Kraft Mac & Cheese in the fall, we had our eye on what to do next," Martina Davis, brand manager at Kraft Heinz, told me. "We're always up for a challenge, so for Valentine's Day we thought it would be fun to partner with our Canadian counterparts to change the color AND taste of classic Mac & Cheese by turning it pink and adding a bit of sweet candy flavor to celebrate the holiday."
If you're not grossed out by the sight, you can enter through Feb. 8.
---
CRISIS LEADERSHIP NETWORK
Looking for more insight on how to address the current global crisis and lead your organization into a strong recovery?
Join Ragan's Crisis Leadership Network to connect and brainstorm with peers, get the latest intelligence and research and start to strategize for the future of your organization.
Learn more about this exclusive membership here.
Levi's creates home collection for Target
Along with launching baggy jeans to cater to consumers' looks as many work from home during COVID-19, Levi's also announced a line of home and lifestyle goods that will be available at Target next month:
Introducing #LevisxTarget, a collection of thoughtfully-designed, durable pieces for a more sustainable home + life. Arriving February 28 for a limited time, only at https://t.co/9JcJL8mdUv and Target stores. pic.twitter.com/fqp2lcQQ86

— Levi's® (@LEVIS) January 26, 2021
Several items in the collection feature recycled glass, Fair Trade USA certifications or other sustainably focused features.
In a press release, Target wrote:
Imagine more than 100 items crafted with durability and sustainability in mind, including gear for your home and pets and apparel and accessories that are made to last—all landing just in time for a spring refresh on February 28. Most exciting of all? This collection marks the first Home partnership for the Levi's brand. And it's only at Target, of course.
Minneapolis Star Tribune reported:
Levi's doubling down on its partnership with Target makes business sense for the San Francisco brand. The department stores where Levi's has traditionally sold its jeans have struggled — especially during the pandemic—to maintain foot traffic.
In its third quarter that ended in August, Levi's reported its revenue declined 27%, primarily due to impacts of the pandemic including reduced foot traffic and ongoing closures of its own stores and third-party retail locations.
Why it matters: Consider how you can partner with other organizations to drive brand buzz and traffic during COVID-19 and beyond. This could be in the form of a retail partnership or collaboration, but communicators across organizations and industries can also swap social media posts to reach new audiences or brainstorm in a roundtable discussion on policies, templates and other strategies to improve crisis response, DE&I efforts, virtual marketing efforts and more.
---
TAKE OUR SURVEY
The start of a new year brings more opportunities for communicators across roles, organizations and industries to develop effective strategies and efforts that can strengthen their brands amid continuing crises, including the COVID-19 pandemic.
Ragan's Communications Leadership Council has created The 2021 Communications Benchmark Survey, and wants to know your challenges, successes and needs as you navigate the rapidly shifting communications landscape and respond to unprecedented crises as well as new opportunities.
Please share your insights with us. As a thank you for your time and insights, you'll receive an Executive Summary of the report, packed with proprietary research that can help you better shape communications strategies in 2021. You'll also be entered to win one of five $100 Visa gift cards.
---
WHAT YOU SAID
We asked if you're using consumer insights, and nearly 55% of you are digging in, with 27% of you working on including more insights in your strategies and campaigns. Roughly 9% of you want to focus on consumer insights:
Are you actively using consumer insights or making it a focus for the year?

Comment below and tell us how you're gathering and applying consumer insights to your communications efforts, and we'll share in tomorrow's #DailyScoop.

— PR Daily (@PRDaily) January 28, 2021
Is there question you'd like to see asked? Please let us know under the #DailyScoop hashtag!
---
SOUNDING BOARD
What's your most-hated email opening, PR pros?
What's your most-hated email opening, PR pros?

Whether you're sending a pitch, asking for a partnership or checking back on another effort, comment below with the phrase(s) you think should be banned from our inboxes.

We'll share in Monday's #DailyScoop. pic.twitter.com/PiutRgEeIy

— PR Daily (@PRDaily) January 29, 2021
Whether you're sending a pitch, asking for a partnership or checking back on another effort, weigh in below and on Twitter under the hashtag #DailyScoop. We'll share in Monday's roundup.
COMMENT
2 Responses to "Google and Robinhood receive backlash over GameStop trading moves, Levi's creates lifestyle collection for Target, and Dunkin' offers fans the chance for a drive-thru wedding"
Responsive Web Design isn't a pattern any longer, it has become a necessity in every business. Digital content in a responsive website design is intended to be seen on a fantastic plenty of gadgets in this day and age. In this manner, Responsive Web Design offers the route forward. It's ideal for devices that change from picture introduction to scene in a moment or for when clients change from a real PC or workstation screen to an iPad. This is why a mobile responsive web page exists.

good post, thanks