HarrisX/Ragan survey reveals leadership is the No. 1 skill CEOs value in communicators
But the top skill communicators value? Writing. This is one of many gaps between executives and communicators' expectations and priorities revealed in the new CEO-Communicators Competencies survey.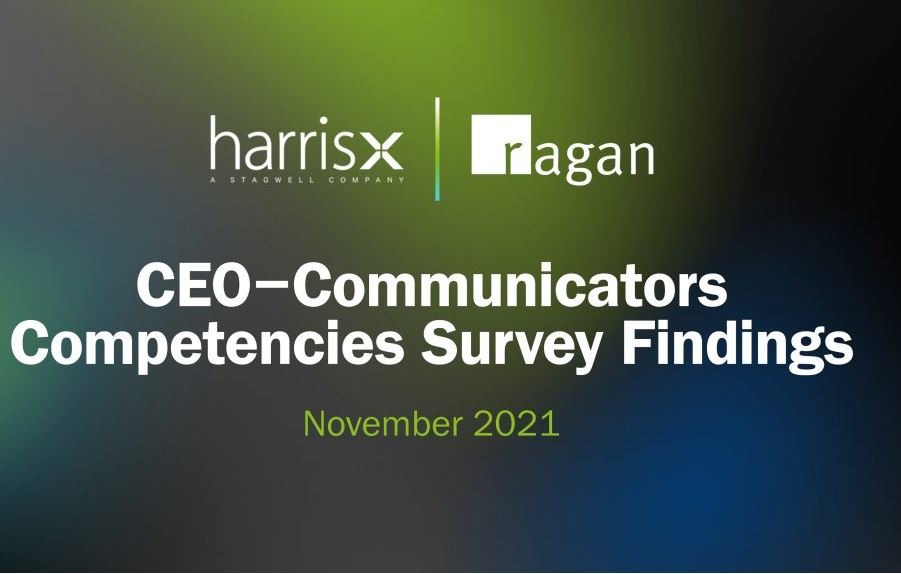 Communicators are on a never-ending mission to earn respect for their craft and a more influential seat at the decision-making table.
The turmoil of COVID-19 has revealed the indispensable nature of clear communication and demonstrated the immense value of these often "hidden heroes" who craft timely messaging, but are top-level execs taking notice? If so, what traits, talents and tactics are they looking for?
The HarrisX/Ragan CEO-Communicators Competencies Survey of 552 CEOs and other high-ranking communications officials conducted online in the U.S. from Oct. 22-Nov. 15 revealed how each of these leaders view the other's role and responsibilities—and what they value most in their interactions.
There are areas where the two agree—employee comms and reputation management are high-value—but there is a discrepancy when it comes to staffing and budget. CEOs say communicators have enough resources to accomplish their goals while communicators say they do not.
The insights are illuminating for our current moment of pandemic limbo—and certainly instructive on where priorities should shift moving forward. In a Nov. 17 session at Ragan's Future of Communications Conference, Ray Day of Stagwell Group and Dritan Nesho from HarrisX delved into the survey's key findings:
1. CEOs see themselves as responsible for all major communications, while communications leaders see a division of duties.
Communication leaders say the CEO is responsible for defining the company purpose and speaking to employees.
Communication leaders believe they are responsible for employee and external communications, and reputation.
2. CEOs at companies of different sizes see their role in communications differently.
CEOs at small companies hold themselves responsible for external and internal communications.
CEOs at medium and large companies report they want their CCO or head of people to take on these duties.
3. The most valued communications competencies vary by size of company and role within company.
CEOs of small companies value listening above all else.
CEOs at medium/large companies value experience, strategic planning, risk management, creativity and flexibility.
Communication leaders most value critical thinking, relationship building and judgment.
4. CEOs from companies of all sizes say the skill in a communicator they value most is team leadership. Project management and data analysis rank highly, too.
Meanwhile, communication leaders rank writing most highly.
Both groups agree that executive and employee communication and reputation management are high-value areas.
5. CEOs do not see eye to eye with communication leaders when it comes to staffing and budget.
CEOs overwhelmingly say the designated communicator has enough resources to accomplish goals.
Yet 3 in 10 CCOs and half of SVPs/VPs say they do not have enough resources.
Setting yourself up for future success
Despite the well-earned rise of communicators' profiles and reputations amid ongoing COVID-19 crises, this data shows there's still work to do to ensure your seat at the table.
Download your copy of the Harris X/Ragan survey here.
COMMENT