How comms pros can increase their earning potential
Advocate to increase your worth.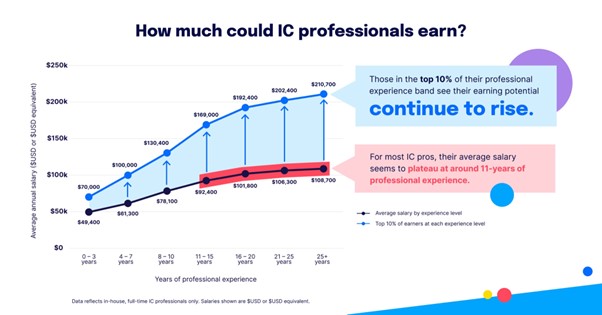 After the last few years, it's unlikely that the role of internal communication professionals (ICs) will ever be the same again. The profession has gone through a crucial evolution since 2020 and as we enter 2023, we're still facing unending global changes and challenges. Leaders are relying on IC professionals to guide and advise them on how to navigate messaging in the face of multiple ongoing crises. It's a profession with extremely high value (and high expectations), especially now.
But there is a problem. This value is not necessarily being rewarded with higher compensation or recognition. According to the second annual Internal Communications Salary Report, few ICs prioritize articulating the value they provide. Many hesitate to self-promote. And they are being underpaid as a result. 
IC pros seem to suffer from chronic humility, with "recognition" ranking last (46%) in factors that they consider "very important" to their job satisfaction. Yes, taking credit and being vocal about your successes can be uncomfortable. But it also increases your visibility, builds your case for a "seat at the table" and ultimately could be crucial in helping you negotiate the salary you deserve.
Recognition is powerful
From what I'm hearing via Comms-unity, the largest free IC Slack community, IC pros barely have enough time to breathe, much less find the time to promote themselves. Yet, recognition is essential for building credibility with other employees and company leaders. It can help expand the reach of internal campaigns, secure additional budget for digital IC tools and channels, and demonstrate the overall business value IC delivers. 
Research shows that ICs prioritize other factors like culture (91%), people (83%) and flexibility (80%) ahead of recognition (46%) when it comes to job satisfaction. While these are all important, ICs should not underestimate the power of recognition to advance their careers. So, it's time to stop being humble. 
IC professionals do incredible work. But if you're not being recognized for that, it's time to make some noise. It's time to make sure everyone knows your name, what you do, and how damn good you are at it.

Success breeds success
While bragging about how good you are at your job may seem selfish or self-involved, it's actually quite the opposite. When you succeed, the company succeeds — your success is their success. When you get recognized for your hard work, the value and potential of a strong internal comms function is demonstrated to everyone. When you fight for raises and promotions, you're helping other communicators do the same. Rising tides lift all ships. 
So how do you get recognized? Well, there are a number of ways to get noticed in 2023 internally and externally. One way is to apply for annual industry awards like Ragan's Employee Communications Awards, IABC Gold Quill and CIPR Awards. You can also work on building relationships with leaders and other stakeholders who can advocate your work within the organization. 
Another great way to get recognition is by "working out loud" -– making sure that everyone knows what you're doing, when and why. Make a plan to link your communication campaigns to business outcomes and share your successes with stakeholders liberally. 
Earning potential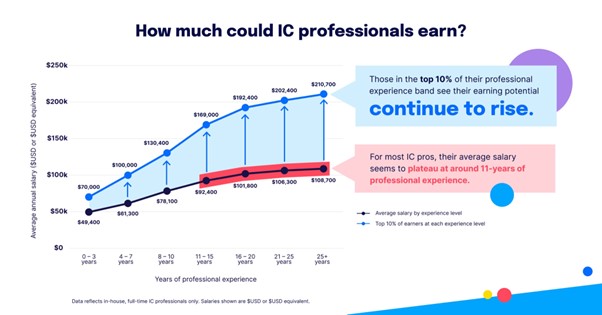 As noted in the graph above, while most ICs see their earning potential plateau at around 11 years of professional experience, those in the top 10% of earners see their earnings continue to rise. It's clear that internal communications has the potential to be a lucrative and rewarding profession for those who stick with it. But with many ICs facing challenges when it comes to receiving support for professional growth, progress can be slow. This can mean that it's easier to increase your salary by job hopping, rather than advocating for a raise in your current role. 
So is it better to ask for a raise or to just look for a new job with higher pay?

It might seem uncomfortable at first, but asking for those well-deserved promotions and talking openly to managers about your value and salary, helps raise the bar for all IC professionals. If you feel like you're not making progress at your current workplace and are looking to job hop to get ahead, before you leave, make sure your current employer understands the value you provide and the salary that value warrants. And if they won't meet your salary expectations, by all means, job hop to where you can get what you deserve. You rest easy knowing that you tried your best and raised the bar for the next IC pro who will fill that role.
My hope is that by starting a conversation about the earning potential for ICs, it will help shed light on whether they are being underpaid, and provide support in salary negotiations and charting career paths. Ultimately, ICs play a vital role in organizations' success, and they must be empowered to advocate for the tools, budgets, and salaries they deserve.  
Want insight into what other IC pros are making around the world? Check out this global breakdown of average salaries: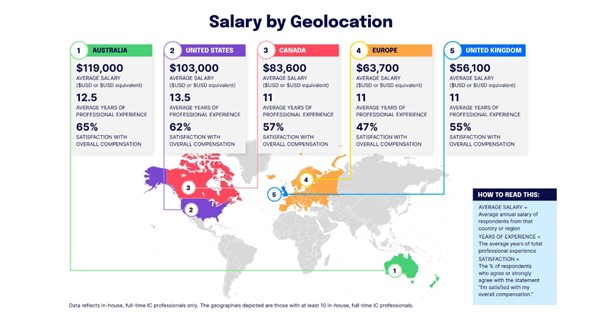 Kyla Sims is principal audience engagement manager at Staffbase.
COMMENT