How Microsoft manages culture change
Insights from Microsoft's corporate VP of talent, learning & insights at Ragan and PR Daily's Strategic Communications Conference.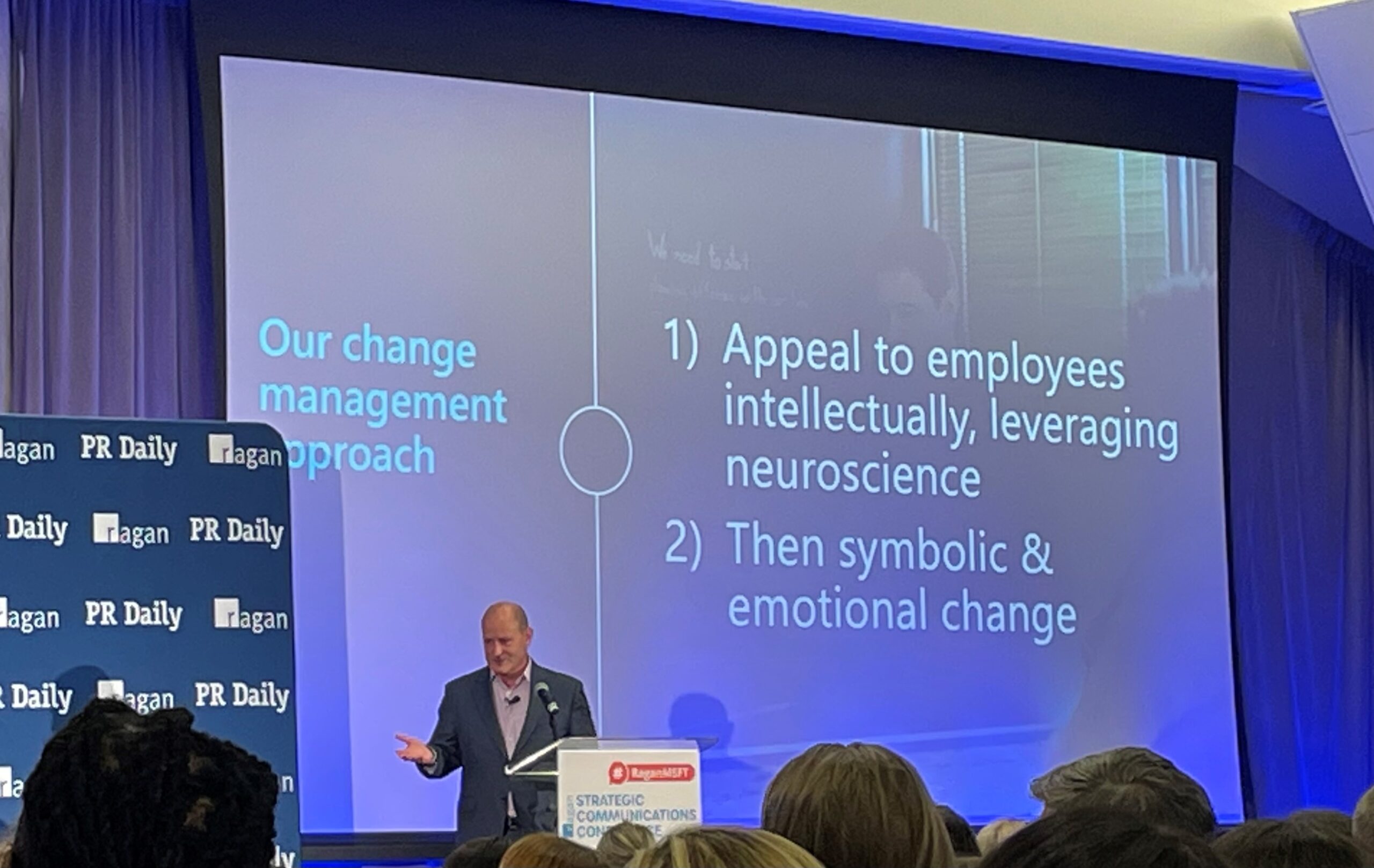 Your company's culture is not an accident. It's a deliberate choice that must be reinforced regularly from the top down.
And of course, that all has to be communicated.
Joe Whittinghill, corporate vice president of talent, learning & insights at Microsoft, took to the stage Wednesday at Ragan and PR Daily's Strategic Communications Conference, to explain how the tech giant has gone about changing their culture to inspire and innovate their international staff.
"We're making sure as we make those changes that we can clearly communicate them not only to employees and candidates and interns, but also to our customers and partners," Whittinghill said during "Creating a culture that thrives in change: How we inspire and innovate (so you can too)."
Here's how Microsoft has approached this challenge.
Microsoft's key cultural attributes are easy to remember: they're customer obsessed, diverse and inclusive, and one Microsoft (that is, one team working together).
Nearly half of Microsoft's employees started during the pandemic. That distance and newness can make it much more difficult to communicate culture than it is when you're in an office at least 40 hours a week.
So Microsoft is making a significant investment in helping everyone understand that culture. They're holding 3-hour values conversation with all 220,000 of their employees.
That's a heavy lift, to be sure. And Whittinghill wants to be clear that this isn't a training, it's a conversation led by all 3,000 of the company's managers of managers, starting with CEO Satya Nadella and trickling down from there.
"What we're not going to do is having a bunch of HR people standing up and talking about culture and leadership," Whittinghill said. "We're going to use our leaders to go do that."
That can be a difficult ask, especially when hard questions about cultural issues like #MeToo, Black Lives Matter, abortion and more can come up in these conversations. But the communications team has prepared them with a three-step approach to leadership any organization can borrow:
Leaders should:
Create clarity: Uncertainty causes more anxiety than outright bad news, Whittinghill said.
Generate energy: Get the team moving in the same direction.
Deliver success: Get the results your organization needs to thrive.
As difficult as these conversations can be, Microsoft has found that it's a strong way of delivering alignment across the company and a way to create spaces where everyone can speak and be heard.
But what about when you need to not just explain your culture, but actively make a change to it? Whether that's moving to a hybrid work model or taking a new approach to business, it can be hard to change the direction of a ship — especially one as big as Microsoft.
Plus, as Whittinghill joked, "Engineers can smell baloney about five miles away."
So Microsoft approaches change management with a three-pronged approach: using neuroscience to deliver the logic of their changes, followed by symbolic and emotional change.
"Symbolism is as important as everything else. Take every opportunity to think through the symbolic changes you need to make," Whittinghill advised.
Microsoft is also deliberate about the pace of change. Originally, they set a cadence for one big change every quarter, but over time they found that employees can better digest changes with a slower pace.
They found that out by measuring, using employee pulse surveys, to understand the progress of culture shifts. The process goes in three parts:
Awareness: Do employees know what changes are expected?
Adoption: Are employees doing what's expected?
Advocacy: Are they helping others change and adapt?
Once a critical mass of employees are on board, you can keep making progress forward.
As Nadella said, "Achieving our mission requires us to evolve our culture and it all starts with a growth mindset — a passion to learn and bring our best every day to make a bigger difference in the world."
The Strategic Communications Conference continues Thursday, Oct. 19.
Allison Carter is executive editor of PR Daily. Follow her on Twitter or LinkedIn.
COMMENT
One Response to "How Microsoft manages culture change"
This was an insightful article to read! Keeping internal publics motivated and engaged is a priority that often gets left to the wayside. It's encouraging to hear about leaders stepping up to new challenges and hard conversations instead of shying away.
– Lauren Barnes, writer/editor for Platform Magazine