How organizations can support and have conversations about Black Lives Matter
Executive coach and diversity champion LaTonya Wilkins shares advice on creating change, supporting Black employees and what it means to be a true ally.
When Trayvon Martin was killed in 2012, few organizations spoke up. Business went on as usual.
"It was very distressing," says executive coach and diversity champion LaTonya Wilkins. "I had to go to work and not talk about it."
Today, in the wake of George Floyd's death, organizations across the country are voicing their support for the Black Lives Matter movement and the fight for racial justice. But to achieve actual progress, they'll need to continue a path of change that isn't always easy.
Wilkins shared the following model that can be helpful in enacting those changes in the workplace and beyond.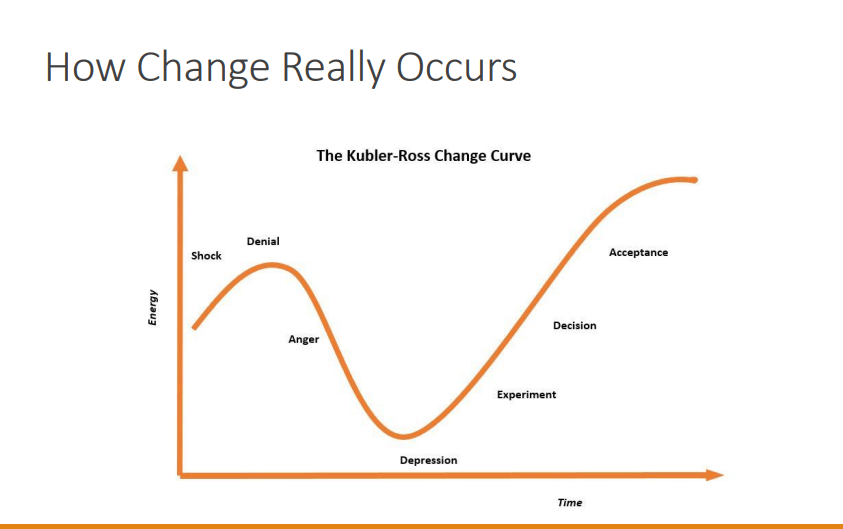 The model is aligned with stages of grief, Wilkins explains, and maps out our response to traumatic events like the murder of George Floyd. Individuals and organizations all expressed shock, disbelief and anger as the terrible news unfolded, but that was only the first step in the change process.
The next stage—depression—is what Wilkins calls "the pit" and is a critical area of the curve.
"Any difficult change that's going to be successful, you have to live in the pit," she says. Too many organizations want to move immediately to experimenting and decision making, which results in short-lived solutions. Being in the pit requires you to do the reflection necessary to understand the issues more deeply.
Crucial to that reflection is having deeper conversations with Black employees, even if those conversations are uncomfortable for allies to initiate. Wilkins calls this "getting below the surface" and writes about the concept in her upcoming book, "Leading Below the Surface." Ask Black employees how they feel more than once, listen to their experiences and figure out how you can help. These acts of support help Black employees develop psychological safety and trust at their organization.
How can you ensure those conversations are safe and healthy? Wilkins shared some ground rules that can keep dialogue supportive:
1. Have a beginner's mind. Don't assume you know the solution.
2. Listen empathetically. Hear what others have to say with the goal of understanding, not correcting or giving advice.
3. Avoid critical cross-talk. When someone shares a story, don't try to compare that to your own experiences.
4. Be vulnerable. It's something many business leaders fail to do and is why their efforts to enact change fail.
Having conversations is only one step of living in the pit. You also need to actively support Black employees during this time of trauma and crisis. Your responsibility as a leader is to comfort to those in that have experienced trauma, not vent to them or provide advice, Wilkins says. Avoid anything that takes the focus off the person suffering, for example, seeking sympathy or validation.
Once your organization is ready to start taking decisive action, it's important to go about it as a true ally to the Black community.
"Allyship is not just about actions you take," Wilkins says. "It's about your willingness to be uncomfortable, stick your neck out, stay in the pit and make unpopular decisions."
Talking about race, forming diverse business partnerships, and addressing systemic issues in your organization and beyond are a few important actions you can take, but as Wilkins stresses, they're only the beginning, and can only be accomplished by true allies.
COMMENT