How The Martin Agency repositioned AXE to vibe with Gen Z consumers
With $0 media spend, the #DogeCan campaign generated 2 billion impressions.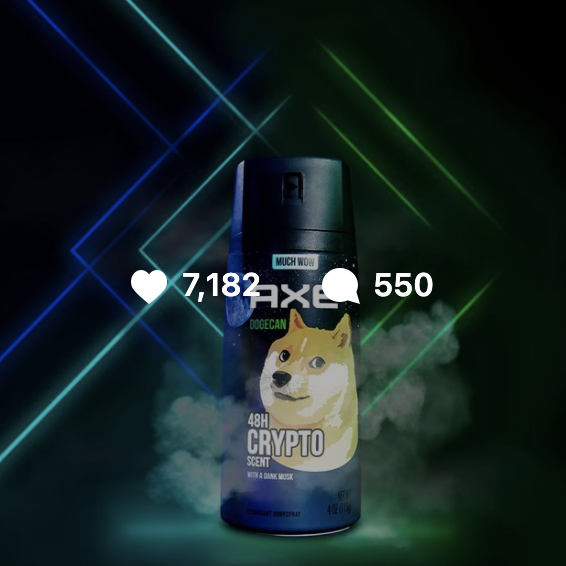 The iconic men's grooming brand AXE set out to refresh its image. The brand, which was founded in 1983, was still presenting outdated messages about masculinity. Its messaging wasn't in sync with the Gen Z consumers it aimed to capture.
Through research, it defined its Gen Z audience as "MemeBros," or "super online dudes" whose kooky humor often crosses over into mainstream culture. Creating a genuine rapport about AXE was integral to the agency's mission. It was quick to slide AXE into real conversations and communities that resonated with its audience. Among them were music outlet XXL and RapTV, as well as gaming organization FaZe Clan.
The goal was to have AXE sound like a friend chiming in on a group chat. Its voice aimed to simulate how "MemeBros" would engage on Twitter and Instagram. Since Gen Z digs cryptocurrency like Dogecoin and smoking weed, The Martin Agency built a campaign around those themes.
The agency learned that #DogeArmy was using the marijuana-centric holiday 4/20 to lift Dogecoin above $1. AXE entered the conversation by tweeting an image of a limited-edition AXE can with the Doge rocketing to the moon and the text: "If it gets to $1, we'll make it happen."  Engaged users responded by creating the rallying cry, "You can't, but #DogeCan."
The campaign's success is measured by:
The tweet, which captured 13K new followers
#DogeCan's trending status on Twitter
1,000+ limited-edition cans, which sold out in under one minute
The spray meme and NFT
Dogecoin's +19% jump on release day
AXE's social following's 10% jump — the largest bump AXE had seen since 2016
For its skyrocketing success, the agency was named a winner in the Twitter category of PR Daily's Social Media & Digital Awards.
Congratulations to The Martin Agency team of Danny Robinson, Ashley Marshall, Mik Manulik, Adam Goffstein, Lex Cabrera, Natalie Meyer, Gabe Davis, Drew Corrigan-Nunez, Gillian Merrill, Samad Hussain, Sharon Panelo, Stuart Hayhurst, Taylor Wiegert, Matt Kessler and Keith Gordon.
Kudos also go to the SuperJoy team: Matt Swieca, Ken Macy, Patrick Mack, McKay Bolden and David Freeman.
COMMENT