Identify crisis response roles with 'RASCI'
The acronym provides a tool for identifying what roles will be filled by members of your crisis working group and clarifying essential workflows.
How many people should be on your crisis response team and what roles should they have?
The actual number of members is up to you, but Lesley Sillaman, executive vice president at Red Havas, offered a handy tool for keeping everyone's responsibilities straight during Ragan's Crisis Communications Virtual Conference Dec. 8.
Sillaman identifies five categories to group various levels of involvement for members of the crisis team, which she fits into the acronym "RASCI":
Responsible
Accountable
Supporting
Consulted
Informed
For each team member, Sillaman recommends using the RASCI tool to identify who they are, their expertise or "ownership area" and then assign one of the RASCI categories. Are they someone to keep in the loop? They should be "informed." Are they responsible for an important action step? They fit into "responsible"—or "accountable" if they are required to report back progress or investigate allegations.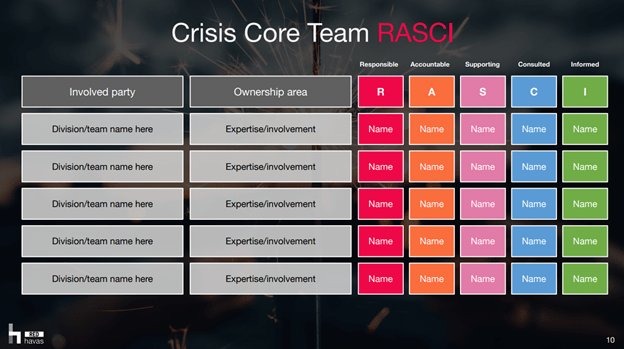 See all of Sillaman's excellent tips on managing a remote crisis war room by watching her full presentation on Ragan Training.
COMMENT