Instagram copies BeReal, Tabasco unveils a brand refresh and Freya the walrus dies
Plus: The most hated apps around the world.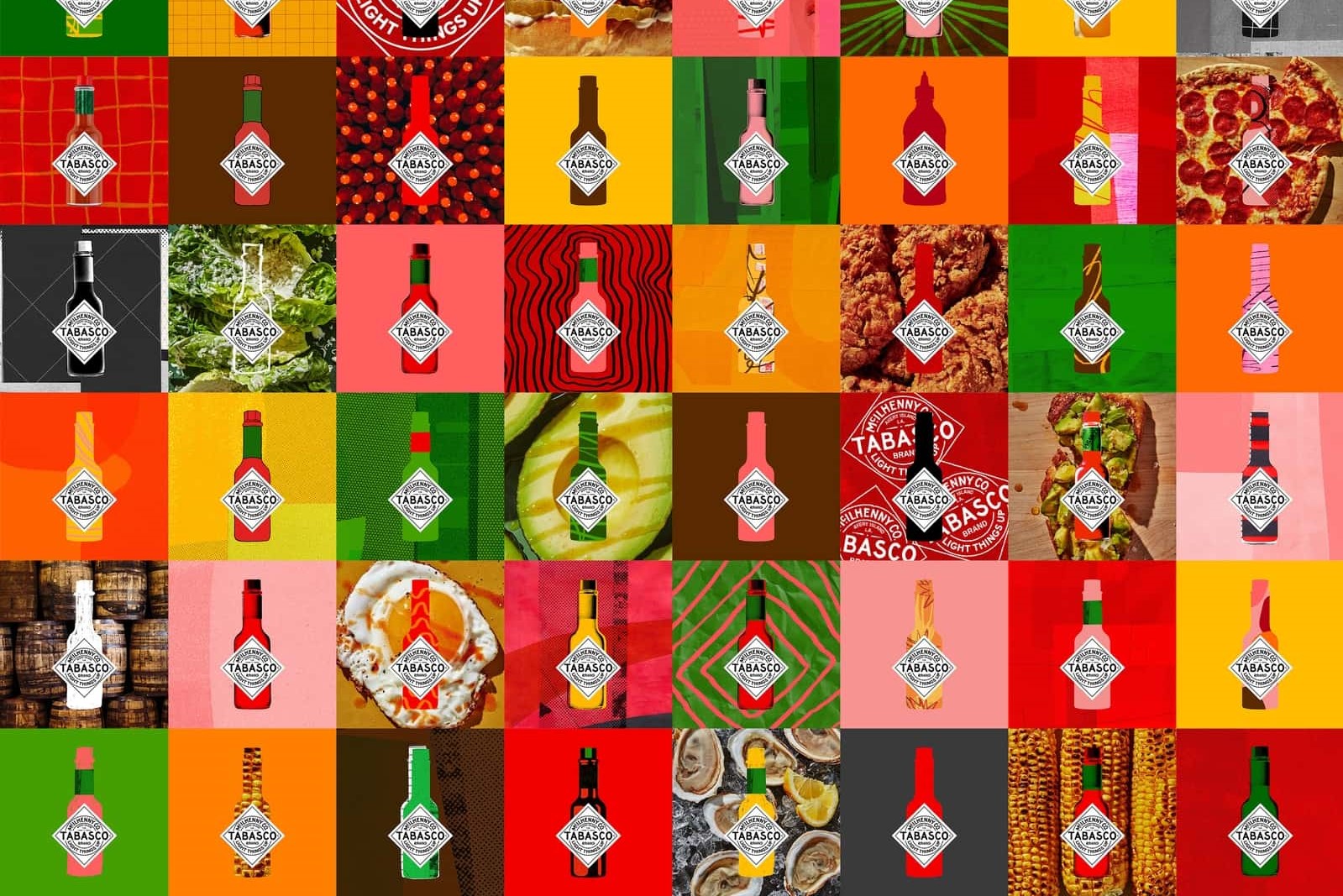 Over the weekend, officials in Norway euthanized Freya, a 1,300-pound celebrity walrus who spent the summer lolling around piers in the Oslo fjord. The young female walrus had been making a splash on social media. Verdens Gang, a Norwegian tabloid, even set up a 24-hour live camera to film her exploits.
The beloved walrus grew so popular, in fact, that it started to draw crowds. Although officials warned people not to get close to Freya, people continued to pose for pictures with the massive marine mammal. Euthanization was a last resort, and Norway's directorate of fisheries explained its decision:
"Through on-site observations the past week, it was made clear that the public has disregarded the current recommendation to keep a clear distance to the walrus. Therefore, the Directorate has concluded, the possibility for potential harm to people was high and animal welfare was not being maintained."
The news of Freya's euthanization caused immediate backlash on several social media platforms. Many believe that people are to blame, not the walrus. One Twitter user wrote, "Shame on you #Norway. In the scheme of things the walrus was in her right environment … the pestering people were the ones you needed to chase. This was unforgivable." 
The directorate of fisheries will probably be in hot water for a while. Thanks to social media, news travels fast. During crisis management, you have to take control of the narrative. Get ahead of the story, report on issues before someone else does and anticipate what information the media will want.
Here are today's other top stories:
Instagram Dual camera feature copies BeReal
We know the drill; as soon as a social media app introduces a new feature, Instagram tries to copy it. For example, Instagram wanted to be Snapchat a few years ago. Then it wanted to be TikTok. Now it wants to be BeReal. 
Recently, Instagram quietly added a new "Dual" camera mode, which uses a phone's front and back cameras simultaneously. This allows users to capture content and their reaction at the same time. As Twitter user @parismartineau pointed out, the feature looks very similar to BeReal, which just surpassed 10 million downloads. 
in an apparent attempt to copy the popular app BeReal, Instagram is rolling out its own feature (called 'Dual') to take disappearing photos using the front and back cameras simultaneously

left is IG stories, right is BeReal pic.twitter.com/TuOeR3N0PE

— paris martineau (@parismartineau) July 28, 2022
BeReal markets itself as anti-Instagram. At a different time each day, users get a notification telling them it's "time to BeReal." Users then have two minutes to take a photo of whatever they're doing at that moment. The idea is to accurately and authentically show a person's life, but the app has received criticism of its own and is still glitchy. 
Why this matters: In Q1 2022, BeReal was downloaded 3.3 million times, a 390% increase from Q4 2021. Its popularity has skyrocketed, but it may not have the staying power to overtake Instagram, which has two billion users. It's hard to say who will win here.
MEASURED THOUGHTS
App usage is higher than ever, with an estimated 250 million downloads per day. However, customer satisfaction has declined over the past few years, with users citing glitchy software, poor user interface, the abundance of ads and even the content itself as reasons they dislike an app. 
To get a feel for how people around the world feel about apps, Electronics Hub analyzed more than three million tweets about 87 different apps. They found that Roblox, a virtual gaming platform, is the most-hated gaming app in 21 countries. The most-hated app in the world, however, is Hinge, as more than one-third (34.4%) of the tweets about it were negative.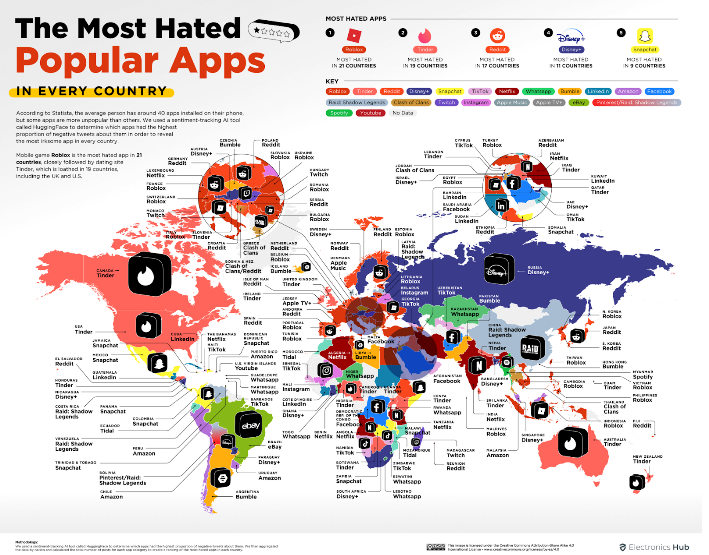 Attitudes toward apps tend to cluster in different pockets around the world. In wealthy, English-speaking countries like the United States, the United Kingdom, Canada and Australia, Tinder is the most-disliked app. In South America, e-commerce platforms like Amazon and eBay are the most unpopular. And in China, Mongolia and Japan, crypto app Voyager gets the side-eye. 
Over four billion people own smartphones now, so it's no surprise there is a variety of opinions about all the apps out there. One app that is beloved in one country may be disliked in another. It follows the old adage, "you can't please everyone." 
Tabasco unveils spicy new branding
With its signature red cap and diamond logo, Tabasco hot sauce is instantly recognizable. Since its founding in 1868, the company has added different hot varieties, BBQ sauces, condiments and even an entire line of new merchandise. The brand didn't have a unified look, though, so it turned to New York creative agency Mrs&Mr for a spicy new identity. 
"Our fans are passionate, and constantly share the creative ways they're using our products," said Kate Neuhaus, director of global marketing communications at McIlhenny Company, which owns Tabasco. "We know everyone recognizes us for our iconic bottle shape, but we wanted to surprise and excite our fans with a drop that's as creative and original as they are."
Tabasco's new tagline, Light Things Up, is the base for its hot new look. It blends familiar brand elements — the bottle shape, the diamond label — with new graphics. Forget the cliches normally associated with hot sauce: flames, steaks and spontaneous combustion. Instead, Tabasco's new look is full of vibrant illustrations that can be easily adapted for local markets around the world. 
Why this matters: Speaking of cliches, we've all heard the phrase "if it ain't broke, don't fix it." Sensibly, the rebrand didn't mess with what Tabasco was already doing right: the familiar sauce bottle and label. What it did was introduce fiery new graphics that create a unified look across social media, print ads, menus and more. Sometimes, you don't need a full rebrand; you just need a refresh. 
COMMENT
One Response to "Instagram copies BeReal, Tabasco unveils a brand refresh and Freya the walrus dies"
Danno

says:

As a self-described chilehead (one who inhabits the spicy realm), I have kept a keen on eye on the hot sauce landscape. Regarding Tabasco's brand facelift, it seems like they finally shifted out of Golf Dad/LSU Frat Guy territory toward a younger, more energetic, inclusive and diverse demographic. Frank's Red Hot has already been in this space for as long as their "Put that …on Everything" campaign has been ringing ears. As your end product user changes, your communication with them follows. A trend I've increasingly noticing across many product identities is the aspect of how it fits into pro-planet/climate awareness. It's not enough just to be a bag of chips anymore; let's see your invisible carbon footprint. Tabasco has a softball in front of them being situated on Avery Island – where they craft their sauce; a salt dome on the very edge of the Louisiana bayou, slowly being swallowed up by the ever-rising Gulf. Whether we would rather ignore this and shuck oysters is one thing. But it would be interesting to see them take up cause in this direction in addition to just becoming more socially relevant.