Instacart to lay off roughly 1,800 workers, IOC president says there's 'no plan B' for delaying Tokyo Olympics, and NFL honors health care workers with Super Bowl tickets
Also: A study shows the potential for AI in pitching efforts, Waffle House offers Valentine's Day reservations, apply to be a candy taste tester, and more.
Hello, communicators:
The National Football League announced that it's inviting 7,500 vaccinated health care workers to this year's Super Bowl, to join the 14,500 fans that are allowed to attend this year's matchup in Tampa, Florida:
The NFL is inviting 7,500 vaccinated health care workers to attend Super Bowl LV to thank and honor them for their continued extraordinary service during the pandemic.

To celebrate, @nflcommish surprised Sarasota Memorial Hospital health care workers with tickets to #SBLV. pic.twitter.com/iurMY0BvMM

— NFL (@NFL) January 22, 2021
In a press release, the NFL wrote:
The NFL will also recognize health care heroes around the country through a variety of special moments both in the stadium and during the CBS broadcast.
"These dedicated health care workers continue to put their own lives at risk to serve others, and we owe them our ongoing gratitude," said Goodell. "We hope in a small way that this initiative will inspire our country and recognize these true American heroes. This is also an opportunity to promote the importance of vaccination and appropriate health practices, including wearing masks in public settings."
The move isn't new—NFL's commissioner, Roger Goodell, previously announced that the organization was working with Super Bowl hosts on the effort—but it does showcase a strategy that many organizations will continue to embrace into 2021, as COVID-19 continues. That strategy is recognizing and applauding essential and frontline employees, whether they're within your organization or your kudos are part of a community effort.
Here are today's top stories:
Instacart to lay off more than 1,800—including unionized workers
The startup announced that it's testing "new pickup solutions" with its retail partners "designed to support their changing needs as grocery e-commerce becomes even more integral to their businesses," including an offering where grocers fulfill Instacart orders with their own employees, instead of Instacart workers.
That change is leading to more than 1,800 layoffs—an update that Instacart buried five paragraphs into its announcement (and even then, didn't include an estimate or exact number).
In a Medium post, Instacart wrote:
As a result of some grocers transitioning to a Partner Pick model, we'll be winding down our in-store operations at select retailer locations over the coming months. We know this is an incredibly challenging time for many as we move through the COVID-19 crisis, and we're doing everything we can to support in-store shoppers through this transition. This includes transferring impacted shoppers to other retailer locations where we have Instacart in-store shopper roles open, working closely with our retail partners to hire impacted shoppers for roles they're looking to fill, and providing shoppers with transition assistance as they explore new work opportunities. We're also providing all impacted shoppers with separation packages based on their tenure with Instacart.
These changes come as part of Instacart's ongoing commitment to innovating for our partners, providing an essential service for our customers, and supporting our entire Instacart shopper community for years to come as our business continues to evolve in support of the entire grocery industry.
Included in the layoffs are 10 employees working in Skokie, Illinois, who formed Instacart's first—and only—union. According to the United Food and Commercial Workers Local 1546, Instacard is giving affected workers "as little as $250 severance," Motherboard reported.
The decision to terminate the workers who voted to unionize last February and were in the process of negotiating their first contract could put a damper on other efforts to unionize Instacart's in-store shoppers around the country. At the time of their union drive in 2020, Instacart manager ran a union-busting campaign, circulating anti-union literature and memos intended to convince workers to vote down the union.
Why it's important: News of the layoffs and the affects on future union efforts for gig workers quickly made headlines, despite Instacart burying the lede and putting a forward-looking spin on its announcement. Neither of these moves position the brand to appear sympathetic to its workers, despite its claims that it's "doing everything it can." If you're announcing layoffs, don't combine it with a product launch—or, at least, focus on the crisis communications portion and lay out your strategy for helping affected employees.
---
TACTICALLY SPEAKING
Canada-based company Candy Funhouse is looking to hire full- and part-time "Candyologists," or taste testers for its products.
The company's job description reads, in part:
Candidates should have enthusiasm and eagerness to try confectionary products. We are looking for honest and objective opinions on the products that will be taste tested. Candidates will be responsible for tasting and reviewing from the 3000 products we currently carry.
The candidates will also play an integral role in selecting the candies that will be a part of the first ever Candy Funhouse branded candy line. 10 new and original candy creations will be selected and narrowed down from 100's of possible options. Here at Candy Funhouse, confectionary is a science!
The deadline for applying to these sweet, remote positions is Feb. 15. If you don't make the cut, the company is also searching for a social media pro, SEO manager, executive assistant and graphic designer.
---
MEASURED THOUGHTS
BuzzStream and Fractl recently asked 500 PR pros, journalists and other members of the media to rate email subject lines and pitches drafted using artificial intelligence. After offering up three AI-generated subject lines, BuzzStream and Fractl reported that 62% of respondents said the lines were better than the prose they last crafted—or received. An average of 79% said they would open the email based on the subject line, with 71% highly ranking the writing in quality: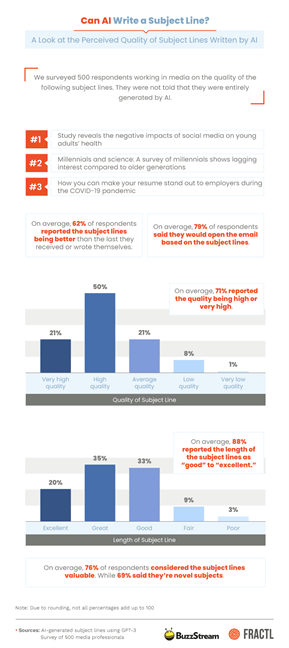 Aside from wondering if AI tools will replace at least some media relations and pitching strategies, PR pros can take this lesson: A six- to eight-word subject line increases the chances of your email being opened.
You can read the entire report here.
---
TACTICALLY SPEAKING
Waffle House announced the list of its participating locations for Valentine's Day reservations:
🌹 Valentine's Day is coming, and you know what to do.
💕 Make a reservation at Waffle House for two!

📅 We are now accepting Valentine's Day reservations at participating restaurants!

For a full list and how to reserve, please visit https://t.co/NxVqGSITGE pic.twitter.com/uzMBIknNrT

— Waffle House (@WaffleHouse) January 22, 2021
The fast-casual restaurant chain has been offering romantic-yet-affordable evening dining options since 2008, and roughly 200 locations participated last year. Some locations also offered a fancy tablecloth, flowers and heart-shaped food
Many locations are participating in this year's reservations offerings for the romantic holiday, but many other organizations will probably focus on virtual offerings to show your love, especially as COVID-19 restrictions continue.
---
CRISIS LEADERSHIP NETWORK
Looking for more insight on how to address the current global crisis and lead your organization into a strong recovery?
Join Ragan's Crisis Leadership Network to connect and brainstorm with peers, get the latest intelligence and research and start to strategize for the future of your organization.
Learn more about this exclusive membership here.
IOC president vows Tokyo Olympics are on for 2021
Numerous headlines are circulating with the rumor that this year's Olympic Games will be canceled—a statement that both the Japanese government and the International Olympics Committee's president, Thomas Bach, are denying.
After being postponed in 2020, the event is set for July. However, with Tokyo declaring a state of emergency as its COVID-19 cases rise, people are voicing skepticism.
On Friday, the Times of London, citing an unnamed senior member of the ruling coalition, reported that Japanese authorities had privately concluded that the Olympics could not proceed due to the ongoing pandemic. CNN has not independently verified this report, which officials have refuted.
"Some news reports circulating today are claiming that the government of Japan has privately concluded that the Tokyo Olympics will have to be canceled because of the coronavirus," said the statement from the IOC.
"This is categorically untrue … All parties involved are working together to prepare for a successful Games this summer."
Public opinion in Japan has also turned sharply against the Olympics but Bach struck an upbeat note on Thursday. "We have, at this moment, no reason whatsoever to believe that the Olympic Games in Tokyo will not open on 23 July in the Olympic stadium in Tokyo," he said. "This is why there is no plan B and this is why we are fully committed to make these Games safe and successful."
He did hint at the possibility of reducing the number of spectators, saying the IOC has to be flexible and may need to make sacrifices to protect the lives of the people involved. "The priority is the safety. When it comes to safety, then there can be no taboo," Bach told Kyodo News in Japan.
Why it matters: It's still difficult for event organizers and communicators to plan for in-person gatherings, with COVID-19 cases increasing, despite vaccine rollouts. Make your decisions as early as possible, and unlike the IOC, have a Plan B—as well as a Plan C. Commmunicate your strategies as soon as you can, because you'll have to focus on health and safety communications, along with general event promotion. If you're switching to a contingency plan, announce this sooner than later, so you can give your audiences time to adjust—whether they're employees or consumers.
---
TAKE OUR SURVEY
The start of a new year brings more opportunities for communicators across roles, organizations and industries to develop effective strategies and efforts that can strengthen their brands amid continuing crises, including the COVID-19 pandemic.
Ragan's Communications Leadership Council has created The 2021 Communications Benchmark Survey, and wants to know your challenges, successes and needs as you navigate the rapidly shifting communications landscape and respond to unprecedented crises as well as new opportunities.
Please share your insights with us. As a thank you for your time and insights, you'll receive an Executive Summary of the report, packed with proprietary research that can help you better shape communications strategies in 2021. You'll also be entered to win one of five $100 Visa gift cards.
---
WHAT YOU SAID
We asked what your WFH setup looks like, and roughly 61% of you enjoy an in-home office, while almost 21% are sharing your remote workspace. About 18% of you are hanging in there without a dedicated space of any kind, shared or not.
For Ann Scott, senior account manager for U.K.-based Genesis PR, the spare room of her house is a necessary resource, especially with the option to stay permanently remote:
So lucky to have a spare room in the house which I've turned into my home office. Even luckier that I've now been given the opportunity to work from home permanently. pic.twitter.com/h1bkDAFw8c

— Ann Scott (@GenesisPRAnn) January 21, 2021
Those of you who don't have a separate office space might relate to PR pro and TV host Christina Nicholson, whose bedroom doubles as her office:
I have an office… in the corner of my bedroom.

— Christina Nicholson (@ChristinaAllDay) January 21, 2021
Communicator Danielle Ryan also reminded us that regardless of your WFH setup, PR and marketing pros are dealing with more interruptions from family members and their pets:
How would you like to be stared at all day long? 🐶👀 pic.twitter.com/FmuNthczFe

— Danielle Ryan👩🏻‍💻 (@ryelle777) January 21, 2021
Is there a question you'd asked? Please let us know under the #DailyScoop hashtag!
---
SOUNDING BOARD
In your opinion, what's the biggest PR, marketing or social media trend for 2021?
In your opinion, what's the biggest PR, marketing or social media trend for 2021?

Comment with your ideas for what tops the list (and your focus), and we'll share in Monday's #DailyScoop. pic.twitter.com/LMt4lfzMte

— PR Daily (@PRDaily) January 22, 2021
Weigh in below, and tell us your ideas for what tops the list under the hashtag #DailyScoop on Twitter. We'll share in Monday's roundup.
COMMENT
One Response to "Instacart to lay off roughly 1,800 workers, IOC president says there's 'no plan B' for delaying Tokyo Olympics, and NFL honors health care workers with Super Bowl tickets"
Maybe they think that grocery stores would have more control over their customer experience than other outsource deliver. Especially in the last year, grocery delivery is becoming more common.