Makeup influencer accused of faking accent, 'Creed III' actor faces legal problems and more 
Plus: Does AI and healthcare mix?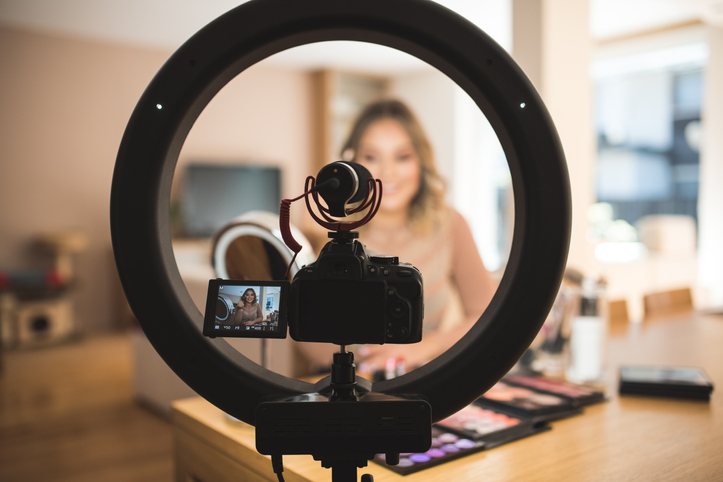 Makeup artist Mikayla Nogueira, who is from rural Massachusetts, is well-known on her channels for her thick Boston-esque accent, which some are calling into question, BuzzFeed News reported. She has well over 14 million followers on TikTok and Instagram.
Nogueira was recently accused of faking her thick accent when a video surfaced of her talking in a "customer service voice" while attending Rhode Island's Bryant College where she majored in communications, according to the article.
"I actually work here at the information center, so I'm sure you'll be seeing me around," she said in the video in what is described as a "neutral East Coast accent" in the article.
Fans were not happy and millions of them viewed the posted and reshared video last month. Some called her "untrustworthy."
Some said that it's natural for people to code switch or tone things down to sound more professional, according to the article.
"We need to start seeing these influencers as entertainers, almost actresses and actors because at this point with their millions of followers this has become their job," TikToker Rachel Leigh said in the article.
Other forms of controversy surrounding Nogueira also include using filters over her foundation reviews and false eyelashes over her mascara reviews.
Why it matters: Discerning what's real and fake in the social media landscape is crucial. Viewers want authenticity, and that's what you should seek when choosing influencers to share your brand message too. Make sure you're not just looking at audience size, but also the realness and honesty of these spokespeople. Remember that authenticity always beats out being phony.
Artificial intelligence is taking over the world 
The doctor is in and bringing some backup, too. Artificial intelligence assistance is growing in numbers in the healthcare field. While some patients don't mind AI usage in various ways with medical intervention, not everyone's on board with bots.
Sixty percent of Americans would not be OK with providers leaning on AI technology concerning their healthcare needs, according to a Pew Research Center Survey.
The survey revealed a mixed bag of opinions with AI interference in the healthcare realm. Yet there are many positives as more AI conversations are rolling out and 38% believe that AI "would reduce rather than increase the number of mistakes made by health care providers," compared to 33% who believed it would be worse.
Why it matters: AI is likely to affect every single industry. In some cases, it will be behind the scenes and nearly invisible, as with helping writers outline content or providing shopping recommendations on a website. But in healthcare, it's life or death.
Communications can help roll out AI in multiple ways. First, by fielding surveys like this one with our key audiences to understand their feelings and concerns about AI. We can then craft communications designed to address those concerns – or counsel against rolling out AI in that way.
While we might not be programming the robots, we still have a big role to play in the AI revolution.
Black woman makes history at Vanderbilt
It's the tail end of Women's History Month and big things are happening .
Dr. Tamia Potter made great strides recently by becoming the first Black female neurosurgeon resident at Vanderbilt University Medical Center in Nashville, AfroTech reported.
Vanderbilt is working to increase the number of Black doctors like Potter by collaborating with HBCUs to admit Black STEM students to higher education programs, Vanderbilt said.
Why it matters: PR pros have a vital role to play in DE&I efforts by helping write or place stories about trailblazers like Potter. By celebrating the achievements of Black women – and others from underrepresented groups – they make their success visible and inspire others to follow in their footsteps. Helping others see themselves in these roles makes a big difference in the long run.
Actor Jonathan Majors faces public blowback
"Creed III" actor Jonathan Majors faced public scrutiny after he was arrested in an alleged domestic violence dispute with his girlfriend, CNN reported.
The 33-year-old actor was placed in custody after a 911 call from their Manhattan apartment, according to a New York Police Department statement in the CNN article.
"The victim informed police she was assaulted," the statement said. The 30-year-old woman had "minor injuries to her head and neck," police said in the article.
Majors has charges of strangulation, assault and harassment, the NYPD noted in the article.
Majors' attorney  said in the article that he is "completely innocent" and was "provably the victim of an altercation with a woman he knows."
According to the article, in light of the allegations, the U.S. Army pulled two recently released recruiting ads which featured Majors, stating it was "deeply concerned."
"While Mr. Majors is innocent until proven guilty, prudence dictates that we pull our ads until the investigation into these allegations is complete," the statement from the Army Enterprise Marketing Office said.
Why it matters: What Majors says  — or doesn't say — next is critical. This is the time to follow his attorney's advice and be strategic to control the narrative. The U.S. Army's swift action to pull ads until more facts are known demonstrates a best practice, and their statement makes it clear that while the legal system will have its say, they have to take steps to protect their brand now.
Sherri Kolade is a writer at Ragan Communications. When she is not with her family, she enjoys watching Alfred Hitchcock-style films, reading and building an authentically curated life that includes more than occasionally finding something deliciously fried. Follow her on LinkedIn.
COMMENT
Tags: Actor Jonathan Majors