Meta amps up VR push, the rising cost of commuting and how Americans spend time on their smartphones
Also: Mark Cuban's pharma company relies on word-of-mouth marketing.
Hello, communicators:
Mark Cuban's wholesale pharmaceuticals company received several glowing recommendations on social media last weekend.
Cost Plus Drugs provides common medications to consumers at a fraction of the price they would pay at other pharmacies.
Zakk Cash wrote on Twitter, "@mcuban just saved my life making my seizure medication affordable," followed by a screenshot of a Cost Plus Drugs order for Lamotrigine, priced at $31.80 for 90 200mg tablets.
Cuban responded, writing, "Please tell others that take these. We expect to add more than 1k more meds over the next 12 months, if not sooner."
And Alex Matteo responded to Cuban's tweet, sharing her story about how Cost Plus Drugs saved her money:
I just found a 3 month supply of the antidepressants I take for only $28.20. Saving me over $930 for the same span. It's incredible what you are doing 🙏🏽

— Alex Matteo (@Alexmatteo94) June 19, 2022
Cuban quoted that tweet, revealing that the company spends no money on marketing and instead relies on word of mouth to spread the news about its work:
Please help us spread the word. We WONT SPEND A NICKEL ON MARKETING. WE COMPLETELY RELY ON WORD OF MOUTH This allows us to price at such low prices. So all help is welcome from everyone and anyone ! https://t.co/yxVJ2mNJad

— Mark Cuban (@mcuban) June 19, 2022
Judging by the tweets and replies, Cuban's no-marketing strategy does seem to be working — but that's a claim that can't be verified without data from Cost Plus Drugs' analytics.
Here are today's other top stories:
Meta continues VR, metaverse push
As TechCrunch reports, "Meta wants to make it clear it's not giving up on high-end VR experiences yet."
At a media briefing last weekend, CEO Mark Zuckerberg revealed several VR headset prototypes from Meta's Reality Labs, including the Holocake 2, which is Meta's thinnest headset to date.
In addition, TechCrunch reports:
Meta's upcoming Cambria headset appears to be a small step towards achieving true VR presence, the brief glimpses we've seen at its technology makes it seem like a small upgrade from the Oculus Quest 2. While admitting the perfect headset is far off, Zuckerberg showed off prototypes that demonstrated how much progress Meta's Reality Labs has made so far.
"Displays that match the full capacity of human vision are going to unlock some really important things," Zuckerberg said at the briefing. "The first is a realistic sense of presence, and that's the feeling of being with someone or in some place as if you're physically there. And given our focus on helping people connect, you can see why this is such a big deal."
Why it matters: Companies that seek to enter the metaverse with their own products and services should be keeping tabs on Zuckerberg's hardware and software advances with regard to VR. If the metaverse is the future, PR pros should prepare themselves for virtual reality as robustly and quickly as possible.
---
MEASURED THOUGHTS
A new study from Gallup reveals how Americans are spending their time using their smartphones — and how much that time has increased since 2015.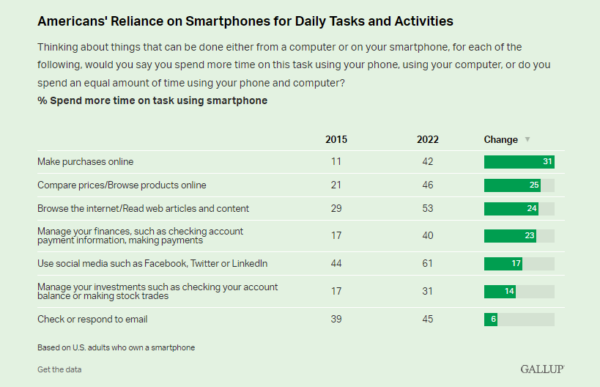 The biggest changes are in how much time Americans spend using their phones to make purchases online (up 31%) and browsing products online (25%), followed closely by browsing the internet and reading articles online (24%).
It's a sign to communicators that your company should be optimizing your website's content to fit not only on a computer screen, but also on our comparably tiny handheld devices. Like TikTok has proved, vertical video is king, and it's possible to integrate similar features into your web presence.
Read more from the Gallup report here.
As commutes get pricier, companies should consider taking action
RTO plans for companies looking to bring their employees back after extended periods of remote work may be hitting yet another hurdle.
Thanks to inflation and the rising cost of gasoline, employees with a commute are feeling the effects of pain at the pump — which means paying more to get to and from work.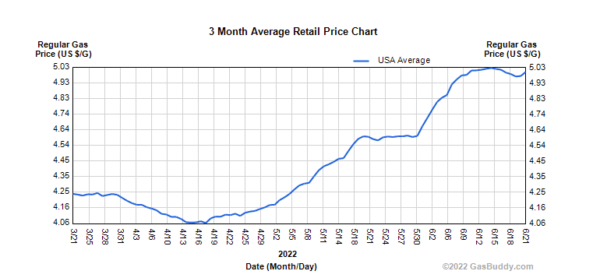 Human resources consultant Jill Chapman told Marketplace that employers should consider subsidizing their workers' travel costs through carpooling or public transit perks.
"You might say instead of giving a Starbucks card for somebody who did the best on a project, you're gonna give a gas card now," she says.
Why it matters: As we noted on Ragan.com in May, helping employees get to work can improve your employer branding. Organizations have begun offering commuting subsidies, rental car programs and bike-to-work incentives for employees in an attempt to help combat the rising cost of getting to work — and in doing so, they're crafting powerful employer branding messaging.
COMMENT