Meta promises more ad transparency, Jif recalls contaminated peanut butter and Americans' shifting views of LGBTQ+ neighbors
Also: The Cincinnati Zoo aims to educate on World Turtle Day.
Hello, communicators:
The Cincinnati Zoo has one of the largest followings on Twitter among large city zoos in the U.S.
Today, it took advantage of its following to educate Twitter users about World Turtle Day:
Today we're shellebrating World Turtle Day! This is a day to help people celebrate & protect turtles & tortoises & their disappearing habitats around the world. With few natural predators & competitors for food, the Galápagos tortoise grew over time into the largest in the world pic.twitter.com/ZswQOQymNF

— Cincinnati Zoo (@CincinnatiZoo) May 23, 2022
It's a good reminder to PR pros that social media posts don't always have to be promotional. Finding opportunities to educate your audience can build goodwill and trust.
Here are today's other top stories:
Meta aims for more ad transparency
A new initiative from Meta and Facebook promises to allow for more transparency around how the company uses targeted advertising.
The New York Times reports journalists, academics and researchers who are part of the Facebook Open Research and Transparency Project will be able to see targeted advertising data.
"The information includes which interest categories — such as 'people who like dogs' or 'people who enjoy the outdoors' — were chosen to aim an ad at someone," the Times reports.
The new data that is being added to the Facebook Open Research Transparency project and the Ad Library is a way to share information on political ad targeting while trying to keep data on its users private, the company said.

"By making advertiser targeting criteria available for analysis and reporting on ads run about social issues, elections and politics, we hope to help people better understand the practices used to reach potential voters on our technologies," the company said in a statement.
What it means: Meta's history is fraught with accusations of misuse of personal data and private information, in addition to claims that nefarious groups have been able to use the platform for illicit purposes. While Meta's statement doesn't address these claims, its aim of helping people "better understand" its practices sounds positive. However, it will take years of sustained action to change the company's reputation around data use and transparency.
---
MEASURED THOUGHTS
A new report from Morning Consult indicates that Americans are becoming more and more comfortable with LGBTQ+ association.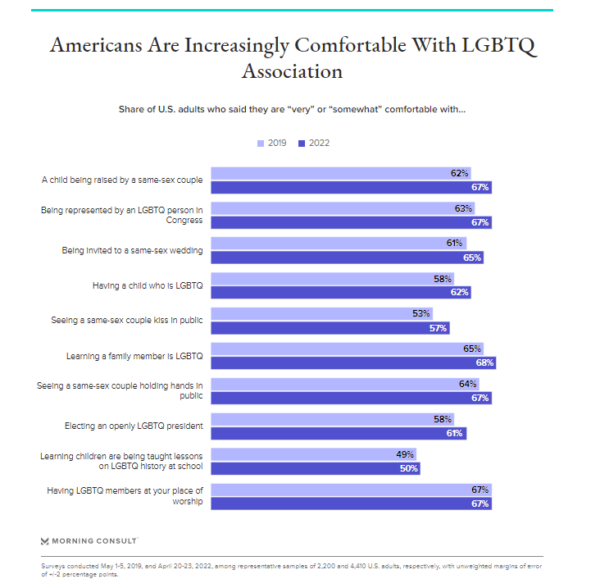 According to the polling, Americans' comfort with measures like "a child being raised by a same-sex couple" (67%) and "seeing a same-sex couple kiss in public" (57%) has increased since 2019.
As Pride Month approaches, it's a good reminder to PR pros that as their audiences become increasingly comfortable with supporting LGBTQ+ rights, many want the companies they patronize to reflect their values and support those rights as well.
Have you solidified your Pride Month comms strategy yet? Here's our guide for how to engage Gen Z audiences during Pride Month and beyond.
Read more from the Morning Consult report here.
Jif issues recall of peanut butter products following salmonella outbreak
The company behind Jif Peanut Butter issued a voluntary recall last week for several varieties of its peanut butter products due to a salmonella outbreak.
NPR reports that 14 people have reported illnesses, with two of those cases resulting in a hospitalization.
"Five out of five people reported consuming peanut butter and four of the five people specifically reported consuming different varieties of Jif brand peanut butter prior to becoming ill," the FDA told NPR.
JM Smucker issued a press release about the recall and Jif has posted about it on its social media pages:
In cooperation with the FDA, we've issued a voluntary recall of select Jif products due to potential salmonella contamination. We take seriously the role Jif plays for your family and are committed to reimbursing affected consumers. https://t.co/khyNNslWWF

— Jif® Peanut Butter (@Jif) May 22, 2022
We are experiencing high contact volumes and our team is working diligently to assist all our consumers in a timely manner. We appreciate your patience and will respond as soon as possible.

— Jif® Peanut Butter (@Jif) May 23, 2022
Why it matters: Jif's response illustrates how valuable social media channels are in a crisis. Jif did its due diligence with one tweet and Facebook post, but it's often advisable to continue distributing information about potentially dangerous products with periodical posts in order to reach as large of an audience as possible.
COMMENT