Meta tests video AI, Jim Cantore needs to go inside and more
How brands are using Instagram Reels.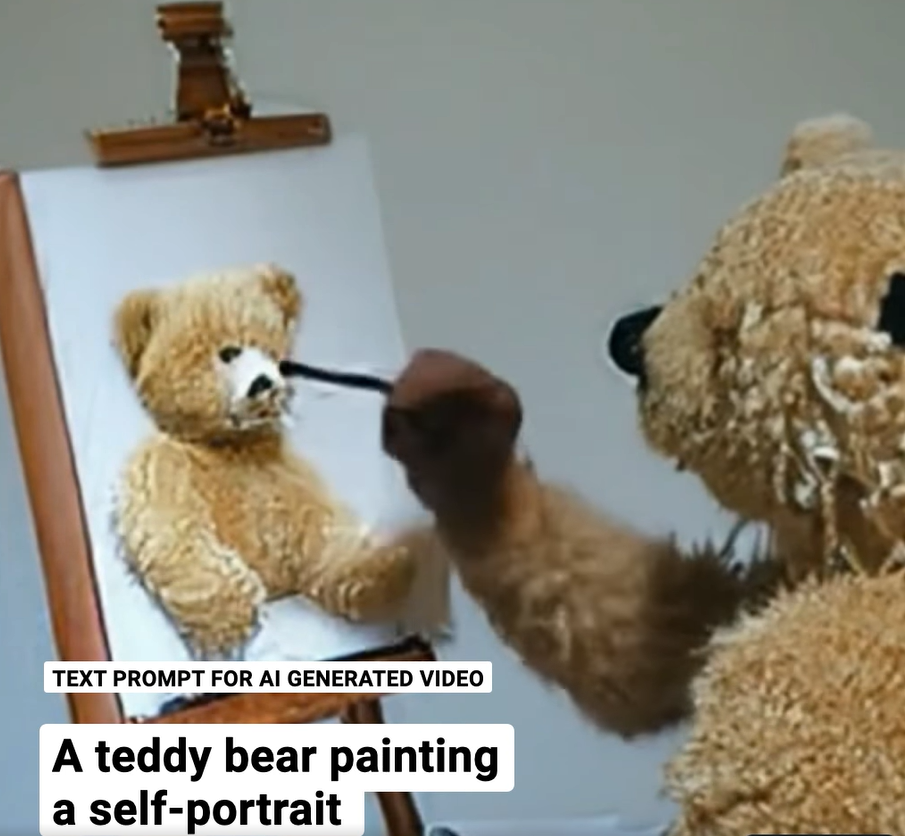 AI is now able to generate not just images, but videos.
Meta is working on technology that allows users to type a rough description of a scene and receive a short, AI-created movie in return.
The technology isn't available to users yet and is still in its early stages. The clips are under 5 seconds an contain no audio. The videos have blurred subjects and distorted animation but represent a huge jump in content generation from artificial.
"Generative AI research is pushing creative expression forward by giving people tools to quickly and easily create new content," Meta said in a blog post announcing the work. "With just a few words or lines of text, Make-A-Video can bring imagination to life and create one-of-a-kind videos full of vivid colors and ."
In a Facebook post, Meta CEO Mark Zuckerberg described the work as "amazing progress," adding: "It's much harder to generate video than photos because beyond correctly generating each pixel, the system also has to predict how they'll change over time."
What it means: It's still early days, but the ability to quickly generate videos on any topic with just a few lines of text represents a massive opportunity for creating unique content that can make a brand stand out. If you haven't already, this is a reminder to start playing with text-to-image AI generators, like DALL-E, which recently dropped its waiting list.
Weather Channel's Jim Cantore blasted by more than storm
Can someone help Weather Channel reporter Jim Cantore?
Please?
Cantore, known for his live shots during hurricanes, had a scary experience during Hurricane Ian when he was hit by a tree branch during a live shot.
Weather reporter Jim Cantore was struck and knocked down by a tree branch while documenting the catastrophic Category 4 storm in Florida, US pic.twitter.com/PZVaScAiqo

— TRT World (@trtworld) September 29, 2022
"You know what, I think I'm just going to come in here for a second," Cantore said on the Weather Channel stream as he struggled to grab a street sign. "Just give me a second. I'm fine."
Cantore's experiences during Hurricane Ian made a Weather Channel anchor order Cantore inside.
Weather Channel anchor pleads with Jim Cantore to get off the street pic.twitter.com/D4sJyXQqlT

— Gifdsports (@gifdsports) September 28, 2022
Backlash was swift on social media over the anchor seemingly risking his life in the dangerous storm for little meteorological gain.
Jim Cantore literally hit by a flying tree branch during a live report. Please get this man off the street. pic.twitter.com/D6UOizGArc

— Scott Gustin (@ScottGustin) September 28, 2022
Why is Jim Cantore still out there? why even send him out? pic.twitter.com/Cta9NXCGml

— Dov Kleiman (@NFL_DovKleiman) September 28, 2022
A Weather Channel official insists that Cantore is safe.
"We at the Weather Channel do not put people in harm's way, and the times we have felt we've positioned (reporters) too close to the heart of the storm, we will move them if they don't have sufficient cover," said Nora Zimmett, president of news and original series for the The Weather Group.
What it means: While Cantore has made his career in journalism with his reports from the heart of extreme weather over the years, public opinion seems to have turned against this brand of "you are there" reporting from standing in hurricane-force winds. Cantore's behavior also explicitly contradicts best safety practices for viewers in a hurricane, who are constantly reminded to stay inside.
It's a reminder to brands that your talent and product must evolve. Just because something has worked for a long time doesn't mean that audiences will still respond positively forever. Opinions change, and we must change with it. Brands need to listen to customer feedback.
New insight into Instagram Reels engagement
A new study is showing more communicators are using Instagram Reels in their content .
Emplifi data showed that half of the brands on Instagram published at least Reel from April to May, which is up from 30% during the same time a year ago.
But adoption is slower across the whole social network, where Reels only make up 7.5% of total content.
The study also shows the vast majority of the Instagram content that brands published between April and May were single image and single video posts and Carousel posts only made up 20% of brand posts.
Instagram is promoting Reels as shareable with friends via Stories, and discoverable on the Explore page.
The study showed the retail, automotive and entertainment brands have seen engagement growth.
Overall, while organic interactions on Instagram have declined, the study has shown Reels engagements have declined by 10% quarter-over-quarter, while engagement on single image posts have declined by 41%.
What it means: The moves indicate Instagram is leaning into video content and giving greater exposure for those who post regular and engaging video content. But remember that Instagram is prioritizing Reels algorithmically and what the algorithm gives, the algorithm takes. Have a varied posting strategy. So yes, try Reels (and TikToks and YouTube Shorts) but remember it should be a piece of your strategy, not the whole thing.
These are the top Gen Z brands, study says
A new report from Consult shows that tech brands are the most favored among Gen Z (those born between 1997 and 2004).
The study indicates that YouTube has an 86% favorable rating about Gen Z adults, followed by Google, Netflix and Amazon.
77% of women have a favorable rating of TikTok, compared to 58% of men.
Women also have a more favorable view of Pinterest, Snapchat, Facebook and Instagram, while Twitter is more favored among men.
What it means: With members of Gen Z now in their mid-20s and becoming part of the workforce and marketplace, brands are taking more notice of their consumer preferences. Getting a foothold on YouTube, Google, Amazon and Netflix's upcoming ad tier should be a priority for brands looking for audience in this space.
Chris Pugh is a staff writer for PR Daily. Follow him on Twitter and LinkedIn. Send story ideas to ChrisP@Ragan.com
COMMENT
Tags: Facebook, hurricane ian, text-to-video