Microsoft boss out following misconduct allegations, UK not-for-profit spearheads four-day workweek and meeting Gen Z where they are on social media
Also: Taco Bell goes super futuristic with its newest restaurant concept.
Hello, communicators:
Taco Bell's newest restaurant looks like something out of "The Jetsons."
The fast-food chain's new Defy concept is focused on getting customers their food ASAP through mobile and online ordering.
The TikTok video announcing the restaurant covers how to use the new technology and lets viewers know that they can still order "old school-style" at the new location.
Many commenters on TikTok noted that the Brooklyn Park, Minnesota location looks a lot like a bank, with "food tubes" designed to bring orders down to customers through a vertical lift system.
It's a good reminder that novelty and newness can be enough to bring new audiences to your brand.
Here are today's other top stories:
UK not-for-profit spearheads four-day workweek
4 Day Week global, a U.K. not-for-profit organization, is helming a six-month-long experiment in which thousands of British workers will work just 32 hours every week in an attempt to measure the impact of shorter workweeks on productivity and wellbeing.
In the press release, the company emphasizes the goal of the experiment and provides details on its execution.
"Participating organisations are trialling a four-day week with no loss of pay for employees, based on the principle of the 100:80:100™ model – 100% of the pay for 80% of the time, in exchange for a commitment to maintain at least 100% productivity," the release reads.
Joe O'Connor, 4 Day Week Global CEO, said in the release that the experiment is part of a "wave of global momentum."
"As we emerge from the pandemic, more and more companies are recognising that the new frontier for competition is quality of life, and that reduced-hour, output-focused working is the vehicle to give them a competitive edge," he added. "The impact of the 'great resignation' is now proving that workers from a diverse range of industries can produce better outcomes while working shorter and smarter."
Why it matters: The company's press release contains multiple quotes from the CEO, a researcher and a CEO of one of the participating companies, as well as a list of many of the participating organizations with links to their websites. This is an excellent example of a press release that makes it easy for journalists to find and quote sources and write a full story using only a press release.
---
MEASURED THOUGHTS
A new infographic from Rave Reviews underscores the importance of brand relatability to capturing the attention — and dollars — of Gen Z audiences.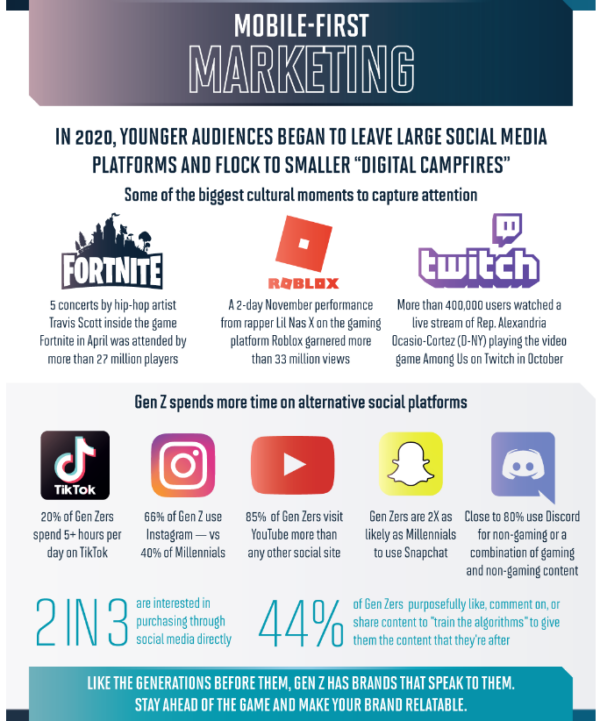 Two in three Gen Zers are interested in purchasing products through social media directly — and their top five favorite social platforms are TikTok, Fortnite, Roblox, Discord and Twitch.
If your brand is looking to engage Gen Z, it's a worthwhile use of your time to investigate these platforms and begin to build a presence there.
"Because 2 in 3 Gen Z-ers are interested in purchasing through social media directly, brands should invest in reaching them where they spend their most time," the report says. "And, should create advertisements that facilitate likes, comments, and sharing among Gen Z."
Read more from the Rave Reviews report here.
Microsoft mum on departure of HoloLens boss following misconduct allegations
Several outlets, including Insider, GeekWire and The Verge, are reporting that Alex Kipman, leader of Microsoft's mixed reality group HoloLens, is out at the company after an Insider report accused him of "toxic" behavior.
Microsoft has not yet publicly addressed the allegations, but GeekWire obtained an internal email to employees announcing the "mutual decision" that Kipman should part ways with the company.
From GeekWire:
The [Insider] report described a pattern of alleged inappropriate behavior by Kipman toward women at the company, including unwanted touching, as an example of misconduct by Microsoft managers, saying he got away with it despite pledges by CEO Satya Nadella and other top executives to institute cultural changes.

Microsoft has not commented on the details of the report, and GeekWire has not verified it independently. The company often makes organizational changes in conjunction with the July 1 beginning of its fiscal year.
Why it matters: Company culture problems are PR problems, too. Microsoft's decision to part ways with Kipman, however "mutual" it may be, is a sign that the company is trying to distance itself from any allegations of misconduct or wrongdoing, especially following Nadella's very public commitment to purifying the tech company's culture.
COMMENT