Motorola offers insights on multi-year effort to develop brand identity
The team recently announced its new brand platform, "Power to empower," as the tech company looks to have an identity beyond its revolutionary products.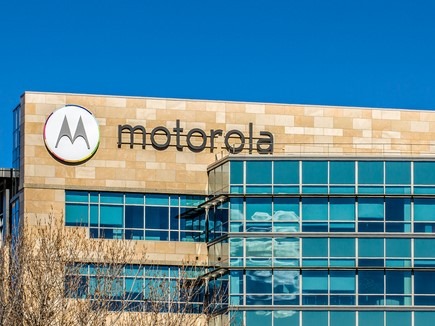 In a marketplace where consumers are differentiating brands based on corporate values, it's not enough to have a great product.
Yes, you must deliver a quality product for a reasonable price, but consumers also want to know about the values of your organization. How does it treat its employees and other stakeholders? How is it investing in the future and pursuing innovation? How is it safeguarding the natural resources of our planet?
In short: If I give you my money, what are you going to do with it in the future?
This focus on "purpose" or core values has forced some brands to reevaluate their external positioning. One example is Motorola, the cellular device technology company, which recently launched its new brand platform "Power to empower."
"When was the last time you thought about the power your mobile phone can give you?" Motorola asks in a blog post. "We all have the power to make a difference in the world, and it's just waiting to be unleashed. Phones are at the center of people's lives and connect us like never before, and they have the power to empower the next generation of thinkers, innovators, and change makers."
This idea has inspired us to usher in a new moment for our brand and launch our global brand platform Power to Empower.
The campaign is the culmination of a multi-year process to define what Motorola stands for, pinpointing values that will guide future work for the company.
"The process started 2019 when we started conducting in-depth research to properly identify Motorola's opportunities and strengths,' explains Renata Altenfelder, global executive director of brand and marketing for Motorola. "In parallel, we were digging into what was happening with society overall, the trends, behavior changes, etc. and what type of role technology was playing in people's lives."
The team landed on a motto that identifies the purpose of telecommunications advances, which it sees as empowering users, all while living up to values of inclusion and trustworthiness.
"It's a platform that aims to communicate how Motorola's values of inclusivity, innovation and trustworthiness are embodied both through the brand itself as well as through the products it creates," explains Altenfelder.
"At Motorola, we have always believed consumers and brands should work together to empower each other to build a better future. In today's world, consumers are looking for brands who are conscious about social and environmental issues and act upon them."
Lessons learned
As part of the process to build its new brand identity, Motorola hopes to focus on connecting with consumers on an emotional level.
"To build a brand narrative that resonates and accurately represents the company strategy, it's critical to focus on values that are authentic to your brand,' says Altenfelder. "For us at Motorola, trustworthiness, innovation and inclusion are beliefs that have always been in our DNA."
For other brands looking to replicate Motorola's process and redefine itself or rexamine core brand values, Altenfelder has four tips:
Align on the vision with your key stakeholders. She recommends asking: "Where do you want to take this brand, what are the tradeoffs you are willing to take and who should be the key people in this development process?"
Don't try to solve all problems or pursue all opportunities at once. Instead, Altenfelder says you should, as a team, choose what you believe in most so you can conduct in-depth exploration rather than only going surface level across a range of issues.
This is a never-ending process. Altenfelder mentions this not to discourage, but to exhort colleagues to enjoy the process. "That's the beauty of it—so enjoy the ride!"
Open your ears and listen. "It is crucial you experience and hear different POVs to be able to build a narrative that will have a positive impact and resonate with diverse internal and external audiences," she says.
What inclusion looks like in practice
One of the big features of the "Power to empower" platform is Motorola's effort to communicate how it embodies its values on inclusion. A core tenet of the platform, Altenfelder says, is "accepting and including everyone in our efforts, especially those who are typically less visible or otherwise marginalized in society."
That commitment to inclusion as a principle can become mealy-mouthed platitudes splattered across brand websites that eventually lead to recrimination and reputation loss. Instead, Motorola is demonstrating its commitment with action, such as its indigenous language preservation project announced in March of 2021.
"To better include the diverse groups that make up our valued consumer base, we added two endangered indigenous languages to our devices, becoming the first mobile phone manufacturer to support these indigenous languages spoken in Latin America," explains Altenfelder of the effort. "And this was not a one-time effort. We're excited to be continuing this project across the world to bring more indigenous languages to our devices."
The work to embrace inclusion isn't finished for the brand, she says.
"Moving forward, you'll also see a new tone of voice and more inclusive visuals across our product launches, corporate programs and other upcoming activations."
COMMENT
One Response to "Motorola offers insights on multi-year effort to develop brand identity"
Ronald N Levy

says:

What sounds good like Altenfelder's pitch may in fact be good or even very good but we should judge whether it is good enough to be best.

She says her aim is to "communicate Motorola's values of inclusivity, innovation and trustworthiness." Whether as I hope this brings Motorola more goodwill and business may depend on WHO people think is being included.

Like cellphones are popular with young adults so if THEY think Motorola aims to include them, Motorola benefits. BUT if young adults think it's some other group that Motorola is including, that could mean no gain or even a loss in goodwill for Motorola depending on which group is seen as the object of Motorola's affection.

It's similar with Facebook and other large companies that some in government want to make more censorius. Which "thou shalt not communicate" messages will it bring goodwill for Facebook to banish from the temple, and which communicated ideas will get Facebook admired as damn fine people?

Very bright communications executives like Altenfelder are doing very bright communications but not all ink is good. Some ink may be less harmful if a company doesn't get it or can wash it off.

Backing a good cause can bring a good upsurge in public esteem but we may for good reason favor health research as a cause celebre because everyone is in favor of health. Far from everyone is in favor of other groups some of which are disliked. It is wise to think about with whom we are getting get into bed.