Netflix insiders indicate tumult, the social platforms PR pros prefer and Biden begs for gun control
Also: Uber limits replies on Pride Month campaign tweet.
Hello, communicators:
Uber partnered with several notable drag queens for its Uber Pride campaign this year — but limited replies on one of its tweets about the partnership:
What does #Pride mean to legendary drag queen @dejaskye? "Just 👏being 👏your 👏 damn 👏self 👏".

Check out our "One Minute with DeJa Skye, Daya Betty, @WillowPillQueen, @Angeriavm, and @hereisbosco" for more wisdom and learn how these queens are celebrating Pride this year! pic.twitter.com/zWBfiAipmK

— Uber (@Uber) June 2, 2022
However, the comments are open to all on the same post on the brand's Instagram account:
View this post on Instagram
Limiting comments or replies on your brand's social media posts is a good way to mitigate hate speech and vitriol by users who don't agree with your stance or values, but it can also prompt outcry from those who believe organizations should be open to criticism.
Here are today's other top stories:
Netflix sources say the streaming service is refocusing on fewer, more expensive movies
A new report from The Hollywood Reporter says streaming giant Netflix has plans to make fewer movies — with bigger budgets — according to several inside sources.
From THR:
"Small movies are not going to go away," says one insider, but they could become more niche and cater to a passionate audience. Another insider concurs, saying the output will be reduced, lessening the need for so many execs. "They were overstaffed with executives," says this insider. Also, bigger doesn't necessarily mean more $150 million movies. Expect to a see a more subtle change — instead of making two movies for $10 million, as an example, the company will make one for $20 million. "The goal will be to make the best version of something instead of cheapening out for the sake of quantity," says one insider.
The story also includes quotes from anonymous sources that paint a dimmer picture of Netflix's internal satisfaction.
"'Morale is stuck at stock level,' says one executive semi-jokingly," THR's Borys Kit writes. "Another executive describes the mood within Netflix right now as 'distracted' given the changes."
What it means: It is imperative to have a consistent message throughout times of organizational upheaval. Outwardly, Netflix's shift to producing a different slate of films wouldn't automatically ring alarm bells, but internal sources speaking anonymously to The Hollywood Reporter sure does. Ensure that your team is all on the same page when your organization is making big changes — or you risk your employees taking to the media to voice their concerns.
---
MEASURED THOUGHTS
A new report from Muck Rack reveals which social media platforms PR pros prefer for advancing their companies' comms strategies.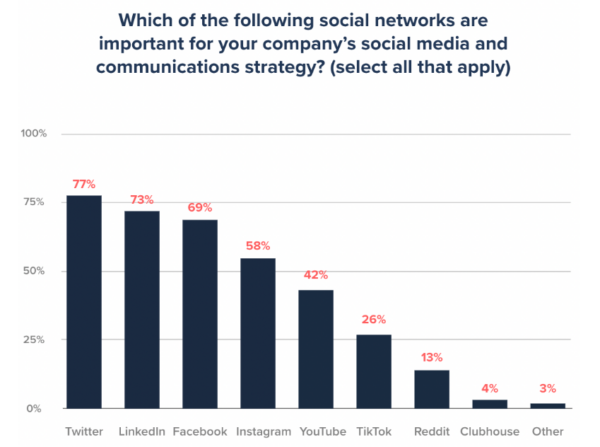 Twitter took the lead, with 77% of poll respondents choosing it as their most important platform, followed by LinkedIn (73%) and Facebook (69%).
However, the report notes, the preferred platforms for agency and brand PR pros differ. "Agencies say they'll spend more time on LinkedIn, Instagram and TikTok, while brands say they'll spend more time on Twitter, Facebook and YouTube," the report says.
Are you representing an agency or a brand? Which platform do you consider to be the most important?
Read more from the Muck Rack report here.
President Biden employs PR tactics in gun violence speech
President Joe Biden this week gave a speech to the nation Thursday addressing gun violence and calling on Congress to pass gun control measures.
He outlined what he believes needs to be done to prevent more mass shootings, including expanding background checks and passing and implementing safe storage laws and national red flag laws.
Biden expressed that while he could only do so much, it was up to Congress to pass the legislation needed for gun control:
This time, we have to take the time to do something. And this time, it's time for the Senate to do something.

But, as we know, in order to get anything done in the Senate, we need a minimum of 10 Republican senators. I support the bipartisan efforts that include a small group of Democrats and Republican senators trying to find a way. But my God. The fact that the majority of the Senate Republicans don't want any of these proposals even to be debated or come up for a vote, I find unconscionable.
Why it matters: Biden is using PR to persuade his audience to take action in a situation where his power is limited. It's a good example of using persuasive language to activate your audience, even in an instance where your organization or brand doesn't have the ability to directly affect change.
COMMENT