Nike sues over counterfeit shoes, teasing ESPN streaming news and how TV and TikTok collide
Also: The latest in the Elon Musk/Twitter saga.
Hello, communicators:
In case you've been living under a rock, we wanted to keep you updated on the latest in the Elon Musk/Twitter drama.
Musk says the deal is "temporarily on hold":
Twitter deal temporarily on hold pending details supporting calculation that spam/fake accounts do indeed represent less than 5% of usershttps://t.co/Y2t0QMuuyn

— Elon Musk (@elonmusk) May 13, 2022
But that news now matters to fewer people, as CEO Parag Agrawal fired two top Twitter executives and froze hiring earlier this week.
Stay tuned — all is chaos.
Here are today's other top stories:
Nike battles it out with StockX over allegedly reselling fake sneakers
Nike is suing clothing and accessories reseller StockX, claiming that the company is peddling knockoff Nike shoes as authentic.
Court documents reveal that Nike says it purchased four pairs of these sneakers from StockX's website and was able to verify them as counterfeit.
Nike said in a federal court filing with the Southern District of New York on Tuesday that the shoes it had purchased and determined to be fake "had affixed to them StockX's 'Verified Authentic' hangtag, and all came with a paper receipt from StockX in the shoe box stating that the condition of the shoes is '100% Authentic.'"
"We've invested millions to fight the proliferation of counterfeit products that virtually every global marketplace faces today," StockX told NPR in a statement. "Nike's latest filing is not only baseless but also is curious given that their own brand protection team has communicated confidence in our authentication program, and that hundreds of Nike employees – including current senior executives – use StockX to buy and sell products."
Twitter users have mostly stood behind Nike's quest to rid the marketplace of fake Nike shoes:
Shut all that shit down if you ask me. StockX, GOAT, FLIGHT CLUB allat shit. Put the shoes back in the store where they supposed to go.

— BrainFood 🧠 BrainFood 🧠 Brainfood (@PayZay_) May 11, 2022
i hope the Nike's lawsuit against StockX is the beginning of the fall of resellers 🙏🏾

— 333 (@WHOISORATILE) May 11, 2022
I knew StockX was pushing fakes. Thought them green tags was it huh?

— It's Q🍊 (@Like_C1ockwork) May 11, 2022
Why it matters: StockX alleges in its statement that top Nike executives use the site to buy and sell products. While that may be true, it's not entirely relevant to the situation. StockX does not specify what kinds of products are bought and sold by Nike execs — they could be purchasing New Balances, for all we know. The statement also doesn't directly deny the allegations, which is a useful tactic for when comms teams don't want to have to walk back statements following lawsuits or investigations. A statement that generally addresses a situation (especially a legal one) without making any definitive claims can be used to tide over hungry reporters until you have a more solid messaging strategy.
---
MEASURED THOUGHTS
A new report from social media giant TikTok shows the marketing potential of the platform when combined with traditional television.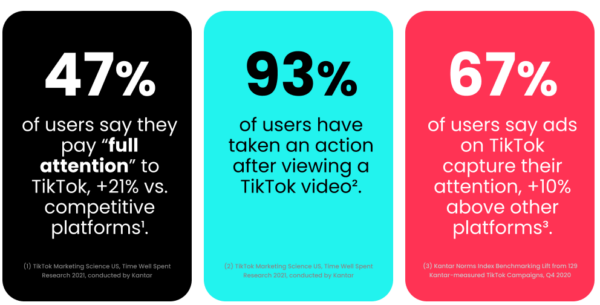 As consumer attention continues to expand across platforms, brands that embrace reflective multimedia strategies are seeing big results.

Traditional TV and streaming services can be effective at introducing new content and informing culture. But platforms like TikTok are able to build a consistent stream of interaction and engagement that allows consumers to participate in these conversations and cultural moments.
Read more from TikTok's report here.
 Disney CEO hints at streaming future for ESPN
In an earnings call Thursday, Disney CEO Bob Chapek told stakeholders that he believes ESPN can create an "ultimate fan offering" that no other sports media organization could "pull off."
As reported by The Verge, Chapek said that Disney has "one foot on the boat right now" when it comes to transitioning ESPN to a more robust streaming network.
"But what we know is at some point when it's going to be good for our shareholders, we'll be able to fully go into an ESPN DTC offering, the way that you describe, and we fully believe that there is a business model there for us that's going to enable us to regain growth on ESPN Plus in a full DTC expression," Chapek said on the call.
Traditional pay TV setups (including online streaming like Disney offers via Hulu with Live TV) still have too much impact on Disney's bottom line for Disney to bypass them and launch the full ESPN experience as its own streaming subscription as it has been for many years, but the point where that will change is close enough that Chapek is comfortable openly entertaining the possibilities.
What it means: CEO comms can be tricky for PR pros to navigate. You want to be able to convince your C-suite that good messaging also means good business. Chapek's hopeful but measured remarks indicate he has been briefed on how far to go when teasing the future of ESPN in the streaming world.
COMMENT