Nutter Butter gets raunchy, abortion pill posts taken down and where social media users spend their time
Also: A new pitching opportunity from NPR.
Hello, communicators:
Yet another raunchy tweet from a brand has gone viral.
The official account for Nabisco cookie Nutter Butter tweeted, "N is for the way you nut at me."
N is for the way you nut at me

— Nutter Butter (@NutterButter) June 27, 2022
Slim Jim's account responded in kind, with one user commenting on the phenomenon:
i guess brands being horny on main is the new form of advertising…
I mean it is funny though

— Harfie (@bigbeanieboi) June 28, 2022
It's a good example of how letting your social media manager take risks can pay off — but be careful not to go too far.
Here are today's other top stories:
Instagram, Facebook take down posts offering abortion pills
In a move first reported by Vice News, Meta companies Instagram and Facebook appear to be removing posts and banning some users who offer to distribute abortion pills.
From Vice:
…on Friday a Motherboard reporter attempted to post the phrase "abortion pills can be mailed" on Facebook using a burner account. The post was flagged within seconds as violating the site's community standards, specifically the rules against buying, selling, or exchanging medical or non-medical drugs. The reporter was given the option to "disagree" with the decision or "agree" with it. After they chose "disagree," the post was removed.
In a statement to NPR, a Meta spokesperson referenced company policies that prohibit the sale of pharmaceuticals on the platform.
Meta's Andy Stone did the same in a series of tweets Monday, clarifying that Meta's policy also prohibits the gifting of pharmaceuticals:
The policy can be found here.https://t.co/yxDy4Mehxk

— Andy Stone (@andymstone) June 27, 2022
Why it matters: Meta's statement and Stone's tweets make it clear that the company is attempting to stay above the political fray of the abortion debate by pointing to existing policies about the sale and gifting of drugs on its platform. By not mentioning the Roe v. Wade decision or the ensuing backlash, Stone's tweet keeps the focus on Meta's policies and not on how those policies may affect Facebook and Instagram users.
---
MEASURED THOUGHTS
A new study from Pew Research Center provides some insight into how journalists and their audiences use social media.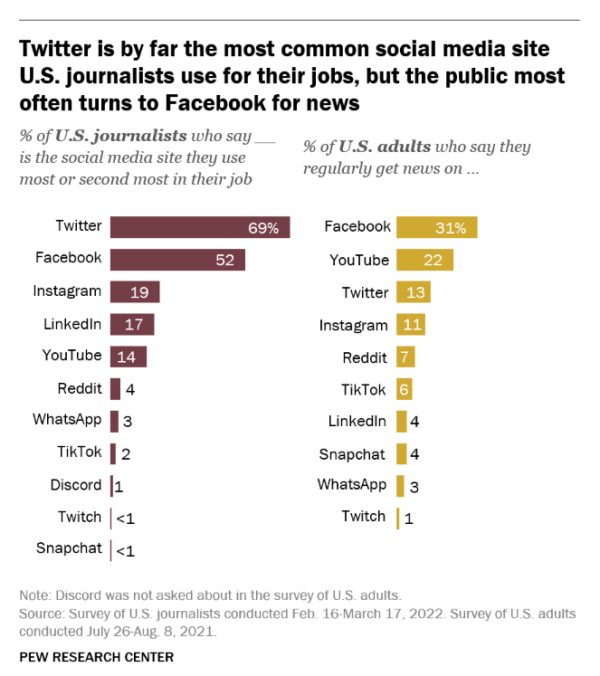 While 69% of journalists say they use Twitter most or second-most for their jobs, just 13% of U.S. adults say they get their news from Twitter.
Thirty-one percent of U.S. adults say they get their news from Facebook, followed by YouTube (22%).
Just over half of journos say they use Facebook to do their jobs.
It's a good reminder to brand journalists that it's important to meet your audience where they spend their digital time — which can mean devoting more time to building your brand on Facebook than you previously thought was necessary.
New series from NPR offers PR pros unique pitching opportunity
NPR is offering a new series, one that PR pros should keep an eye on.
"I'm Really Into" is a space for NPR journalists and other interviewees to share about things that they love — a positive light in a world of often-depressing news.
Here's how NPR describes the new show:
Our journalists will share a hobby that brings them joy, what drew them to it, and what it says about their shared community. We'll hear from people who found a new passion in the pandemic, as well as people who persevered and continued finding ways to do what they love.
NPR is inviting people to submit their stories about the hobbies and rituals that make them the happiest and will feature some of those stories on their website and on air.
Why it matters: PR pros should always be on the lookout for new ventures from big-name news outlets, as they can often provide a new avenue for getting your clients' stories told. This latest move from NPR could open the door to any number of pitches relating to positive routines and hobbies — a niche area, but certainly one that could get your clients some airtime.
COMMENT