Orchard's Mandy Menaker talks turning her 'scrappy start' in PR into leadership roles
The director of communications and PR Daily Advisory Board member shares what it's like to spend a day in her shoes.
The path into the PR profession can take many forms.
Some join agencies and in-house teams straight out of college. Others come to the practice from journalism or marketing backgrounds. That's how Mandy Menaker found her love of PR, working on a "scrappy" team that was out to punch above its weight.
It was a career experience that ended up serving her well, as she led media relations efforts for companies like ClassPass and now is the director of communications for Orchard, a real estate solution for buyers and sellers.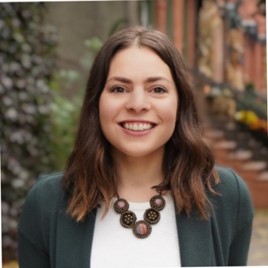 Menaker shared her new routine—she joined Orchard earlier this year—as part of our ongoing "Day in the Life" series. Here's a little of what she had to say about PR and communications work in 2022:
1. What's your favorite part of your morning routine?
Menaker: On the mornings I work from home, one of my small delights is picking my coffee mug. I have 20 or so mugs acquired through gifts and travels, and I love to set the tone for the day based on the mug I choose. Once the coffee is poured, I have a set of slippers under my desk and my dog curls up for her morning nap as I type away.
My favorite part of my job is messaging, so I save that for mornings. I love sitting down with a warm cup of coffee and diving into an upcoming announcement or customer success story. There is no better way to start the day than focusing on how your product or service has solved a problem and helped to improve the quality of someone's life.
2. Who's the most important person you talk to every day?
Menaker: In my personal life, I am lucky to have a husband who is a wonderful sounding board and a mother who is an enthusiastic cheerleader. Both people are there during the good times to celebrate and the challenging weeks to help me get to the other side. I also have a WhatsApp group with a few of my best friends who work across different industries. They are fantastic people to provide input when I get stuck, and also provide terrific comic relief between meetings.
At work, I am one month into a new role, so I have leaned heavily on my manager to get a clear landscape of the business and the priority goals to tackle. However, a large part of my focus has been one-on-one meetings with people across a variety of departments. The best story ideas tend to come from places you least expect, and it's also essential as a communications professional to understand all aspects of a business. Work is also a lot more fun when you are continually meeting people and staying curious about their lives!
3. What's the biggest challenge you've faced in your career?
Menaker: My path to PR was unconventional. I fell into PR organically after working in a marketing department with a limited budget. We needed to get creative about how to get the word out, so I began building local partnerships, hosting related events, and pitching journalists the details. I consider that job my scrappy PR start.
In 2016, I was lucky to have a founder willing to take a chance on me even though I didn't have a formal PR background, and I was hired to lead comms for a Paris-based startup expanding to the US. I had never worked in an agency or in-house on a PR team, and it was a steep learning curve. I read every article I could find about pitching and building press relationships, and spent time reaching out to other publicists and communications leaders who were generous with their time and expertise. Google became my best friend, filling me in on any industry jargon that I came across. I made a lot of mistakes, but I also was obsessive about reviewing those moments to understand how I could improve.
Since then, I have been lucky to build a network of incredible communications peers across several industries, and to work on a variety of announcements that have made me more confident in the work I do. My journey has been humbling, and I will always make time to get coffee with another communications professional who needs help finding their footing.
4. What's your best book or podcast recommendation for PR colleagues?
Menaker: I love We Earn Media, hosted by Britt Klontz and Jackie Lambert. Each episode features a journalist or editor who offers a detailed look at 1-2 pitches they received that materialized into articles or broadcast segments. The guests explain why the pitch resonated, and offer tactical tips for improving your own pitches.
5. What's your favorite tool you use regularly for your work?
Menaker: I am a huge fan of Muck Rack. I love that you can search for a specific phrase to see if a journalist you are considering for a story has covered your topic previously. Muck Rack also has the most up-to-date media database out of any tools I have sampled.
6. Are you in an office/remote or both? What do you like (or dislike) about your current setup?
Menaker: Orchard is building out a brand-new, 107,000 square foot HQ in New York. Once this space opens, I'll be spending two days a week in the office and continuing to work remotely the rest of the week. I'm thrilled to work at a company that recognizes the importance of in-person interaction, but still gives us the space and flexibility to work from where we feel most productive.
Regardless of where I work, I try to move around a few times during the day. On days I work from home, that generally includes frequenting my favorite local coffee shops for a few hours between meetings, or spending a few hours typing from the couch so that I am not stationary at a desk. In the office, I regularly move around, taking advantage of tech-company office perks like bean bag chairs and lounge areas. Shifting my location energizes me, and my creativity and concentration are enhanced when I take my laptop to-go.
7. What's one trick you use to promote well-being, make yourself feel good at work?
Menaker: I have recently started blocking off 45 minutes in my calendar for lunch. While I am admittedly terrible at taking a lunch break (I usually eat at my desk), I use these 45 minutes to take my dog for a walk, do the laundry or catch up on a tacky reality show such as "Love is Blind." Breaks are essential for letting your brain rest and seeing problems from a new angle when you return. 
8. What's the best advice anyone has ever given you in your career?
Menaker: Avoid checking your email first thing in the morning.
For a long time, I got into an unhealthy pattern of checking email on my phone before I had even left the bed. The result was that even while chatting with my husband or taking a shower, I was already thinking of how to respond to a journalist or what priorities I could accomplish before lunch. My levels of stress rose, and I found myself inching closer to burnout.
Now, I am extremely intentional about waiting to read my email in the morning. I try to prioritize doing something that brings me joy, such as reading a book on my Kindle or going for a jog. By spending less energy on work when I first wake up, I have more energy to tackle the challenges that come my way when I log in. I am also happier and more productive since I only work when I am ready to give it my full focus.
COMMENT