Popeyes sponsors a viral star, TikTok bans spread to colleges and more
Plus: How companies combat fake online reviews.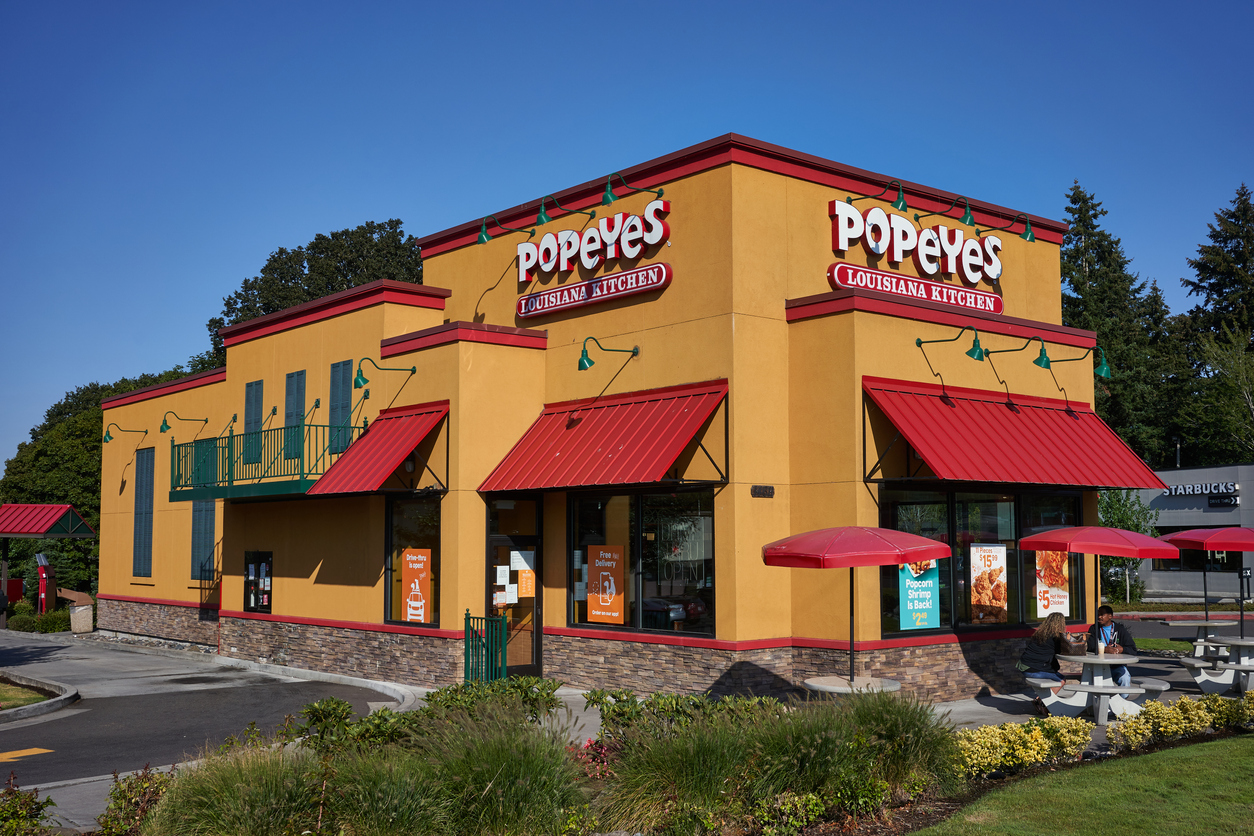 Dieunerst Collin became a meme as a child — which wasn't a positive experience.
He's known as the child making an uncomfortable, suspicious face — you've seen it — in  a Popeyes chicken restaurant while a stranger filmed him, which his sister later shared. The clip went viral and has stayed viral.
As the Washington Post reported, Collin suffered teasing, both online and in person, over the clip.
But now, as a football player at Lake Erie College, he's turned that childhood bullying into a payday and a triumph, thanks to urging from family and his coaches.
Collin actively courted Popeyes while mimicking the famous meme, one time saying, "Man, I want some chicken," and in another instance directly tagging them on Instagram and saying he was ready to talk business.
And Popeyes was too.
View this post on Instagram
"From memes to dreams, Dieunerst and Popeyes will grace social media feeds once again," a Popeyes spokesperson said of the partnership.
The deal made Collin the first football player at his college to receive a sponsorship — and "It's a lot," as he said.
He now has a billboard with his image — both as a child and adult — towering over Newark.
Why it matters: By responding to an iconic young man connected to their brand, Popeyes scored both a dedicated spokesperson as well as a PR coup. They've helped turn a trying experience into a positive one, gotten plenty of earned media and supported an impressive young athlete all in one fell swoop.
TikTok ban continues to grow, now at universities
TikTok continues to see pushback from officials worried over both privacy concerns and connections of the mega-popular app to the Chinese government.
According to a list published by NBC News, dozens of universities across the United States have now banned TikTok from their public WiFi networks. The rules vary from university to university, but in general, students (and staff) can still access the app from private devices on their own cellular networks. In many cases, they've also prohibited school employees of maintaining affiliated TikTok accounts, which can be a powerful tool for recruiting and communicating with students.
Why it matters: TikTok is a massive tool for reaching young people — but it does come with real questions about its safety and security. Those working at these colleges will have to get creative with their social media outreach when deprived of the most popular network.
Even if you don't work at a college, start planning for a post-TikTok world, in case your organization follows suit. As we've always advised, don't put all your eggs in one basket.
Inside the world of fake online reviews
Online reviews help us decide on whether to buy everything from a sandwich to a new car. So of course this influential tool is ripe for abuse from bad actors.
A deep dive from the New York Times examines the world of fake reviews on Yelp, Tripadvisor and similar sites. It looks both at fake positive reviews — including one reviewer who was paid $15 to rave about restaurants he'd never set foot in — as well as negative reviews, where scammers are typically looking for gift cards in return for taking down their pans.
But there's hope. The article says review sites use a range of tactics, running the gamut from algorithms to real, human investigators, to root out fake reviews, good and bad.
According to the New York Times:
Overwhelmingly, false posts are positive, Ms. Foley said. They can come through paid writers or from patrons who feel pressured by the business to post a glowing review or are offered incentives to do so.
Noorie Malik, the vice president for user operations at Yelp, said some hotels thrust smart screens in front of guests as they're leaving and ask them to leave reviews on the spot, which could pressure them into giving unearned praise.
One hotel in Buena Park, Calif., offered discounts to guests who agreed to write five-star reviews, Ms. Malik said. Yelp said it learned of the discounts from one of its users.
That's just the kind of tip a human investigator is waiting to pounce on.
Why it matters: Online reviews are a critical part of the buying process. However, as communicators, we need to create a strategy that encourages but does not coerce reviews. Set up a method to flag suspicious reviews for further review, and always be ready to respond quickly to genuine reviews. As frustrating as fake reviews are, handling real reviews well is a key to maintaining a strong customer base.
Why you need a best friend at work
Even in the era of remote and hybrid work, having a bestie in the workplace is good for overall business, according to research from Gallup.
The research company reported that those who have a best friend at work are more likely to:
engage customers and internal partners
get more done in less time
support a safe workplace with fewer accidents and reliability concerns
innovate and share ideas
have fun while at work
In fact, they say the importance of the work best friend has only grown since the pandemic, as these close friends offer judgment-free support and a space to ask "dumb" questions they might not feel comfortable asking anyone else.
Why it matters: Look for ways to create opportunities for workers to create tight interpersonal bonds. Whether that's setting up digital (or in person) coffee dates, or putting together unlikely duos for brainstorming, you might find that encouraging these pairings can foster relationships that improve people's work and personal lives.
We all need a friend.
Allison Carter is executive editor of PR Daily. Follow her on Twitter or LinkedIn.
COMMENT
One Response to "Popeyes sponsors a viral star, TikTok bans spread to colleges and more"
Ronald N Levy

says:

It's time for Popeyes to DO SOMETHING MORE so students and others love Popeyes more, our Washington leaders hassle Popeye's less, and the "something more" helps to make our world a better place.

How about giving students a chance to vote for America's Teacher of the Year? One thing hard about being a kid is having less power and money than adults but giving kids this chance to vote gives them a power they didn't have before.

Washington political leaders will be damn cautious about saying or doing anything negative about a champion of American teachers. And if more people think about how much teachers are doing for us, will that help make our world a better place?

You could call it "Participatory PR"—PR that allows the sponsor and the audience to participate together in a good cause. Like a large company sponsoring an anti-cancer program for local hospitals. Or a car company sponsoring a "Safer Highways" information program that could win love from millions and associate the car company with safety.

Nominated teachers will be multi-ethnic. Some teachers will have genuinely inspiring stories of arising from a tough beginning that many in the target audience are now in. Most people enjoy the pleasure of DOING things for other people, and this gives the target audience that pleasure. Also pleasurable: WINNING a free chicken dinner by the most eloquent nominators, and teachers can be the judges.

Parents can be brought into their own American Teacher of the Year contest and many would love the chance. There's a local angle because local media would love to report which local teachers have been awarded the most votes plus some of the comments about them. Do teachers influence the Popeyes target audience, would they love heir names to be broadcast by local media and can parents do local media a lot of good??

Would you like to find love on the job? Many people would and can you imagine what a sure thing it is that teachers of kindergarten teachers and first grade teachers do find love? The love or affection of students may continue for years as may the affection for Popeyes of millions who vote for an American Teacher of the Year.

If Popeyes doesn't go for it, how about Tik Tok? Might might association with "American" in "American Teacher of the Year" do Tik Tok a lot of good? (If a mouse runs up the clock, let it be on a Tik Tok site not a Popeyes restaurant.)