Ragan Awards: How a content strategy helped Americans get COVID testing
Dotted Line built a digital content strategy to generate awareness of its clients during the pandemic. It's a winner in the Blog and Marketing Campaign categories of PR Daily's Social Media & Digital Awards.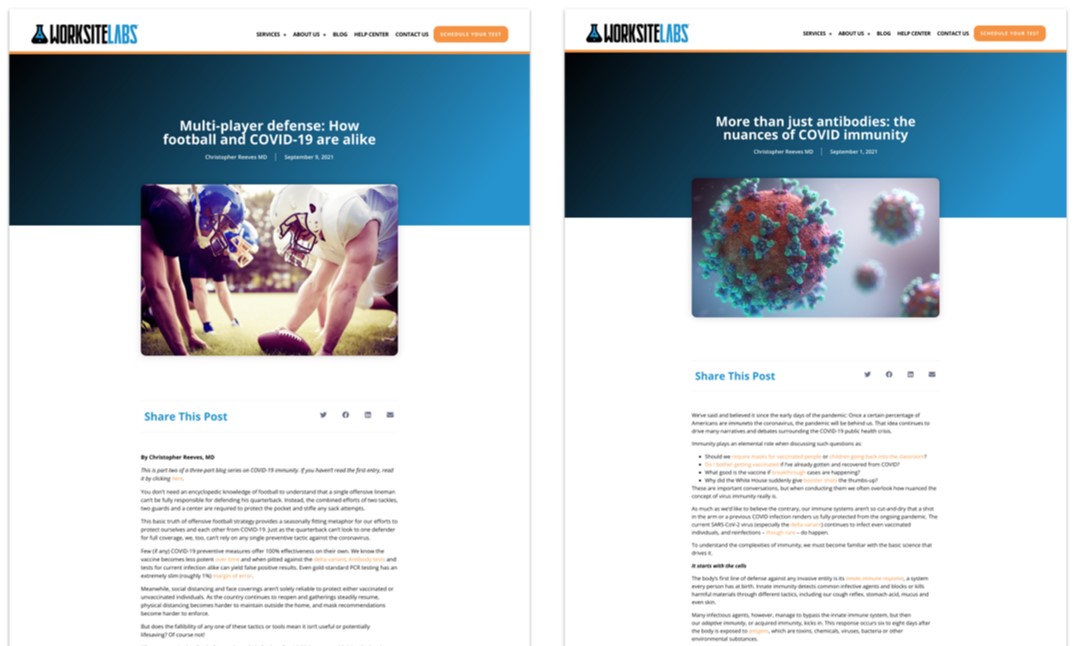 In 2021, Worksite Labs reached out to Dotted Line to increase its visibility and awareness by building marketing strategies for its FDA-approved PCR diagnostic testing.
Worksite Labs and Dotted Line gave more than 500,000 Americans the ability to book COVID-19 testing easily as requirements changed often and access to traditional testing labs was a nationwide problem.
Dotted Line focused on building a digital content strategy to generate awareness, demonstrate thought leadership and engage with people. Using websites, blogs, social platforms and digital advertising, it sought to consistently tie content back to Worksite Labs' consumer-first mission of fast, accurate and convenient COVID testing.
Dotted Line and Worksite Labs delivered frequent, tailored messages to targeted customers on LinkedIn, Facebook, Instagram and Twitter, along with digital advertising on social channels and related apps, plus blogs providing thought leadership on testing and other COVID-19 topics and email campaigns to deepen relationships with customers.
The team also developed an Instagram contest to boost engagement, offering enough free airline miles for two round-trip tickets to Hawaii. The marketing efforts were supplemented with a media relations strategy that drove visitors to the Worksite Labs website, which is constantly updated with information such as a tool for getting the latest travel requirements.
From May through December 2021, total impressions across all platforms increased by 37%. Email open rates increased by 1,245%, organic social media impressions increased by 2,122%, and Worksite Labs' website traffic increased 1,630%.
Congratulations to the teams at both Worksite Labs and Dotted Line.
COMMENT