Read the executive summary from Ragan's 2023 Communications Benchmark Report
The annual survey asked nearly 1,000 communicators across industries how they're overcoming obstacles and shaping strategies. This is what they said.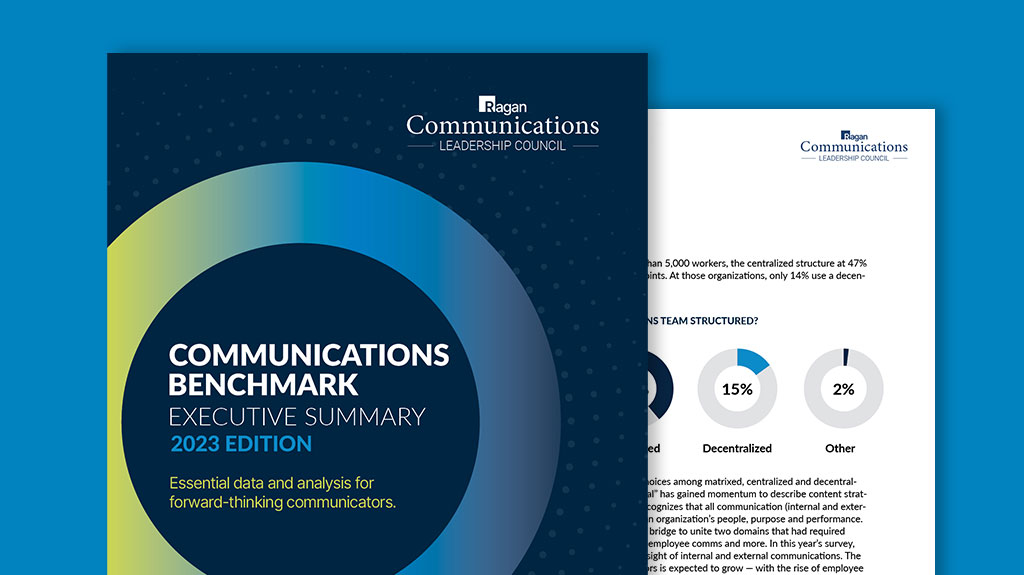 As a changing world brings societal shifts in and out of the workplace, it's clear that the work of communicators has never been more needed. Ragan's annual Communications Benchmark Report, surveying nearly 1,000 communicators from across a broad spectrum of industries, sheds light on what the challenges and opportunities that comms professionals hope to tackle in the year ahead.
From how they're focusing on training and wellness initiatives to earning the ears of the C-suite, communicators shared their insights on a broad range of topics that will help you better understand industry trends and set your priorities for the year ahead.
The full 54-page Benchmark Report is available only to members of the Communications Leadership Council and includes in-depth analysis, forecasts for the year ahead and recommendations. But you can read the executive summary for a free taste of the insights in the full survey.
You'll learn what communicators from a range of industries think about:
How hybrid work and work-life balance impact communications strategy.
The benefits and challenges of various organizational structures.
The most effective channels for internal and external communications.
How communicators are measuring the success of their work.
The most effective channels for internal and external communications.
What new wellness benefits companies are offering.
The areas of training comms professionals are increasing for their teams in 2023.
And much more.
Download your copy of the exclusive Benchmark Survey Executive Summary today and see how your communication efforts measure up. To obtain a full copy of Ragan's 2021 Communications Benchmark Report become a member of the Communications Leadership Council. Click here for more details.
COMMENT