Rebrand for iconic Kraft mac and cheese, how Juul responded to ban and how to get into Fortnite
Also: How consumers prefer to watch ads on streaming services.
Hello, communicators:
An iconic brand announced it will soon change its name and branding — but it will keep the much-loved smiling noodle as part of its image.
After 85 years, Kraft Macaroni and Cheese will become Kraft Mac & Cheese, a move the brand says mimics how customers organically discuss the product.
The new branding emphasizes "positive comfort," with packaging that spotlights the happy, familiar noodle.
"We know that people aren't turning to comfort food as a guilty pleasure, they are positively embracing comfort, saying yes to feeling good, saying yes to caring for themselves," said Kraft Mc & Cheese Brand Manager Victoria Lee in a press release.
Keep an eye out for other brands looking to revamp their looks to emphasize nostalgia and comfort amid this often-stressful post-pandemic world.
Here are today's other top stories:
Juul turns the tables in statement following FDA decision
The U.S. Food and Drug Administration ruled last week to ban sales of e-cigarettes and other products made by Juul.
"Juul's sleek vaping cartridges and sweet-flavored pods helped usher in an era of alternative nicotine products that were exceptionally attractive to young people," The New York Times reports. "The company's initial dominance invited intense scrutiny from antismoking groups and regulators who feared the products would do more harm to young people than good to cigarette smokers trying to quit."
In a statement, FDA Commissioner Dr. Robert Califf acknowledged the role that Juul played in the teen vaping crisis, writing, "We recognize [Juul products] make up a significant part of the available products and many have played a disproportionate role in the rise in youth vaping."
Following the FDA's ban, Juul released a statement on its website. It says the company disagrees with the FDA's ruling and believes that it has provided sufficient information to the public about health risks associated with its e-cigarettes.
"We remain committed to doing all in our power to continue serving the millions of American adult smokers who have successfully used our products to transition away from combustible cigarettes, which remain available on market shelves nationwide," Juul writes in the statement.
The company does not mention the FDA's assertion that it contributed to the teen vaping crisis.
Why it matters: Juul's statement positions itself as part of the solution to nicotine addiction among U.S. adults, rather than part of the problem. Using the words "continue serving" emphasizes the company's assertion that it's one of the good guys. However, ignoring the FDA's accusation that it contributed to the rise in the number of young smokers could eventually get Juul in more trouble with its audience.
---
MEASURED THOUGHTS
Recent research from Morning Consult shows how consumers prefer to receive ads on the streaming services they use.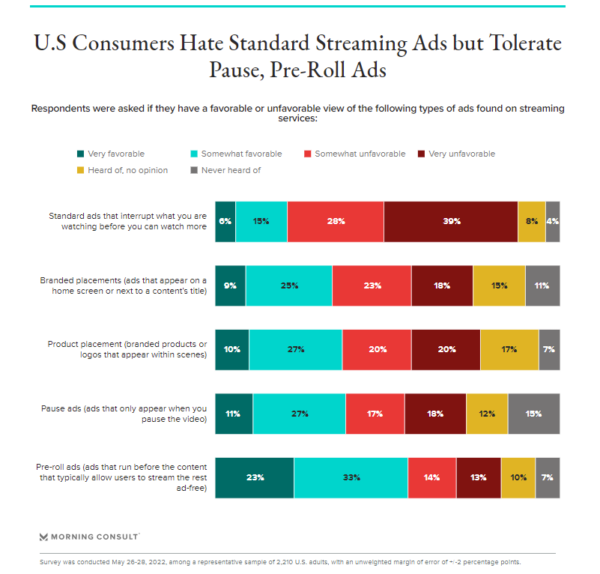 Forty-seven percent of respondents called standard ads that interrupt viewing during a show very or somewhat unfavorable, them the most unpopular way for streaming companies to advertise.
The most popular ad format proved to be advertisements that run before shows or movies that then allow users to watch the rest of the content ad-free.
PR pros, it's a good idea to nail down with streaming services where and how your advertisements will be run alongside their content — and don't be afraid to speak up and cite data about where your ads should run.
Read more from Morning Consult here.
New companies offer brands entry into Fortnite
Companies that will help brands enter the world of virtual reality are springing up like wildfire.
One of these organizations is Beyond Creative, a team of game designers that works with companies to build branded worlds and experiences in the video game Fortnite.
"We bring our clients' ideas to life using the powerful Fortnite Creative platform," Beyond Creative writes on its website. "Our talented team can create almost any game mode or theme imaginable. We can also provide trailers and other branding."
The company's most recent clients include Adidas, Timberland, Chipotle and Balenciaga, all of whom have gotten on board with promoting their products using the virtual reality world of Fortnite.
Why it matters: PR pros should take note of the companies that are successfully shepherding brands into virtual reality marketing and comms. Most of your clients are unlikely to have in-house VR teams, so building alliances and relationships with these niche companies will pay off in spades when clients ask to build VR experiences.
COMMENT