Sheryl Sandberg's departing message, Disney fans criticize Pride efforts and social values factor in to shoppers' decision-making
Also: Elon Musk is firm on return-to-office policy for Tesla workers.
Hello, communicators:
Elon Musk is at it again. A leaked internal email shows Musk is instating a strict return-to-office policy for Tesla employees, writing, "If you don't show up, we will assume you have resigned."
Musk insinuated that remote workers don't pull their weight in a Wednesday tweet:
They should pretend to work somewhere else

— Elon Musk (@elonmusk) June 1, 2022
The Twitter responses were…. Not kind.
I'm actually able to get more done at home, but that's cool. Be judgemental.

— Nikki (@IntrovertedNFJ) June 1, 2022
Still have the issue of people working in close proximity (in the office) which increases the chance of getting COVID. Good to be safe at home until that issue is resolved.

— Laurie (@LaurieLuvMovies) June 2, 2022
Are you kidding me? I am honestly way more efficient working remotely because of useless chit-chat. I think most IT and Technical people would agree. There is always someone talking just to avoid doing real work

— Christine Hughes (@Christiney1) June 1, 2022
It's yet another reminder that internal comms should be treated as if they're going to be seen by your external audiences — especially as it relates to treatment of employees and employer branding.
Here are today's other top stories:
Meta COO Sheryl Sandberg announces she'll step down in the fall
Meta COO Sheryl Sandberg announced her imminent resignation from the company this week in a post to Facebook.
The lengthy post details Sandberg's initial experiences at the tech company and highlights some of the accomplishments achieved over her 14-year tenure.
"It's because of this team – past and present – that more than three billion people use our products to keep in touch and share their experiences," she wrote. "More than 200 million businesses use them to create virtual storefronts, communicate with customers, and grow. Billions of dollars have been raised for causes people believe in."
Sandberg also addressed some controversy that Meta has faced with regard to how it keeps its users safe and their information private:
The debate around social media has changed beyond recognition since those early days. To say it hasn't always been easy is an understatement. But it should be hard. The products we make have a huge impact, so we have the responsibility to build them in a way that protects privacy and keeps people safe. Just as I believe wholeheartedly in our mission, our industry, and the overwhelmingly positive power of connecting people, I and the dedicated people of Meta have felt our responsibilities deeply. I know that the extraordinary team at Meta will continue to work tirelessly to rise to these challenges and keep making our company and our community better. I also know that our platforms will continue to be an engine of growth for the businesses around the world that rely on us.
What it means: Sandberg's message touches on nearly every aspect of her time with Meta, from her "Lean In" book to how the structure of the company will change after she departs in the fall. It's a good example of executive messaging that shines a positive light on an organization while still attempting to address some controversies.
---
MEASURED THOUGHTS
A new report from Morning Consult shows the relative importance of a company's ESG commitments to a shopper's decision on where to spend their money.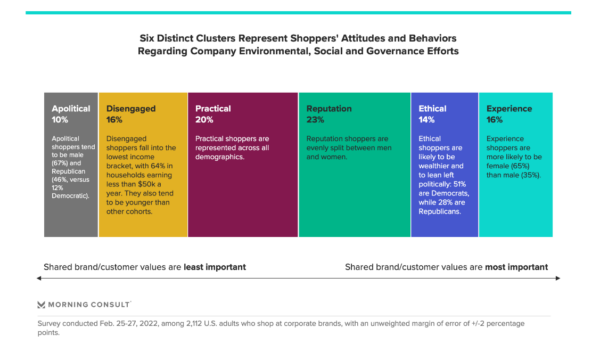 Morning Consult's breakdown of six "shopper profiles" reveals three groups in which shared values are the most likely to affect where customers shop.
From Morning Consult:
Reputation shoppers say they want the brands they shop from to be a force for societal good, but their actual behavior does not match their attitudes: They are just as likely to look the other way if a company acts unethically as they are to stop purchasing from it.
Ethical shoppers — who tend to have higher household income and more politically liberal views — pay a lot of attention to company stances and policies on ethical matters, sustainability commitments and diversity, equity and inclusion commitments. This cohort is proactive about walking the walk — 3 in 4 members of this group said they have boycotted a company for political reasons in the past year, and 71% have spent money with a company as a result of its political stances.
Experience shoppers are more likely than any other group to prioritize the in-person shopping experience alongside brand ethics. They want to shop from brands that sell environmentally friendly products, as well as from companies that treat their employees well — something that correlates directly with their in-store shopping experience.
The data shows that while many shoppers say they choose their brands based on ethical and social values, many consumers won't actually put their money where their mouths are.
Read more from the Morning Consult report here.
Disney fans slam company's Pride Month messaging
Disney fans haven't forgotten the "Don't Say Gay" debacle, it seems. In replies to Disney tweets about Pride Month, Twitter users consistently brought up the company's initial failure to publicly address the controversial Florida law and made accusations of "rainbow washing."
Yeah, sure…#RainbowWashinghttps://t.co/YLKKRis4XX

— Drya (she/her) (@JessyFanja) June 1, 2022
well….

show us that you care. for years, you made it clear that you don't, even going as far as donating money to politicians who supported a certain Flordia bill targeting the very community you're trying to suck up to right now.

you want to fix things, then fine. SHOW US

— Circle (@Circle__Studios) June 1, 2022
Others called on Disney to do more than just publish Pride Month messaging:
Nice tweet, but please give us more LGBTIQ characters. Otherwise it feels hypocritical.

— Juan Roures (@JuanRoures) June 1, 2022
— Animation Tweet City (@AniTweetCity3) June 1, 2022
This u?

I guess pride only matters when you can profit off of it with rainbow merch and twitter posts advertising LGBTQ+ characters on your streaming subscription service. pic.twitter.com/NRxgo9r77c

— Christian Hannah (@TheHannahcast) June 1, 2022
Why it matters: It's no surprise that audiences are having a hard time believing in Disney's Pride Month messaging following the "Don't Say Gay" bill controversy. It should serve as a good reminder to PR pros that rebuilding trust with audiences after a scandal takes more than a few public statements and tweets.
COMMENT