Southwest struggles with flight cancelation messaging, Americans support vaccine mandates for air travel, and Chevron updates sustainability goals
Also: Storyblocks adds inclusive stock footage, Kraft Heinz CEO justifies increased product price, Twitter and Facebook increase social audio push, and more.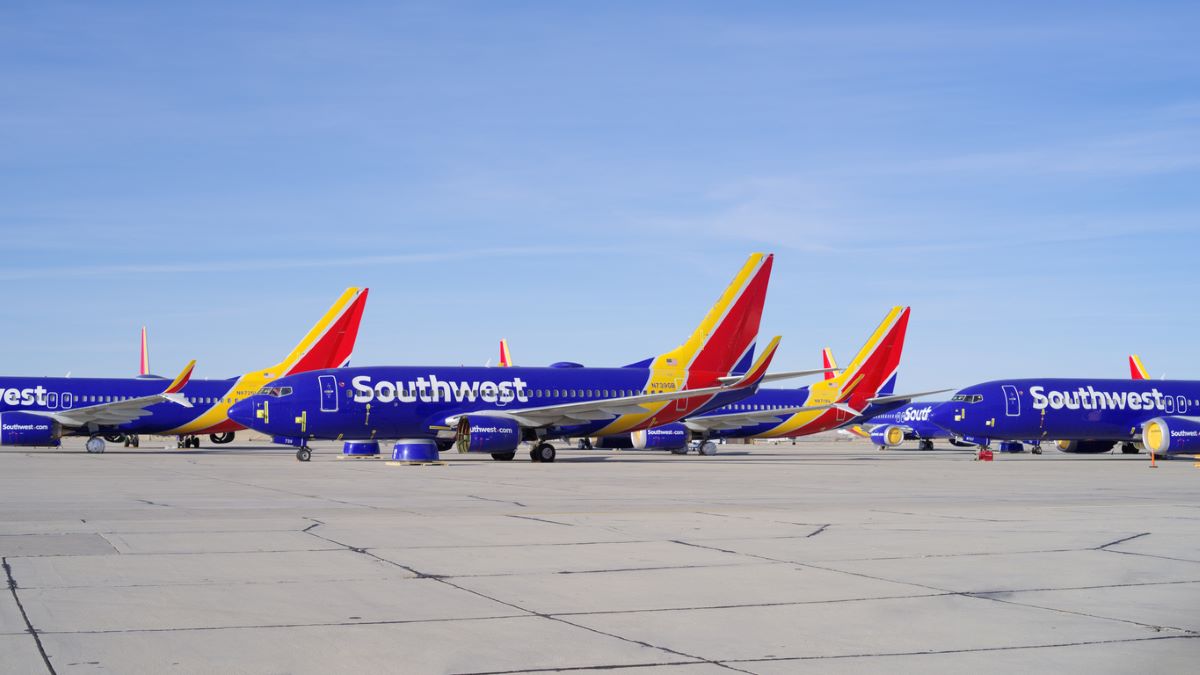 Hello, communicators:
Stock video subscription platform Storyblocks marked Indigenous Peoples' Day with the launch of "Re:Stock," introducing several new collections of diverse and inclusive stock footage to the platform to drive visibility of underrepresented of communities. The new collections spotlight Native American and First Nations communities through the lenses of Indigenous filmmakers and explore themes including food sovereignty, community, conservation and the natural world.
To ensure the collections support and co-create with the communities they represent, Storyblocks collaborated with several Indigenous creative partners, including Josué Rivas, an Indigenous futurist and curator of Indigenous TikTok, along with several Indigenous nonprofits, to ensure that Indigenous people were shaping the narrative.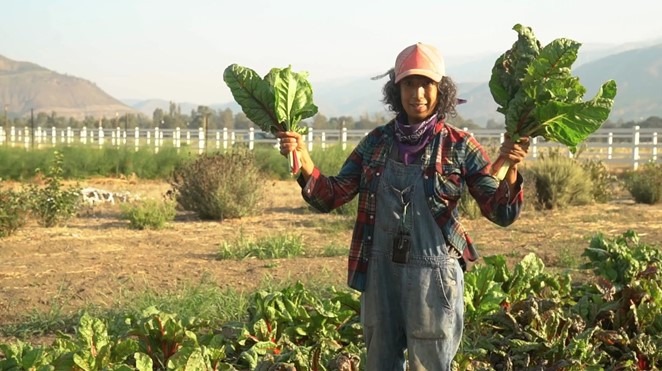 "By selecting Indigenous filmmakers from different geographic regions, our goal is to equip content creators and advertisers with the footage they need to portray underrepresented Indigenous communities from around the world in a fully dimensional light instead of relying on inaccurate tropes and stereotypes," Sydney Carlton, senior director of brand and creative at Storyblocks, said in a press release. 
"Telling our own stories and reclaiming our narratives as Indigenous peoples is a crucial step towards decolonizing media," Josué Rivas said. "The camera has been used as a tool against Indigenous communities for a long time but I believe we are moving towards a paradigm shift where the camera can also be used as a tool for healing ourselves and our communities. These collections are a small step towards the liberation of our stories and an opportunity for other stock images to follow along. By proactively co-creating with us, Storyblocks has given us the platform to plant a seed for the stories of those we will never meet."
Storyblocks' initiative highlights the effectiveness of releasing content that goes beyond DE&I optics to also ensure that the stories you share are conceived, written and told by the people those stories are about.
Southwest Airlines' explanations for flight cancelation challenged by pilots association and FAA
Southwest Airlines canceled and delayed thousands of flights over the holiday weekend, citing air traffic control and weather issues as a reason for the delay. That same day, the Federal Aviation Administration challenged the airline's messaging when it tweeted that no air traffic worker shortages were reported and suggested airline staffing was to blame:
https://twitter.com/FAANews/status/1447249758091988992
The disconnect between Southwest's statement and the FAA's rebuttal led to speculation on social media that pilots were staging "sickouts" to protest vaccine mandates:
https://twitter.com/NA_Kennedy/status/1446984258577444866
https://twitter.com/DavidRendo1/status/1447031780192575489
The Southwest Airlines Pilots Association union denied this, accusing Southwest Airlines of scapegoating its pilots for larger operational failures.
SWA has made the news again this weekend due to another operational meltdown. There are false claims of job actions by Southwest Pilots currently gaining traction on social media and making their way into mainstream news. I can say with certainty that there are no work slowdowns or sickouts either related to the recent mandatory vaccine mandate or otherwise.

SWA has claimed that the immediate causes of this weekend's meltdown were staffing at Jacksonville Center and weather in the southeast U.S., but what was a minor temporary event for other carriers devastated Southwest Airlines because our operation has become brittle and subject to massive failures under the slightest pressure. Our operation and our frontline employees have endured continuous and unending disruptions since the first time our airline made headlines in early June due to widespread IT failures. Our Pilots are tired and frustrated because our operation is running on empty due to a lack of support from the Company.
What it means:
While Southwest's current crisis began when the company canceled thousands of flights, the FAA's quick rebuttal and characterization of Southwest's messaging as disingenuous only made matters worse. This incident serves as a reminder of how inconsistent messaging can spark speculation and fuel misinformation. It also highlights the importance of first consulting your industry partners, including regulators and unions, before issuing a statement that speaks on their behalf.
MEASURED THOUGHTS
In a new poll by Morning Consult, 61% of U.S. adults, including 69% of those who traveled annually by air domestically for leisure or business, said that they support vaccine mandates for domestic air travel.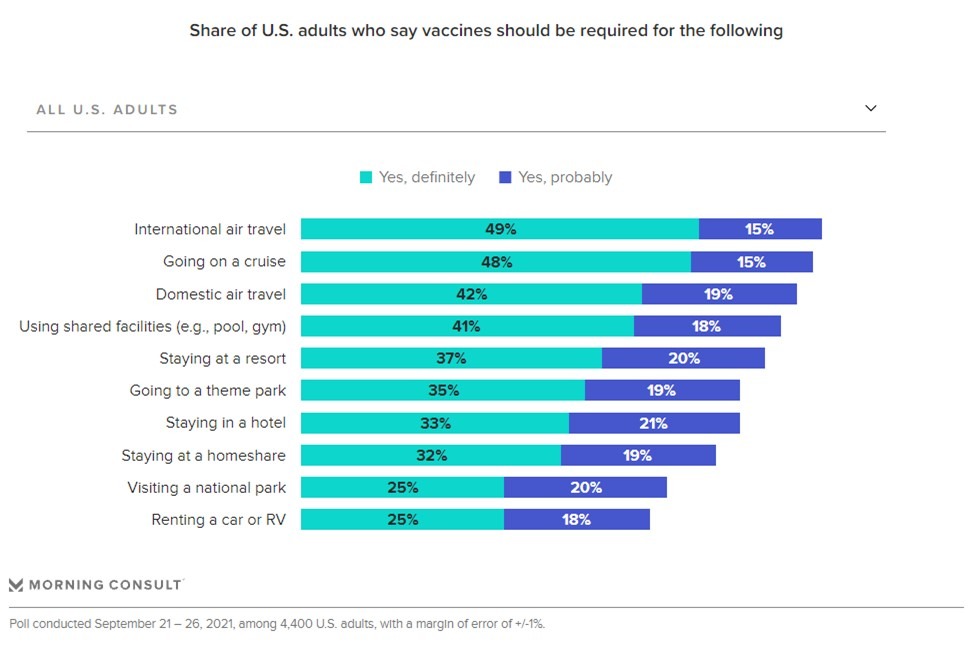 "U.S. airlines have largely pushed against vaccine and testing requirements, citing the logistical challenges that executing these rules would present to the industry," writes Morning Consult's Lindsey Roeschke. "But heading into the typically-busy holiday season, they will likely benefit from rules that provide a level of comfort for concerned travelers — and employees."
Check out the full study here.
TACTICALLY SPEAKING
Kraft Heinz CEO Miguel Patricio said that countries around the world will see higher prices for the company's products, including ketchup and baked beans, citing rising ingredient prices, supply chain issues and more. He also acknowledged the company's sustainability efforts as a solution.
"We are raising prices, where necessary, around the world," he said. "Specifically in the UK, with the lack of truck drivers. In [the] US logistic costs also increased substantially, and there's a shortage of labour in certain areas of the economy."

Mr Patricio says that consumers will need to get used to higher food prices given that the world's population is rising whilst the amount of land on which to grow food is not. In the longer term "there's a lot to come in technology to improve the effectiveness of farmers" that will help.

Campaigners against plastic waste would like to see a reduction in the use of single serving (condiment packets). However following faced a shortage of (condiment packets) during the pandemic, as consumers bought more takeaways from restaurants, Kraft Heinz has invested in expanding production of them by 30%. "Thank God we did that, because now we don't have that [shortage] problem anymore", says Mr Patricio. But he says the company is working on a solution "to cutting the amount of plastic they use".
Patricio's framing of Kraft Heinz's sustainability initiatives as a solution for current supply chain woes demonstrates how you can position your organization's CSR and ESG efforts as a practical solution to transform current problems into opportunities.
SOCIAL BUZZ
Twitter is launching a broader rollout of its live audio tool Spaces, promoting discovery of the feature by highlighting live audio broadcasts while they are in progress:
https://twitter.com/TwitterSpaces/status/1447647870006579204?s=20
The same day, Facebook also announced an expanded rollout of its live audio rooms by giving public figures globally the option to create broadcasts and offering a dedicated space within the platform's "Watch" tab for users to discover various rooms.
"From today, all verified public figures and creators will have the ability to host Live Audio Rooms. We've seen it become a great tool for lightweight connection and conversion among various types of communities."
Twitter's and Facebook's commitments to social audio suggest that the medium is not going away anytime soon. It's a reminder that your communication output should be accessible through intuitive design choices that make it easy for audiences to find the tools, resources and conversations that you offer them.
TAKE OUR SURVEY
If you're looking for benchmark data to show your bosses the next time you ask for a raise, lend us a hand—and help yourself and your peers while you're at it. Participate in Ragan's Salary & Workplace Culture Survey, a comprehensive look at salaries, benefits, culture, bonuses and other aspects of the job in a fast-moving industry.
Both internal and external communicators are encouraged to participate.
By taking part, you will receive a $150 discount to a Ragan virtual conference of your choice and be entered to win one of five $50 gift cards. All who complete the survey will receive a full report on the findings. Responses are anonymous.
Chevron shares net-zero emissions "aspiration"
Chevron has announced a long-term goal to be a net-zero emissions company by 2050, framing the goal as an "aspiration" to reduce Scope 1 and 2 emissions, which cover projects and energy use.
While Chevron's long-term goal does not include Scope 3 emissions, which refer to carbon dioxide from the company's products such as gasoline and account for most of the industry's emissions, Chevron updated its Portfolio Carbon Intensity (PCI) target and accompanying report to include Scope 3 emissions.
According to its press release:
"Chevron's new PCI target assists with transparent carbon accounting and company comparison from publicly available data. The target covers the full value chain, including Scope 3 emissions from the use of products. The company has set a greater than 5 percent carbon emissions intensity reduction target from 2016 levels by 2028. This target is aligned with Chevron's strategy which allows flexibility to grow its traditional business, provided it remains increasingly carbon-efficient, and pursue growth in lower-carbon businesses. Chevron plans to publish a PCI methodology document and online tool to enable third parties to calculate PCI for energy companies.

"We regularly engage with stakeholders and investors to understand their views and to be responsive to their increasing expectations on all issues, including ESG," said Dr. Ronald Sugar, Chevron's lead director.
Why it matters:
Chevron's willingness to update its near-term goals, set tangible benchmark dates and launch with an online tool for third parties to adopt its methodology goes beyond a mere press release or thought leadership. By getting into specifics of its strategy meant to directly engage those keeping a close watch on the energy industry, the company ensures it will be held accountable. Chevron's emphasis on listening to stakeholders and investors, meanwhile, emphasizes how more people understand the impact that sustainability benchmarks can have on a company's bottom line.
COMMENT