Starbucks covers travel for abortion, gender-affirming care, Ryanair CEO lets loose on Boeing and Americans want companies to take a stance on abortion rights
Also: Airbnb's newest promotion will let you can-can with the best of 'em at Moulin Rouge.
Hello, communicators:
Feeling sexy? Airbnb's newest promotion will allow three lucky customers to stay overnight in one of the most alluring places in the world: Paris' Moulin Rouge dance hall.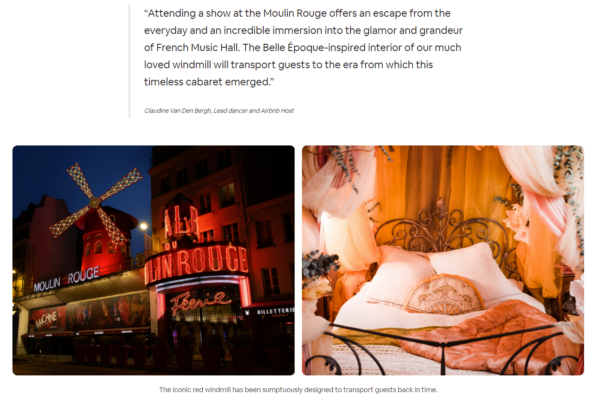 Airbnb's press release about the promotion includes photos of the performance space as well as the inside of the iconic red windmill, where guests will stay. Airbnb also got quotes from one of Moulin Rouge's lead dancers and a French cultural historian.
The press release basically writes the story for journalists who are looking to quickly summarize the promotion, especially when it comes to the inclusion of high-res photos and third-party quotes.
Here are today's other top stories:
Starbucks covers employee travel for abortion, gender-affirming care
Following the example of Amazon, Apple, Microsoft and others, Starbucks announced this week it will cover travel expenses for employees who must travel to access abortion-related or gender-affirming health care services.
According to the news release, Starbucks will offer reimbursement for employees who have to go further than 100 miles from their home to access these services. The policy also applies to dependents of those enrolled in medical insurance through Starbucks.
Starbucks has a reputation for championing liberal causes, like vocally supporting same-sex marriage and hiring refugees. That also extends to transgender rights. Its health insurance has covered gender reassignment surgery since 2012 and a wider array of gender-affirming procedures, like hair transplants or breast reduction, since 2018.
"We consistently listen to and collaborate with our partners to evolve our benefits based on their different benefits needs and preferences — and we will always work to ensure that our partners have access to quality healthcare and the support services they need," Starbucks' news release reads.
What it means: As companies continue to struggle to attract and retain employees, PR pros know that employer branding is everything. And a new poll from Fast Company and Harris Poll (see our Measured Thoughts section) shows that 45% of non-retired U.S. adults say it's important to them that their current or future employer take a stance — one way or another — on abortion rights.
Companies' commitments to ensuring that their employees have access to abortion care sends a clear message on company values.
---
MEASURED THOUGHTS
Even before the recent Supreme Court news, U.S. adults have wanted brands to take a stand on the abortion issue.
A Harris Poll and Fast Company study conducted before the leak of the Supreme Court's stance on Roe v. Wade shows respondents want brands to take a side.
Fifty-four percent of adults said it was "important" to them that companies take a stand.
"That figure included both 58% of all pro-life respondents and 58% of all pro-choice respondents, suggesting the feeling was consistent on both sides of the debate," writes Fast Company's Connie Lin.
And 41% of respondents said they feel that brands have a greater responsibility to take a stance on abortion than other social issues, like LGBTQ+ rights or gun control.
"…it may also relate to the fact that while most companies don't have much sway in Florida's LGBTQ laws, or do very little to impact racial injustice across the country, they can have a more direct effect on how abortion restrictions play out," Lin writes. "Businesses can offer employee healthcare coverage that includes — or excludes — medically induced abortion services such as surgical procedures or prescription pills."
Read more from the Harris Poll/Fast Company report here.
Ryanair CEO lights into Boeing in expletive-laden investor call
Michael O'Leary, CEO of European airline Ryanair, did not mince words about his feelings on Boeing during a recent investor call, calling the manufacturer's management "headless chickens" and calling for "a boot up the ass" of Boeing execs.
O'Leary and Boeing had an unusually public dispute last fall about negotiations on a possible order for the next generation of the 737 Max, with Ireland-based Ryanair breaking off talks because of a pricing squabble.

The CEO's unusually blunt comments Monday were focused on Boeing's delayed deliveries of planes. O'Leary said Ryanair had to scale back its spring and summer schedules because planes it had expected the aircraft maker to deliver by the end of April probably won't arrive until the end of June.
"Either the existing management needs to up its game, or they need to change the existing management, would be our view of life," O'Leary said on the call. "We're very happy to work with existing management but they need to bloody well improve on what they've been doing delivering to us over the last 12 months. … We're a willing customer, but we're struggling with slow deliveries and an inability to do a deal on new aircraft despite the number of white tails they have sitting on the f***ing ground in Seattle."
Why it matters: While CEO comms should not generally include obscenities, there is something to be said about the authentic passion with which O'Leary spoke. Responses to news of his outburst on Twitter show users commending him for "speaking the truth" and "keeping it real." It's a good reminder to PR pros that encouraging CEOs to show their human sides can be a valuable comms tool (but let's stay away from "boot up the ass" in the future, OK?)
COMMENT