Supreme Court case could change Internet as we know it, Apple CEO questions metaverse and more
Plus: Taco Bell 'apologizes' for past breakfasts.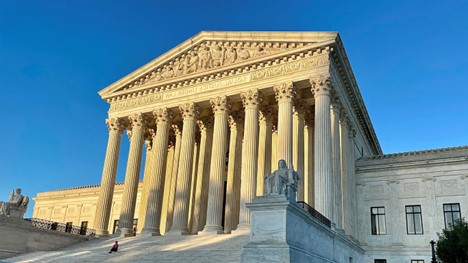 The Supreme Court will hear a case challenging the broad liability protections Google,  Facebook and other social media companies have for third-party content posted on their platforms through the Section 230 provision of the Communications Decency Act
The case involves the family of Nohemi Gonzalez, who was killed in an ISIS attack in Paris in 2015.
The family claimed Google "aided and abetted" ISIS by allowing terrorist videos of the attack to be posted on YouTube as well as including them in users' recommendations.
Section 230 currently protects tech platforms from the way that they moderate third-party content, but Republicans have said Section 230 censors conservative content, while Democrats believe Section 230 should be used more to root out political misinformation.
Why it matters: Although this case focuses on content from a terrorist organization, it opens the door for how "problematic content" could be defined in the future. The case has massive implications for brands in the future on how their own content is viewed in addition to content posted around the brand from others. Brands need to be aware of the case and understand how the ruling could impact how posted content is viewed in the future. This could literally change the Internet as we know it.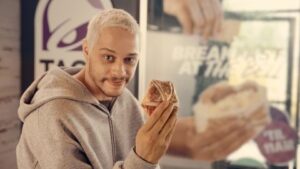 Taco Bell 'apologizes' for breakfast menu in new ad campaign
Taco Bell is saying in a new campaign that the fast-food restaurant has tried to do too much with its breakfast menu.
The brand is running ads featuring former "Saturday Night Live" star Pete Davidson with an "apology."
Sean Tresvant, Taco Bell's chief brand officer, told CNN that Davidson was a great spokesman since he "probably took it a little bit too far sometimes" in his career, like how the chain went a "little too far on breakfast."
"We honestly over-innovated in breakfast," Tresvant said,  "When you look at today's consumer and the [fast food] breakfast business, it's about familiarity and it's about comfort."
Why it matters: It's OK for brands to admit past mistakes. Taco Bell is taking an innovative tactic in a crowded fast-food breakfast space by admitting mistakes on its menu and using Davidson to poke fun at its past and attract a younger audience.
Apple CEO questions the metaverse
As Apple is reportedly working on its new augmented and virtual reality offerings, Apple CEO Tim Cook is raising eyebrows on a European tour with questions about what the metaverse is.
"I always think it's important that people understand what something is," Cook told Dutch publication Bright. "And I'm really not sure the average person can tell you what the metaverse is."
Cook hasn't publicly mentioned any plans for Apple to develop metaverse projects.   Meta CEO Mark Zuckerberg told his employees earlier this year that Meta is in "very deep, philosophical competition" with Apple to build out the metaverse.
"This is a competition of philosophies and ideas, where they believe that by doing everything themselves and tightly integrating that they build a better consumer experience," Zuckerberg said, according to The Verge, claiming that Meta's more interoperable development is different from Apple's closed approach.
Why it matters: Cook's comments come as Apple continues to explore ways to build up augmented reality while Meta is taking steps to promote its metaverse efforts. Their work raises the question of how the metaverse will continue to grow. Based on Zuckerberg's comments, each company will develop its own vision of augmented reality and the metaverse, leaving communicators and brands to make their own choices on what works best. Keep an eye on future comments from Cook and Zuckerberg here.
TV stations show more health news, but have fewer health reporters
A new survey from D S Simon Media shows that while TV stations have used more health care coverage since the start of the COVID-19 pandemic, many stations still don't have a dedicated health reporter.
The report indicates that 88% of stations have shown more coverage, but only 14% have a dedicated health producer and 26% have a health reporter.
In addition, the survey found 83% of local TV news stations interview a spokesperson by satellite or Zoom, while 72% send a reporter and crew out and 57% take a network or syndicated feed.
Why it matters: Newsrooms are smaller than ever. Even after COVID, most newsrooms still don't have a dedicated health care reporter. That means it takes more time to locate the right person for a pitch and honing your approach to show why audiences need to know what you have to share.
Chris Pugh is a staff writer for PR Daily. Follow him on Twitter and LinkedIn. Send story ideas to ChrisP@Ragan.com.
COMMENT
One Response to "Supreme Court case could change Internet as we know it, Apple CEO questions metaverse and more"
I decided a few years back that every word I speak shall be copyrighted . In the hopes to be fully understood . Now with Google trying to record my every word and trace my every whereabouts I'm determined to write a book . In time we may not be misunderstood as long as we know how to comprehend . "Let it be known since 2012′ Tim's Doin It" . By Time Without An-e . Sincerely Tim
Tags: Apple, metaverse, supreme court