Tech companies rescind job offers, Amber Heard on social media's power and Americans' opinions on cancel culture
Also: An epidemiologist uses Bieber's recent diagnosis to educate Twitter users.
Hello, communicators:
An epidemiologist with the University of Illinois-Chicago is using Justin Bieber's recent diagnosis to educate Twitter users about Ramsay Hunt syndrome.
Katrine Wallace, a doctor of epidemiology at UIC, broke down the reasons why Bieber's diagnosis is unlikely to be a side effect of a vaccine:
Ramsay Hunt syndrome is a form of shingles, which is caused by the varicella virus that causes chickenpox, in people who have been infected, often decades later. In Ramsay Hunt syndrome, shingles occur in the ear and the nerves in the face are paralyzed /2 pic.twitter.com/TZ9qpXgkgf

— Katrine Wallace, PhD (@DrKatEpi) June 11, 2022
"The varicella virus [which causes chickenpox] stays dormant in the nerves after an infection," she writes. "*Any* stress to the immune system can cause a reawakening of the virus and a case of shingles. So to be clear: Shingles (& Ramsay Hunt) are caused by the varicella virus, not a vaccine."
It's a good example of using soft newsjacking to educate and inform, rather than promote a person or brand product.
Here are today's other top stories:
Amber Heard addresses power of social media in defamation lawsuit
Actress Amber Heard is acknowledging the powerful social media PR strategy Johnny Depp's team put in place during the former couple's defamation trial.
In an interview with NBC's Samantha Guthrie, a preview of which aired earlier this week, Heard addressed the social media hubbub surrounding the trial, calling it "unfair."
"…even somebody who is sure I'm deserving of all this hate and vitriol, even if you think that I'm lying, you still couldn't look me in the eye and tell me that you think on social media there's been a fair representation," she said. "You cannot tell me that you think that this has been fair."
Why it matters: Social media is a powerful tool — and not one to be dismissed when it comes to winning in the court of public opinion.
"With millions of fans on every continent in place, including organized fan clubs and social media groups, there was an army of people fired up and ready to advocate for Depp no matter what," writes PR Daily's Allison Carter. "All his team had to do was to reach out to the gatekeepers of those groups with classic PR tactics."
---
MEASURED THOUGHTS
New polling from the Pew Research Center shows more than half of Americans believe calling out offensive posts on social media is likely to hold people accountable for what they say.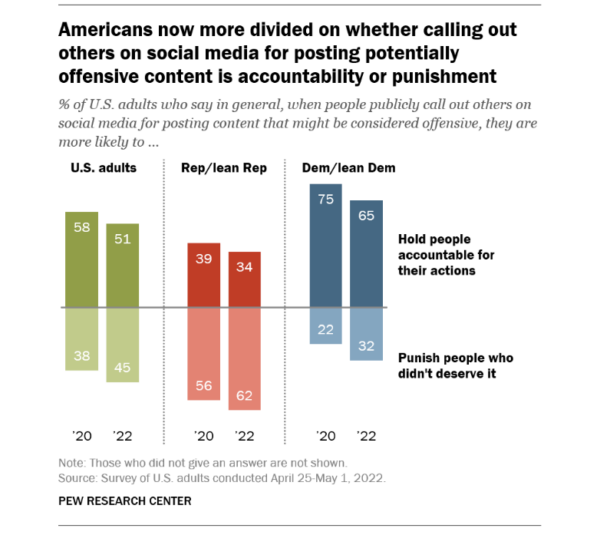 Fifty-one percent of U.S. adults said that "when people call out others on social media for posting content that might be considered offensive, they are more likely to hold people accountable for their actions."
While this number is down from 2020 (58%), the 2022 number still represents a wide swath of Americans. This means that more than half of U.S. adults are likely to feel comfortable calling out brands for social media faux pas — so PR pros should remember to be careful and inclusive with their social media messaging.
Tech companies begin rescinding job offers
Cryptocurrency exchange platform Coinbase's Chief Operating Officer Emilie Choi shared last month that the company would be slowing hiring — and two weeks later, Chief People Officer L.J. Brock wrote in a blog post that Coinbase would rescind some accepted job offers.
HR Brew reports that Twitter and Redfin have also begun rescinding offers in recent months, "in a phenomenon that seems to be becoming more common in the current tech industry's climate."
It's a bit of a PR problem.
"Companies live and die by how people perceive them," California State University PR professor Christopher Cathcart told HR Brew. "If there's an impression that [companies] haven't been honest, or operated with high levels of integrity, particularly [with] something as sensitive as hiring…it can have a ripple effect down the line to how people perceive them writ large relative to their brand and impact on their ability to sell products and provide and offer services."
Why it matters: Employer branding is PR, period. Gone are the days of treating employees badly or as an afterthought — if your company wants to remain in good standing with its audience and stakeholders, it's important to consider the ramifications of unpopular moves like rescinding job offers.
COMMENT