The CDC announces a comms-focused restructure and social media platforms prepare for midterms
Plus: Goldfish and Dunkin' release pumpkin spice-flavored snack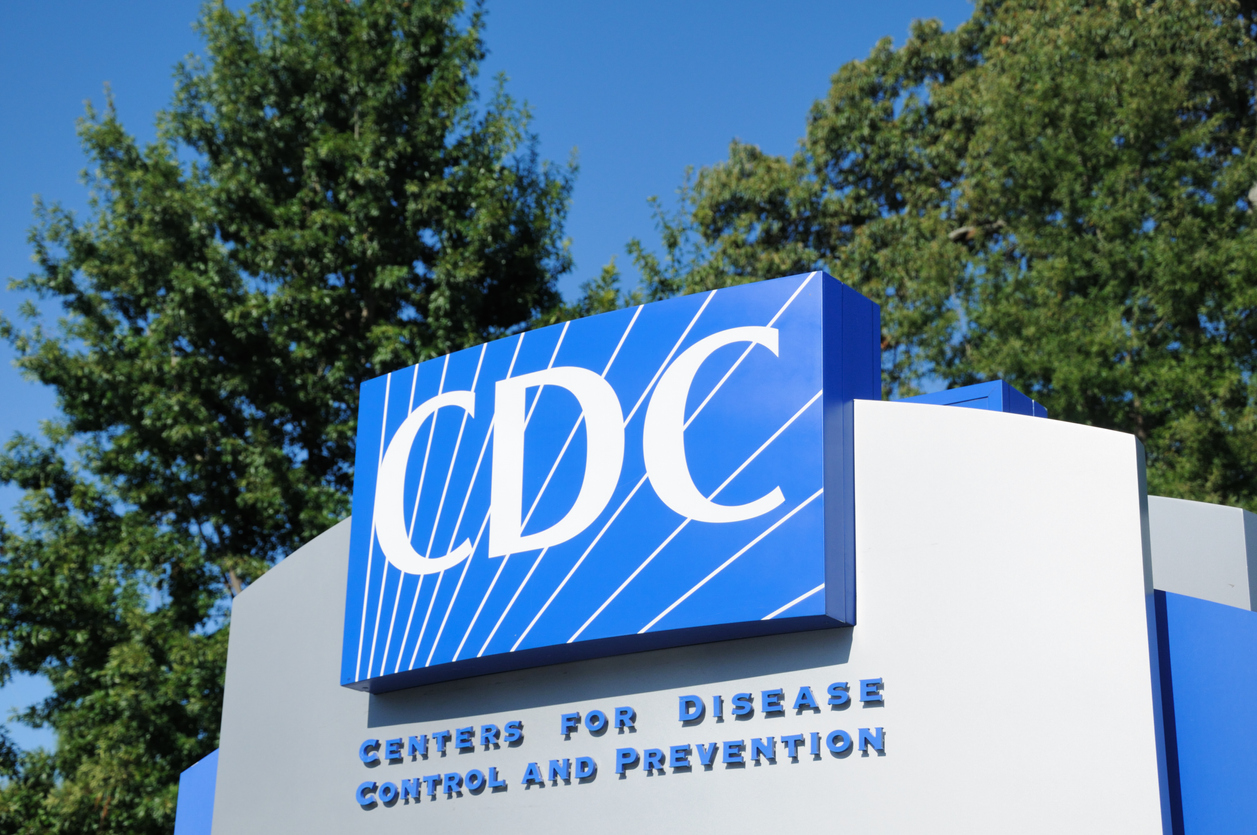 Most people don't know there are actually five seasons: winter, spring, summer, fall and pumpkin spice.
To celebrate the latter, Goldfish has partnered with Dunkin' to release a new limited edition snack, Pumpkin Spice Grahams. The fish-shaped snack includes notes of pumpkin, donut glaze and warm spices and hits shelves Sept. 1. To promote the launch, Goldfish and Dunkin' are giving fans an early access opportunity to buy the snacks. Starting at noon today, a limited quantity of Pumpkin Spice Grahams will be available through TikTok.
The goldfishsmiles account posted about the partnership two days and has started using the hashtag #GoldfishRunsOnDunkin. Although some promotional food collaborations are a hard sell, Pumpkin Spice Grahams don't seem that far-out.  
Here are today's other top stories:
Following botched pandemic response, CDC announces major reorganization
Big changes are coming to the Centers for Disease Control and Prevention. On Wednesday, CDC director Dr. Rochelle P. Walensky announced a sweeping reorganization, after admitting the agency's response to the COVID-19 pandemic fell short. "To be frank, we are responsible for some pretty dramatic, pretty public mistakes, from testing to data to communications," she said. "My goal is a new, public health action-oriented culture at CDC that emphasizes accountability, collaboration, communication and timeliness." 
Walensky's plans to shake up the CDC come amid ongoing criticism of the agency's response to COVID-19. For years, the agency has been criticized for being too academic, focusing on the collection and analysis of data but not acting quickly against new health threats. The overhaul is the first step in restoring public trust. Dr. Walensky plans to remake the culture to help the agency move faster when responding to health crises. She also wants to streamline the website and, in general, make it easier for the public to understand health guidance. CDC officials say they hope to have the changes finalized and approved by the Department of Health and Human Services, and underway, by early 2023. 
Why this matters: Experts have said the CDC has long undervalued the importance of communicating directly to the public. COVID-19 exposed the current CDC structure's inability to take in information and share it at the speed it needed to. Long story short, a breakdown in communication is what led to the shake-up. Better late than never.
MEASURED THOUGHTS
In the battle between "House of the Dragon" and "The Rings of Power," the real winners are fantasy fans. Data from Morning Consult found that there is broad interest for both series. Two in five adults said they're interested in watching "The Rings of Power," while 34% said they're interested in watching "House of the Dragon." Self-identified fantasy fans are also interested in watching both shows. 59% said they'd watch Amazon Prime's "Rings," while 49% said they'd watch HBO's "Dragon."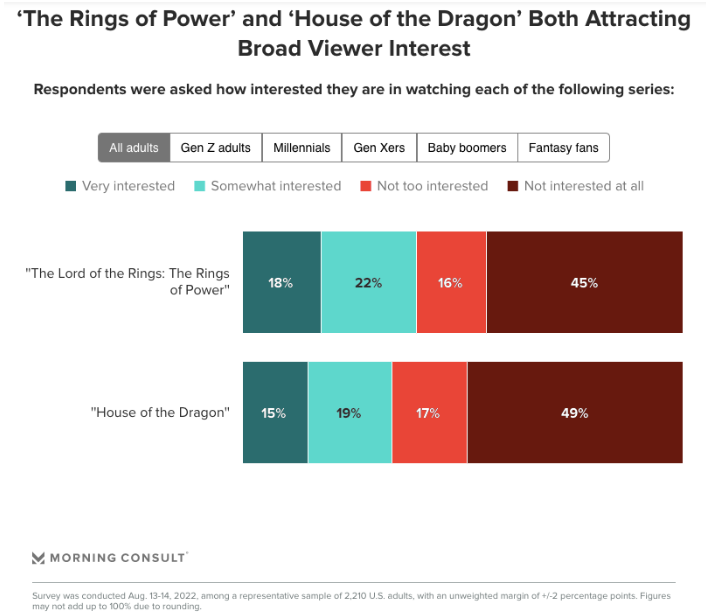 While the data suggests that audiences are slightly more interested in watching "The Rings of Power," there is plenty of room for both series to succeed. That's good news for both Amazon Prime and HBO, as well as other fantasy franchises like Star Wars and the Marvel Cinematic Universe. 
Social media platforms launch election integrity features ahead of US midterms
With the U.S. midterms coming up, Twitter, Meta and TikTok are taking steps to limit the spread of election misinformation. Last week, Twitter announced it would enforce its Civic Integrity Policy, which covers the most common types of harmful misleading information, including:
" … claims about how to participate in a civic process like how to vote, misleading content intended to intimidate or dissuade people from participating in the election and misleading claims intended to undermine public confidence in an election — including false information about the outcome of the election."
Twitter plans to bring back tweet labels and prebunks as well, and is launching new elections info hubs in Explore. Meta also plans to bring back some of its 2020 tactics. The company, which owns Facebook and Instagram, will remove posts that call for violence or mislead people on where and how to vote. Meta also plans to work with outside fact-checkers, including five Spanish-language organizations, to review posts and label them if they're misleading. 
Unlike Meta, TikTok doesn't allow political advertisements. To limit election misinformation, the video-sharing app plans to double-down on its ban of paid political content. Organic posts referencing politics or elections will remain on the app, as long as they follow community guidelines. Any post that violates the guidelines will be removed. TikTok has also been working with fact-checkers to identify keywords and codewords for the election that should trigger scrutiny. And like Twitter, they plan to launch an elections center that will provide information about polling places, ballots and candidates.
Why this matters: The combination of initiatives from Twitter, Meta and TikTok should help keep users informed. People tend to get their news from social media, so identifying and removing misinformation about the U.S. midterms ensures it won't aggregate somewhere else. 
COMMENT