The Daily Scoop: Squishmallows show the power of storytelling, new pizza collab for Ninja Turtles
Plus more news you can use.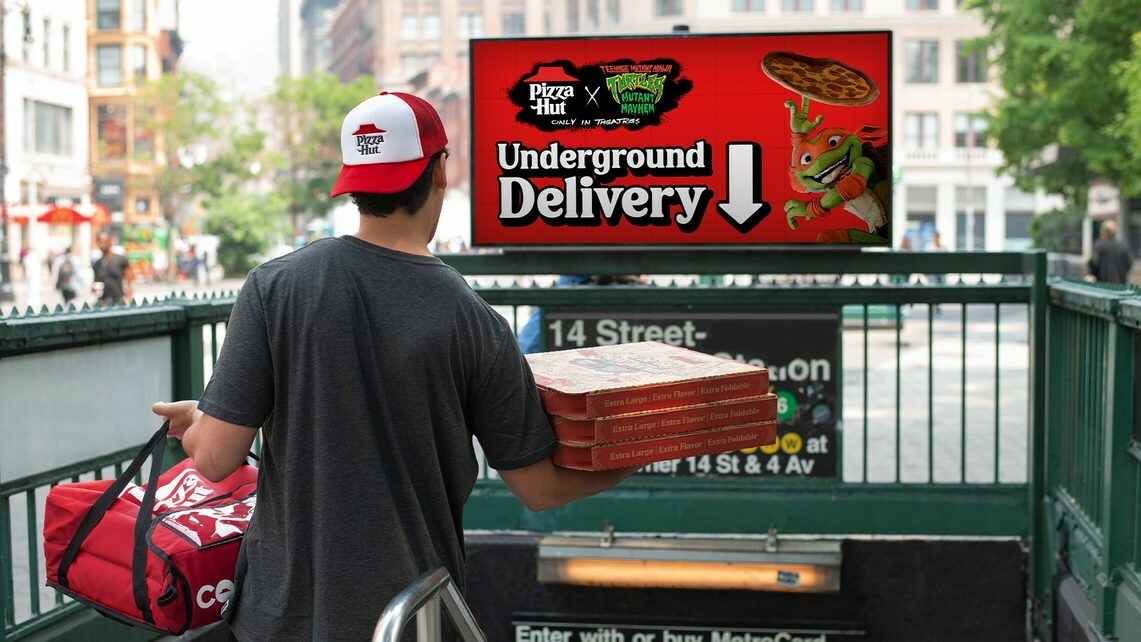 Cowabunga, dudes! Pizza Hut and the Teenage Mutant Ninja Turtles are making a larger-than-life splash this summer.
Pizza Hut and "Teenage Mutant Ninja Turtles: Mutant Mayhem" partnered up in a big way to hype up the release of the August 2 film, according to PR Newswire. The 360 campaign includes TMNT-themed Big New Yorker pizza boxes, TV commercials, a TMNT: Pizza Power Mobile AR Game and in-movie integration. 
 "Pizza Hut and Teenage Mutant Ninja Turtles have a longstanding history that goes back to the '90s. Bringing the two together again for a new generation was a no brainer," Pizza Hut Chief Marketing Officer Lindsay Morgan said in the release. 
The campaign also included underground deliveries where people ordered a Pizza Hut pizza by texting the turtle emoji and received their pizza at a New York subway station. In the AR game, people can deliver pizza directly to the turtles.
Why it matters: Pizza Hut teaming up with Teenage Mutant Ninja Turtles to promo the August movie is a tasty collab. The Ninja Turtles love pizza and this partnership dating back to the '90s shows that good things come back around again with updated integrations and activations. We're always here for it.
This natural partnership builds excitement around the movie, with the unique underground pizza delivery drop-off, playing up the TMNT-themed pizza boxes and other creative launches for the campaign. The pizza also makes a cameo in some TMNT movie scenes is simply the pepperoni on top. The collab blurs the lines between fiction and reality — what's on-screen and off. There's a lot to take part in especially if you live in Manhattan and got in on the action in person. Millennials will especially enjoy this throwback collab that evokes childhood memories while others can make new ones. 
Squishmallows draws consumers in with imaginative storytelling
Squishmallows — ultra squeezable plushies that might remind you of giant Beanie Babies — owe a great deal of their popularity to adults, The Washington Post reported.
Jazwares, which took over the Squishmallow parent company KellyToy in 2019, said consumers 18 and up are particularly interested in buying these toys.
Some adults like to collect them with their friends and communities online and partake in the childlike wonder of it all.
 "It took off in a way no one really expected," James Zahn, Toy Insider senior editor and Toy Book editor-in-chief, said. 
They all have unique backstories, which help boost them, too. 
Shep, a Squishmallow, was described as "sort of sad-looking." Nadia Lindstrom brought him home after reading his description as a long-haul truck driver searching for a travel companion, per the article.
They are too cute to not be bought just because I'm almost 25 pic.twitter.com/qjybg7iK0t

— clarice (@claricecina) June 26, 2023
Why it matters: Stories resonate. Squishmallows gets that. Gerhard Runken, Jazwares senior VP of brand and marketing, describes their approach as a "narrative-based brand – character-driven, squad-driven." 
Each toy has its own "squish date" and backstory that helps people connect with the toy beyond just its innate cuteness. It builds an emotional connection that keeps these items from becoming just another toy: they're a friend. 
According to the Washington Post article, Squishmallows have risen in popularity with little to no traditional advertising. Organic social media has helped drive sales — again, because people are eager to share the stories behind their pals. 
"Squishmallows are also diverse and inclusive," per the article. "They include characters who are nonbinary as well as characters who are deaf, blind or use a wheelchair."
These characters have personas and unique traits that make them feel human in a way everyone can relate to. How can you make your brand's story and product shine through storytelling? 
Editor's Top Picks:
  A Rhode Island Walmart is facing backlash after putting a Black male employee in a cage in the store requesting for bail money on a sign to get him out. The sign also read, "I'm in jail!!! I need bail!!! Help me raise $50 to get out!!" The store's attempt to raise funds to donate to a nearby Children's Miracle Network wound up going viral for all the wrong reasons. Angela Ankoma, leader of the Rhode Island Foundation's Equity Leadership Initiative, said she was "perplexed" and "deeply offended." 
 What does Gen Z value the most in a brand? Authenticity. It's no wonder that this demographic connects deeply with social media influencers who connect to their followers o. "After an era of fake news and filtered photos projecting the perfect life, Gen Z is over it," according to EY research.
 Bud Light has a new advertisement campaign highlighting summertime and the ease of drinking their beer. Anheuser-Busch InBev CEO Brendan Whitworth said that the company has always been "in the business of bringing people together over a beer." Bud Light's hoping to recoup some major losses after featuring transgender social media influencer Dylan Mulvaney in a spring promotion, which led to blowback from conservatives and the LGBTQ+ community.

Sherri Kolade is a writer at Ragan Communications. When she is not with her family, she enjoys watching Alfred Hitchcock-style films, reading and building an authentically curated life that includes more than occasionally finding something deliciously fried. Follow her on LinkedIn. Have a great PR story idea? Email her at sherrik@ragan.com. 
COMMENT