These are PR Daily's 2023 Top Women in Marketing
Check out the inaugural class of women raising the bar in marketing.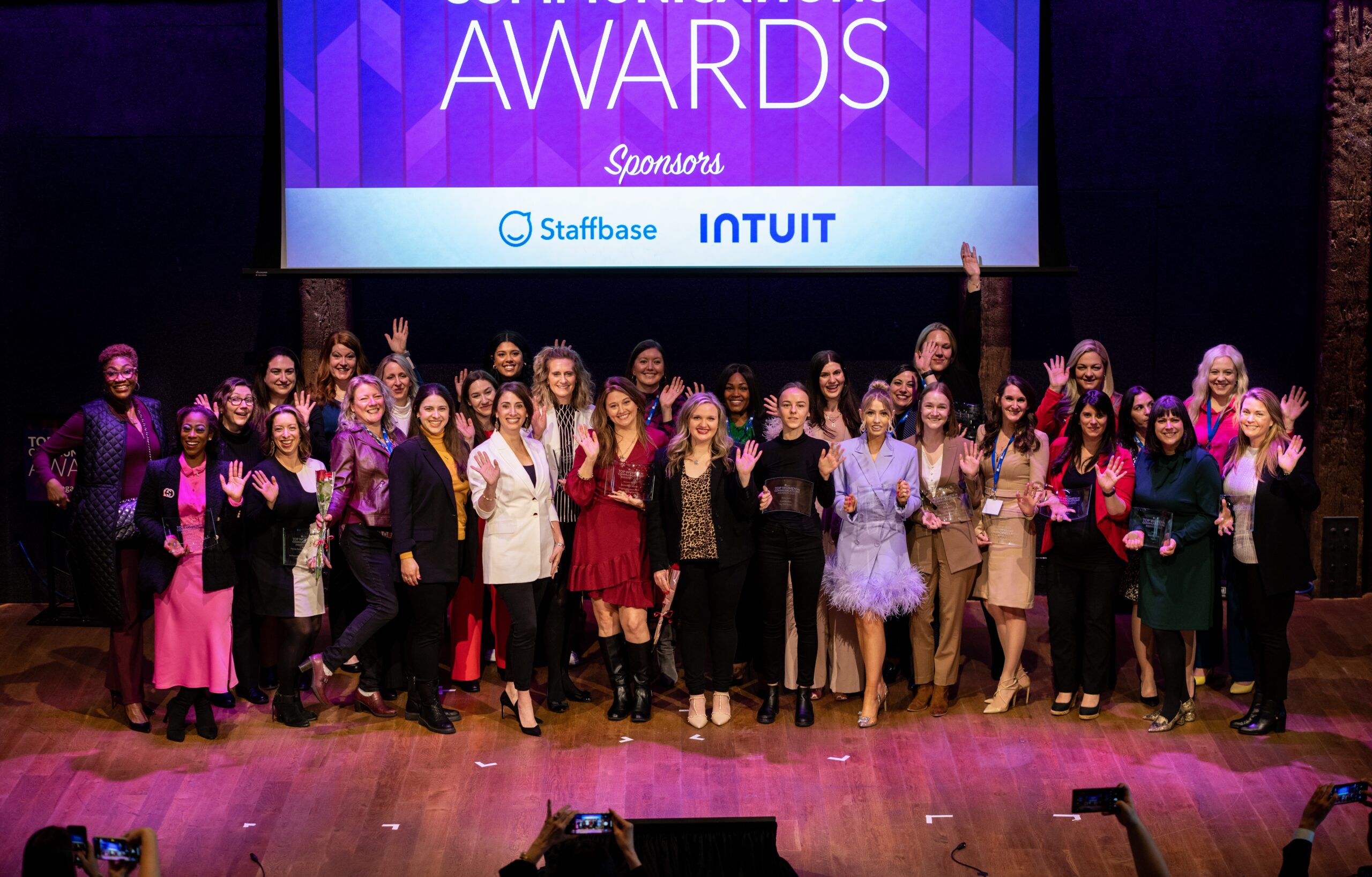 PR Daily's Top Women in Marketing recognizes the trailblazing achievements of the women who have raised the bar for the rest of the marketing world, developing high-performance, relentlessly creative work across advertising and marketing.
Today, we are delighted to announce our 2023 class.
These women develop innovative and impactful creative work, pioneer high-performance strategies for brands, agencies and organizations, and pave the way for other women and underrepresented communities to take up the torch and join in. PR Daily's 2023 Top Women in Marketing have leveraged their networks, influence and experience to solve today's most pressing challenges, reach new audiences and empower those whose voices often go unheard.
From top communications leads at agencies to analytics aces, these women have demonstrated the ability to unlock new opportunities and generate impact across diverse domains through cutting-edge tactics and tools. They are leaders, mentors and champions — and the driving force behind positive change in the marketing landscape. We proudly honor their work and accomplishments.
Read on for the full list of 2023 inductees and click here to learn how you can join us for a special awards ceremony on Oct. 26, 2023.
Congratulations to PR Daily's 2023 Top Women in Marketing
Agency Leaders
Demar Anderson, Senior Vice President, Marketing + Business Development, Allison+Partners
Rachel Barek, CEO and Co-Founder, Said Differently
Kelly Higgins, Chief Marketing Officer, Doremus+Co
Jessica Becker, Managing Partner, US & Canada, Manifest
Kara Brown, Chief Executive Officer, LeadCoverage
Adrienne Cadena, CEO, Havas Street, Havas Formula
Abbie Griffith, U.S. Head of Operations, Health, Edelman
Katherine Hollar Barnard, Managing Partner and CEO, Firesign Marketing
Tatiana Lyons, Managing Director, Klick Health
Rebecca Nunez, CEO, The MRN Agency
Debra Pickett, Founder and Principal Consultant, Page 2 Communications
Laura Smith, Executive Vice President, Client Services, Racepoint Global
René Spellman, Chief Impact Officer, Obsidianworks
Sharon Tallach Vogelpohl, President & CEO, MHP/Team SI
Donna Tobin, Global Chief Marketing & Communications Officer, DDB Worldwide
Heather Torreggiani, Founding Partner, The Scratch Collective
Gabrielle Zucker, Chief Executive Officer, KWT Global
Brand Marketers
Nicole R. Braley, Chief Marketing Officer, Inception Fertility
Lisa Campbell, Chief Marketing Officer, OneTrust
Jenn Carson, Manager, Social Media & Digital Marketing, Krasdale Foods/ Alpha 1 Marketing
Maria Colon, Vice President, Marketing and Customer Experience, De'Longhi America
Erika Constantine, Associate Vice President, Marketing, Discover The Palm Beaches
Maggie Curry, VP Brand Marketing, Kendall-Jackson Winery
Aliah Davis-McHenry, Executive Director Corporate Marketing Corporate Communications, Bristol Myers Squibb
Jennifer Denton, Chief Marketing Officer, SHE Media
Sue Dietrich, Marketing Director, Stanley Brand
Jessica Dixon, Senior Vice President, Marketing and Communications, MIND 24-7
Angelina Franco, Director, Brand Communications U.S. and Global Moments, Mars Wrigley
Linda Goldstein, Chief Marketing Officer, CSAA Insurance Group
Jenna Habayeb, Chief Marketing Officer, IPSY
Julie Hernandez, Vice President, Gout Marketing, Horizon Therapeutics
Kari Herrin, Senior Vice President, Brand Experience, Savannah College of Art and Design
LaQuita Howard, Marketing Manager, League of Women Voters
Helene Imperiale, Director of Corporate Social Responsibility and Call of Duty Endowment Marketing, Activision Blizzard/Call of Duty Endowment
Joy Jarrett, CMO, Guidehouse
Kathleen Kaag, SVP of Marketing, Loadsmart
Jill Kouri, Chief Marketing Officer, HCLTech
Lauren Mannetti, Vice President, Marketing, GNC
Lindsay Morgan, Chief Marketing Officer, Pizza Hut
Megan Newton, Senior Director of Brand Marketing and Digital Media, San Diego State University
Zahra Nurani, Vice President of Marketing Communications, Burger King
Kaylan Rexer, Chief Marketing Officer, Ilegal Mezcal
Kristin Russel, Chief Marketing Officer, symplr
Deborah Sabo, Senior Vice President of Marketing, Food Lion, LLC
Joanna Scholl, Senior Vice President Marketing, Branding and Digital Content, The 92nd Street Y, New York (92NY)
Julie Seman, Executive Vice President and Chief Marketing and Innovation Officer, Primerica
Alison Urmini, VP Marketing, Jackson Family Wines
Maya Wasserman, Head of Marketing, Home Entertainment and Sound, Sony Electronics, Sony Electronics
Amber White, VP of Marketing, Phillips Connect
Stefanie Zambelli, Director of Marketing, Applebee's Grill + Bar
Content Marketers
Marissa Beck, Senior Director, Brand and Content, North America, Mars
Sue Burkett, Strategic Marketing Leader, Owens Corning
Barrie Gruner, Executive Vice President, Marketing and Publicity, Hulu Originals, Hulu
Lainey Johnson, Americas Head of Brand and Media, EY
Sarah Ledger, Assistant Vice President – Marketing and Communications, Cambridge Investment Research, Inc.
Sheila Sarkozi Stevens, Partner Marketing Manager, RepairPal
Kelly Warkentien, Senior Creative Director, Merrell
Erin Weir, Executive Vice President, Marketing Strategy, ABC & General Entertainment, The Walt Disney Company
Data/Analytics Leaders
Leslie Alore, Global Vice President of Growth Marketing, Ivanti
Melissa Hendricks, CMO, Verisk
Melissa Watson, Vice President of Marketing Data Platforms and Analytics, Providence
Marketers to Watch (Age 30 and Under)
Ashley DeJonge, Digital Marketing Associate, Riddell
Sabiha Gire, Assistant Vice President Creative Services, Outreach Strategists
Gia Lee, Co-Founder, NinetyEight
Vanessa Mbonu, Vice President, Digital Marketing and Communications, NAACP
Kerry Mullen, Vice President, Vested
Abby Nelson, Senior Marketing and Communications Specialist, Ascension
Maeli Niebles, Senior Digital Marketing Manager, Native Roots Cannabis Co.
Product Marketers
Diana Chan, Chief Marketing Officer, MOLLI Surgical
Corinna Fulton, Vice President, Solutions Marketing, Ivanti
Rachelle Graham, Vice President Marketing/Communications, UPMC Health Plan
Meagan Keane, Director of Product Marketing, Adobe
Elizabeth Magill, VP, Marketing, Cyara
Social Media Marketers
Alejandra Caceres, Director of Social Media, Crumbl Cookies
Beril Gutierrez, Director, Social Media & Content, Discover The Palm Beaches
Jennifer McDonnell, Vice President, Content & Social Media, Reshift Media
Sharifah Niles-Lane, SVP, Head of Enterprise Social Media and Content Strategy, Citizens
Alana Visconti, Director, Social Media, Listings, Nasdaq
Jamie Whalen, Director, Social Media, Ivanti
Team Leaders
Elizabeth Delhagen, Global Head of Communications & Events, Samsung Electronics
Jane Griffin, Regional Vice President, Marketing & Communications, Trinity Health
Marnie Mitchell Keogh, Senior Vice President, Marketing, Magellan Health
Kristi Melani, CMO & GTM Strategy, Telesign
Sukhmani Mohta, Chief Marketing Officer, Display Division, Samsung Electronics America
Erica Morgenstern, Chief Marketing Officer, Virgin Pulse
Kathy Parker, President & Global Chief Marketing Officer, Bacardi – PATRÓN Tequila & Grey Goose Vodka
Ashley Pollard, Senior Director, Marketing and Communications, Ascension
Jennifer Renaud, Chief Marketing Officer, Masonite
Melanie Siewert, Chief Marketing Officer, CellPoint Digital
Rhonda Sloan, Global Head of Sales & Marketing, AIG Travel
Caryn Stancik, Chief Communications & Marketing Officer, Cook County Health
Shoma Thomas, Chief Marketing Officer, WellSky
Katie Townsend, SVP Marketing and Communications, Seattle Kraken
Sarah Wise, Senior Vice President, Brand and Creative Services, AmeriLife
Lisa Wolleon, Executive Vice President, Coyne PR
Tech/Digital Marketers
April Augustine, Director of Marketing, Gaming Laboratories International (GLI)
Shweta Ponnappa, Chief Marketing and Digital Experience Officer, Providence
COMMENT
One Response to "These are PR Daily's 2023 Top Women in Marketing"
Shabnam Grover

says:

Proud of you dear Sukhmani ❤️❤️😘😘🌺🌺keep the flag flying 🙋‍♀️🙋‍♀️🌺🌺