TikTok highlights restaurant's plight, Coke leans into Christmas magic
Plus: Consumers are willing to pay a premium for products with a cause behind them.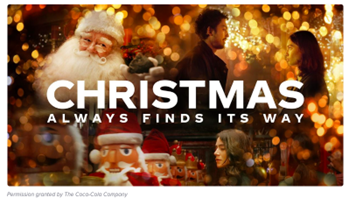 Every now and then, someone manages to tell a story with just a few seconds of video, causing an outpouring of goodwill. That happened yesterday, when TikTok's @marcatostacc posted 10 seconds of her family's seemingly empty Mexican restaurant in Illinois, panning from the warm-toned walls and potted plants to her mother looking out the window, apron tied.
"It breaks my heart to see my mom watching the door…" the text overlay begins, a song by "The Voice's" Chance Peña playing in the background. Users shared the video over 13,000 times, leaving tens of thousands of supportive comments and making plans to join Taco-Bout-Joy for tortas, tacos and tamales.
Why it matters. Taking to social media to tell a sad tale and seek community support is an unfortunate byproduct of hard times. Pandemic, inflation, layoffs—there's no shortage of difficult stories. And reaching for community support can be a major inspiring appeal.
What struck us about this post was the dignity with which @marcatostacc portrayed her mother's worry. Allowing audiences to fill in the blanks themselves was the right thing to do, connecting to compassion and empathy with grace and respect. 
Paying for good
Stores (online and brick-and-mortar) are filled with people busy buying gifts for the holiday season. In November the National Retail Federation forecast that the season's sales would grow between 6% and 8% compared to 2021, totalling between $942.6 billion and $960.4 billion.
And they're not buying indiscriminately, according to this week's Bentley-Gallup Force for Good study. It turns out consumers are willing to pay significantly more for products from companies known for doing good.

From Bentley-Gallup:
Specifically, majorities of at least 60% said they would be willing to pay extra for a simple consumer good — a T-shirt —[1] [2]  if the company that made it was known for making a positive difference in four specific areas.

These findings are all the more noteworthy given that the survey was conducted at a time of high inflation when many Americans were likely particularly price-sensitive.
Why it matters. This is surely incentivizing intel for organizations considering community-minded initiatives or employee satisfaction measures. But even for organizations who are already active in these spaces, it's a reminder that communicating these endeavors to the public has real value. Storytelling about impacting your community or protecting the environment helps consumers decide to align with you[3] .
IG sheds light on shadowbans
For Instagram users interested in growing their audience, the platform's new Account Status update will help identify issues that could be preventing their account from being promoted within feeds or Explore. Yellow alerts let creators know what to address if they're aiming for that visibility—for example, posts that violate IG content rules. The goal is to "demystify" shadowbans and make it easier for creators to game their content for wider audiences.
You can get the step-by-step straight from Instagram CEO Adam Mosseri, including options for content that's been ID'd as preventing the account from being recommended. (Basically, creators can delete, edit, or appeal.)
"We know it's important for creators to understand how Instagram works if they're going to use it over the long run," Mosseri said.
Why this matters. IG gets brownie points for this transparency move, since previously creators may have been unaware that there were fixable obstacles to a broader reach. Now, if creators suspect a reach drop or hear from followers that they're not seeing new posts, there's a place to pop the hood for the account and see if something needs fine-tuning. And if nothing seems to be flagged but things feel quieter than usual, it will be a healthy sign that the account's content just isn't finding traction and it's time to retool.
Coke leans into Christmas magic once again
Coke is cozying up to Christmas, leaning into a history of Santa-themed holiday messaging with an expansion of its 2021"Real Magic" brand platform.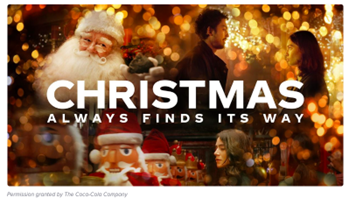 From MarketingDive:
●       Coca-Cola is promoting an anthology of short films on Amazon Prime Video as part of its holiday marketing this year

●       The series comes from a new "Real Magic Presents" extension of the "Real Magic" brand platform the soft drink marketer introduced in 2021. "Christmas Always Finds Its Way" was created with Brian Grazer and Ron Howard's Imagine Entertainment, which teamed with production company Prettybird for the project

●       WPP's OpenX and Grey also assisted on the push spearheaded by Coke's Latin American arm. Marketers like Coke are evolving their content marketing and product integration strategy as ad-free and ad-light streamers conquer linear TV.
Video shorts are Coke-light and good-vibes-heavy, with filmmakers from the U.S., France and Brazil sharing storylines about a Mexican town famous for making Christmas decorations, a disenchanted couple rediscovering their love while Paris window shopping, and a comedic flight of fancy involving a vampire facing down a romantic rival: Santa.
Why this matters. Nice work on Coke's part for this emphasis on diverse storytelling, and the human connection theme is a spirited fit for the holiday season. Let's see if other companies lean into paid storytelling opportunities on streaming giants like Amazon Prime, Netflix and others as 2023 bounds closer. As MarketingDive noted, "Amazon's advertising sales segment jumped 25% year-on-year in the third quarter to reach $9.5 billion, a growth rate that bested digital rivals."
Communicators can learn from the way Coke paired this streaming content with other elements, including a physical component (Amazon Fresh bags) and watch-along events via Twitch in Europe.
COMMENT