To nab top talent, one PR agency turns to celebrity platform Cameo
Having a hard time filling roles amid a red-hot labor market? The crunch is forcing some hiring managers to get creative.
How are you getting the word out about your unfilled positions? Amid what some are calling the "Great Resignation," many companies are struggling to fill open roles. The number of job openings in the U.S. hit a record high in June, with more vacancies now than at any other time in history.
That's great news if you are looking for work, but it's a tough task for those who are eager to bring in new talent. That's what led Uproar PR to get creative with its new job posting, turning to the platform Cameo to partner directly with Sugar Ray's Mark McGrath.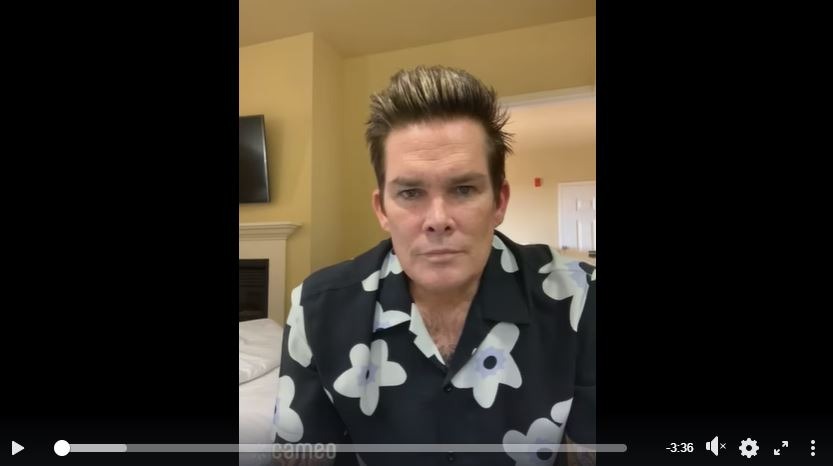 "The last few months have been a very challenging time to find great talent," says Catriona Harris, CEO for Uproar PR. "There are more candidates in the market than we have seen in a long time, but they tend to get offers before we even have time to interview them."
To compensate, Uproar PR has sped up its interview process to try and get to a decision on a potential candidate before they get swiped by another firm. "Rather than doing two-three interviews with a single candidate over the course of a week or two from different stakeholders at Uproar, we try to do them all at the same time or back-to-back so we can make decisions quickly," Harris says.
Hitting the Mark
To make a little extra noise, Uproar PR used Cameo, which enables people to pay participating celebrities and personalities to record a personalized message.
"With the hiring market being so competitive right now, our executive team was sitting around a table discussing creative ways to attract talent," says Harris. "We were throwing out unconventional things we could do and came up with the idea of using Cameo. We thought our digital team could do an amazing job creating a campaign around a celebrity hiring campaign."
The decision to go with Sugar Ray's Mark McGrath was all about knowing the target audience. "The video turned out better than we could have imagined – Mark was so personable and fun," says Harris.
And the stunt has been a big hit.
"The response to the Mark McGrath video has been outstanding," says Harris. "Within minutes of launching the video, everyone on our executive team was getting texts, DMs and calls from colleagues commending us on the creativity. In fact, we hear a few other companies have borrowed the idea."
And most importantly, the team has seen a great batch of applicants for its open role. "The caliber of our resumes coming in the door has also been stellar!" Harris says.
What new hires are looking for
What is the difference maker for a potential new hire looking for an agency home in 2021? Is Mark McGrath really making the difference—or are there other intangibles that an employee is seeking in this labor market?
"I feel candidates are looking for employers who understand the pandemic has changed the future of the workplace and workforce," Harris says. "They want to work for a place that gives them freedom in their day to have balance and flextime."
For Uproar PR, this has meant going from three offices in 2019 to a fully remote organization scattered across nine states. "We encourage our team to block out time in their day to go for a walk, do yoga, throw in a load of laundry," Harris says, adding: "I think it's imperative that we embrace this new way of life – it's staying with us now."
Like other organizations, Uproar PR is also working to support employee wellness. "One thing we have added that I'm very excited about is an annual employee wellness retreat," says Harris. The retreat has been dubbed Uproar Unwind and will offer an all-expenses paid trip for employees and their guests later in the year to a beach location. Like any good PR creation, the event has been given a tagline: "No Work, All Play."
"We want people to relax with their coworkers and get to know them in a casual environment, free of Zoom!" says Harris, who intends to make the wellness retreat an annual event.
Takeaways for others 
 How can you follow Uproar's lead, perhaps without cribbing its Cameo stunt?
 "Get creative!" admonishes Harris. "No longer can you post a job, wait for resumes, and have your HR department casually screen them.  It's a competitive market, and you need to adjust to be competitive alongside of it."
COMMENT
One Response to "To nab top talent, one PR agency turns to celebrity platform Cameo"
Ronald N Levy

says:

David Finn, now celebrating his 100th birthday, was among the very first great PR firms to snag PR talent–tops in skill and passion–that almost everyone would love to hire.

Of his three top managers, EVPs or SVPs, Dick Weiner had a secretary who was Black, Norm Weissman was I think partly Asian and FIRMLY opposed anyone calling Japanese people Japs. He refused to allow it when he was in the room. Charlie Lipton was among the first PR firm leaders to head a strong financial PR department and one of the very first to require that corporate releases must be not only true but not misleading.

David Finn was also admirable for believing that even unpopular accounts should in America have a right to tell their side of the story. So Dick Weiner headed a gifted team representing Philip Morris. He didn't try to argue misleadingly about tobacco but got widespread media coverage on the client's good deeds including sponsorship of a major American museum exhibit about Suleyman the Magnificent.

A triumph in representing an unpopular account came when Ruder Finn
changed the public impression of Japan from former enemy and producer of low-quality products (a "made in Japan" label was a turnoff) to being America's ally and producing products of top quality.

David Finn was fiercely protective of clients. No overbilling ever for expenses. No promise of more than he could deliver. On the contrary, he gave whatever hours the agreed-upon fee covered but if that wasn't enough he gave whatever more hours were needed to meet the objective!

I'd guess (without knowing) that like most or perhaps all other top PR firms he sent cases of liquor to editors but even this had a good effect. Years later when a huge PR team not at Ruder Finn won a HUGE contest for survival of the nuclear industry which even then saved over $1 billion per nuclear electricity generating plant not closed, the industry sent the winning PR leaders—who worked non-stop days, nights and weekends for over a month but won!—enough Champagne and spirits to make kidney doctors rich.

David Finn helped to enrich PR people not just in spirits and money but morally and in pride.