Tony the Tiger comes to Twitch, period trackers aren't secure and more
Plus: Keke Palmer is helping McCormick find a new jingle.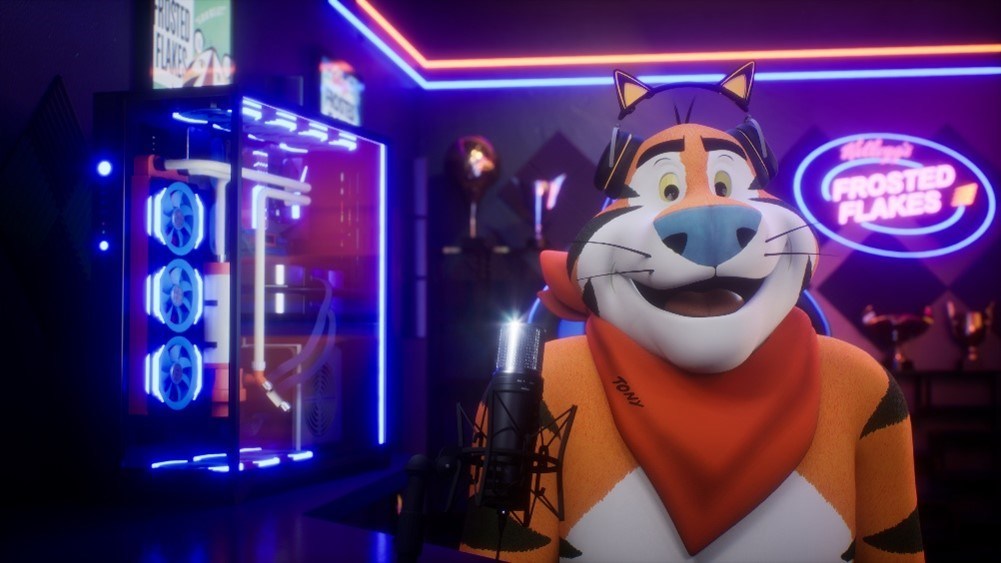 Last year, McCormick hired a director of taco relations. Now, the spice brand has tapped actress Keke Palmer to help with a nationwide search for a theme song for the brand's new taco seasoning. Called "America's Got Tacos," the contest requires submitting an original song while preparing a taco recipe with McCormick's seasoning. 
The company is promoting the contest on its website and social media channels and partnered with Palmer because of her personality and "affinity for tacos." McCormick CMO Jill Pratt told Adweek that Palmer "brings an authentic passion and flavor to everything she does — from her music career to acting and even in the kitchen." The partnership gives fans something to taco 'bout and is a great example of a fun, spicy way to engage fans in beloved products. 
Here are today's other top stories:
New report finds reproductive health apps share and sell personal data
Last week, the Mozilla Foundation released a report about 25 popular reproductive health apps. Mozilla, a non-profit organization that advocates for online privacy, found that most of the 10 pregnancy apps, 10 period trackers and five wearables they scrutinized collect vast amounts of personal data and then share it. Mozilla gave 18 of the products a "*Privacy Not Included" label, meaning users' data may not be secure. Ashley Boyd, vice president of advocacy and engagement at Mozilla, said the company has been publishing *Privacy Not Included for the better half of a decade, but that the latest edition is the "most urgent" one yet. In a statement posted in Mozilla's website, Boyd said:
These apps … have data collection as the foundation of their business model. They can track our vital signs, where we go, when we go there and who we are. This means that now, our surveillance economy could be used to track, harass, arrest and event prosecute a person seeking an abortion."
Jen Caltrider, who leads the *Privacy Not Included online guide, told Good Morning America that users should be wary of apps that collect information about their sexual orientation, moods, symptoms, pregnancy and other health information. "Expect that that information is no longer yours to control," she said.
Why this matters: While some experts say the mass deletion of these apps may hamper scientists' efforts to learn about reproductive health, others say it's important to be aware of apps' privacy policies. Reproductive health apps' ability to share data with law enforcement is of particular concern to people who live in states where abortion has been limited or banned. 
MEASURED THOUGHTS
For the first time, streaming claims the largest piece of the TV viewing pie. According to Nielsen, a global leader in audience measurement, streaming represented a record 34.8% share of total television consumption in July. (Cable and broadcast came in at 34.4% and 21.6%, respectively.) While streaming usage has surpassed broadcast before, this is the first time it has also exceeded cable viewing.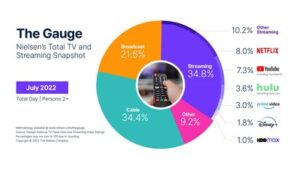 The release of the fourth season of "Stranger Things" contributed to the boost in streaming. Viewers watched nearly 18 billion minutes of the Netflix show. Hulu's "Only Murders in the Building" and "The Bear" also combined for 3 billion minutes viewed. With so much content entering the streaming space, it's interesting to see which media companies have the most eyeballs on them. 
Kellogg's Frosted Flakes brings Tony the Tiger to Twitch 
Kellogg's and Twitch are leveling up the fun for cereal fans and gamers alike. On Friday, Kellogg's Frosted Flakes mascot, Tony the Tiger, made his debut as a VTuber. TechCrunch described Tony's first appearance as "awkward," but in the tiger's defense, Kellogg's is the first brand globally to work with Twitch to transform a brand mascot into an interactive VTuber. Twitch Brand Partnership Studio global head Adam Harris told AdWeek, "Bringing an iconic mascot like Tony the Tiger to our service is an exciting first for our Brand Partnership Studio. This innovative concept taps into the growing popularity of VTubing on Twitch." 
The live-streaming service, which Amazon owns, saw a 467% increase in content year-over-year last year. With more than 30 million average daily visitors, Twitch gives Kellogg's Frosted Flakes and Tony an opportunity to connect with new audiences. As Kellogg All Family Cereal director Sadie Garcia said, "[We] are always looking for ways to connect with lifelong fans and the next generation of cereal lovers, whether that's through releasing new fun flavors of Kellogg's Frosted Flakes or by showing up in new places."
Why this matters: The key to a successful Twitch account is a fun, innovative gaming experience that keeps people coming back. Even if audiences only interact with VTubers' avatars, brands need to provide a human connection. 
Dawn Olsen is a writer who went to an out-of-state engineering school (Purdue University) to get an English degree. She has lived in Indianapolis for 10 years and spends far too much time on Twitter. In fact, she's probably thinking about Twitter right now.
COMMENT