Twitter responds to $150M FTC settlement, Congress grills Abbott exec on baby formula plant conditions and what journalists want from your pitches
Also: Texas NFL teams issue statements about the Uvalde mass shooting.
Hello, communicators:
The Dallas Cowboys and Houston Texans both issued statements Wednesday about the mass shooting at an elementary school in Uvalde, Texas.
We are heartbroken by this afternoon's tragic events in Uvalde as we mourn alongside our neighbors in Texas. To the victims, their families and the entire Uvalde community, you are held close to our hearts today and in the weeks to come.

— Houston Texans (@HoustonTexans) May 24, 2022
The entire Dallas Cowboys organization grieves alongside the community of Uvalde and all of those affected by today's tragic event.  As we mourn the loss of innocent life, our hearts and prayers are with the victims' families, loved ones, faculty and staff of Robb Elementary.

— Dallas Cowboys (@dallascowboys) May 24, 2022
Some users responded with pleas for action in addition to words of support:
Put your millions behind candidates who will do something.

— Jason Ferrante (@JasonFerrante) May 24, 2022
How about pressuring those politicians you own into common sense gun reform?

— CLE resister (@jkcle) May 24, 2022
Put your money where your mouth is… what campaigns do you donate to or support?

— Great Googlely Moogely (@Judge_Mental_SA) May 24, 2022
It's a reminder to PR pros that commenting on a social issue or national tragedy can lead to online pushback from your audiences — but staying silent is ultimately the worse option.
Here are today's other top stories:
Twitter responds to $150M FTC fine
As part of a settlement over its "deceptive" use of targeted ads, social media giant Twitter will pay the Federal Trade Commission $150 million in fines.
The company admitted in 2019 that it was "inadvertently" using users' emails and phone numbers for advertising purposes, Engadget reported.
Twitter released a statement about the settlement on its company blog:
…today we want to reiterate the work we'll continue to do to protect the privacy and security of the people who use Twitter.

Keeping data secure and respecting privacy is something we take extremely seriously, and we have cooperated with the FTC every step of the way. In reaching this settlement, we have paid a $150M USD penalty, and we have aligned with the agency on operational updates and program enhancements to ensure that people's personal data remains secure and their privacy protected.
The statement includes a commitment to "ensure we are mitigating risk at every level" through "building and evolving processes, implementing technical measures, and conducting regular auditing and reporting."
What it means: Twitter's statement emphasizes its willingness to work with the FTC, which is an effective way to build goodwill and help gain back some audience trust. In addition, providing steps (even if they are a little vague) that the company will take to right its wrongs is another way to come across as sincere and repentant.
---
MEASURED THOUGHTS
A new report from Cision reveals exactly what journalists want to see in the product pitches they receive.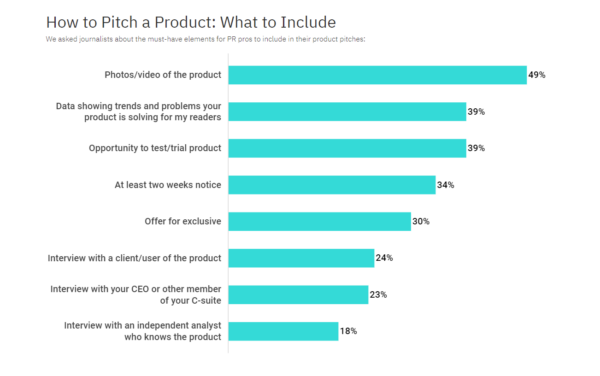 Photos and videos of the product (49%), relevant data (39%) and the opportunity to test or trial a product (39%) topped the list of what journos want in pitches about products.
Journalists were less excited about pitches including interviews with users of the product (24%), interviews with CEOs or C-suite members (23%) and interviews with third-party analysts about the product (18%).
Read more from the Cision report here.
Abbott Nutrition SVP apologizes for baby formula missteps
Christopher Calamari, a senior vice president with Abbott Nutrition, faced tough questions this week from lawmakers about "egregiously unsanitary" conditions at the company's plant that was shut down in February, resulting in a national baby formula shortage.
The New York Times reports that the plant had "a leaking roof, water pooled on the floor and cracks in key production equipment that allowed bacteria to get in and persist."
In a congressional hearing about the matter, Calamari apologized for the formula shortages, saying he was "deeply, deeply sorry."
From the NYT:
Representative Gary Palmer, a Republican of Alabama, pressed Mr. Calamari for specifics about why the company did not fix problems at the plant before the F.D.A. forced its hand.

"We prioritize safety and compliance in our plants," Mr. Calamari said. "And we're committed to doing so and getting better coming out of this event."

Mr. Palmer replied that he was not satisfied with that response.
Why it matters: The long-held PR tradition of answering a question without actually answering did not work for Calamari and Abbott in the congressional hearing. When it comes to addressing crises and mistakes by your organization, prepare your representatives with talking points that have substance. When people ask a question, try your very best to have a relevant answer, even if that's "I don't know."
COMMENT