Twitter's latest experiment, Subway hits back on tuna allegations and plummeting news engagement
Also: The Milwaukee Public Library goes viral on TikTok.
When you think of libraries, you might think of older buildings, grouchy librarians and happy childhood memories. What you might not think of is TikTok.
But the Milwaukee Public Library changed that for many TikTok users when one of its first videos on the platform went viral late last month.
The video cuts together a library book drop overlaid with a video of a man hanging from a plane, ready to skydive. He lets go and falls into the sky (or the book drop). "My library book being returned in the book drop," text on the video says.
Commenters loved it.
"I think people highly undervalue library cards, and this account is going to singlehandedly change that," one commenter said.
"I didn't realize this was a library account. Now I love it," wrote another. Creativity and outside-the-box thinking can go a long way when you're creating your social media strategy.
Here are today's other top stories:
Twitter tests out new topic-specific timelines
Have you ever sat down to watch "The Bachelorette" and thought, "Wow, I wish there was a special Twitter timeline dedicated to this show so I could see all the hot takes in one place"?
Well, now there is. The Verge reports that Twitter is experimenting with custom timelines — and the first one is dedicated to this season of "The Bachelorette."
From The Verge:
The Bachelorette custom Timeline will be available for 10 weeks as a "limited test" on the web for a "small group" of people in the US and Canada, Twitter spokesperson Shaokyi Amdo tells The Verge. Those who are able to access it can do so from an in-app prompt, and that prompt will show up for certain people who follow related topics and accounts.
"While this is still an early exploration of the potential that custom third-party Timelines can bring to the people who use Twitter, we're excited to learn from this test as we look to give people more ways to participate in the public conversation, and greater choice over the content they see on Twitter," Amdo told The Verge.
Why it matters: New features on social media should excite PR pros — they're a new way to reach and engage with your audiences! Next time you're looking to refresh your social media strategy, begin with researching the latest features and new updates to the platforms you use. You might find that a new, better strategy includes these tools.
---
MEASURED THOUGHTS
A recent report from Axios shows news organizations are struggling to keep audiences' attention.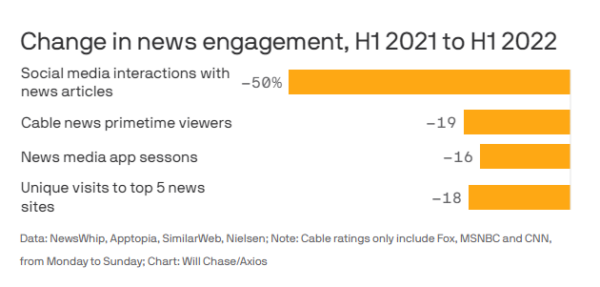 "Engagement with news content has plunged during the first half of this year compared to the first half of 2021 and in some cases has fallen below pre-pandemic levels," write Axios' Sara Fischer and Neal Rothschild.
Interactions with news articles on social media dropped the furthest, down a whopping 50% since the first half of 2021.
Engagement with other forms of news distribution, like primetime cable news, news apps and news websites, decreased as well.
"Survey data shows Americans have grown weary amid what feels like a never-ending cycle of bad news," the authors write.
They continue, "A country facing one calamity after another appears desperate for diversions."
Read more from the Axios report here.
Subway hits back at tuna lawsuit claims
Sandwich chain Subway is fighting back against claims made in a recent lawsuit over its tuna.
NPR reports:
Plaintiff Nilima Amin of Alameda County, Calif., says Subway misled her and other consumers by saying its sandwiches and other products contain "tuna" and "100% tuna."

Amin's lawsuit cites a marine biologist who analyzed 20 samples of tuna offerings from 20 different Subway restaurants and found "no detectable tuna DNA sequences whatsoever" in 19 samples. But, Amin says, the samples did contain other types of animal DNA, such as from chicken and pork.
In its response, Subway sticks to its claim that the tuna it uses is indeed 100% tuna: "In response to a request from NPR, a Subway spokesperson insisted on the integrity of its fish sandwich, stating, 'Subway serves 100% tuna.'"
Subway has also created a webpage dedicated to educating customers about the integrity of its tuna.
"That's right. The truth is, Subway uses wild-caught skipjack tuna regulated by the Food and Drug Administration (FDA). A favorite among sub lovers, our tuna is and has always been high-quality, premium and 100% real," a subhead on the website says.
Further reading on the site includes information that contradicts claims by The New York Times and the lawsuit regarding the purity of the tuna, including FAQs and links to statements by third-party experts.
Why it matters: While companies are often advised not to comment on ongoing litigation, Subway's staunch stance on the integrity of its tuna sends the message that the chain believes strongly it will win the suit. It also takes the argument directly to consumers, offering a powerful tool it can make available via social media, SEO, advertisements and other communications channels.
COMMENT