Walmart responds to Juneteenth product criticism, State Farm cancels LGBTQ+ children's book program and who is driving TikTok's growth
Also: Marvel releases new trailer for latest "Thor" movie.
Hello, communicators:
Social media is abuzz with excitement over the latest trailer for Marvel's new "Thor" movie, "Thor: Love and Thunder."
The studio launched a full-court press on Twitter after dropping the teaser during game four of the NBA Eastern Conference playoffs, deploying all of its official accounts to promote the new flick:
"Let me tell you the story of the space viking, Thor Odinson…"

Watch the brand-new trailer for Marvel Studios' #ThorLoveAndThunder and witness it only in theaters July 8. pic.twitter.com/uyU33VbrKI

— Marvel Studios (@MarvelStudios) May 24, 2022
Get your popcorn out. 🍿 See the new trailer for Marvel Studios' #ThorLoveAndThunder, in theaters July 8. https://t.co/pwvRSZWdOv

— Marvel Entertainment (@Marvel) May 24, 2022
Them ❤️

Check out the brand-new poster for Marvel Studios' #ThorLoveAndThunder and witness it only in theaters July 8. pic.twitter.com/DzhezQZm2y

— Thor (@thorofficial) May 24, 2022
It's a good reminder to take advantage of your brand's multiple accounts, if you have them.
Here are today's other top stories:
Walmart responds to Juneteenth product pushback
Walmart is pulling Juneteenth-themed products from its shelves following an outpouring of backlash on social media.
Twitter users posted photos of a Great Value ice cream flavor called "Juneteenth Ice Cream" and called it a gross misappropriation of the holiday.
Since @Walmart is so clearly feeling moved to celebrate #Juneteenth, I guess all black employees will have the option of either a paid day off or double time that day. Right? pic.twitter.com/T8PMvuugqA

— Dr. Haddassah's black table (@DreazyBK) May 23, 2022
Would you like some Juneteenth Ice cream on a Juneteenth plate as you sip your beer in a Juneteenth Koozie? pic.twitter.com/VCDpfOgYro

— Roy Wood Jr- Ex Jedi (@roywoodjr) May 23, 2022
This empty show of capitalist 'solidarity' is bad enough, but the audacity of this Walmart brand literally TRADEMARKING "Juneteenth" is just next level evil lol. https://t.co/xT5AmAqeJg

— 🆆🅾🆁🅳360 (@word360) May 24, 2022
Walmart told local FOX stations that it will review and remove products following the backlash.
"Juneteenth holiday marks a celebration of freedom and independence," the company said in the statement. "However, we received feedback that a few items caused concern for some of our customers and we sincerely apologize. We are reviewing our assortment and will remove items as appropriate."
What it means: Taking advantage of commemorative holidays with sobering histories (like Memorial Day and Juneteenth) is generally a no-no for companies looking to jump on the bandwagon. It's possible to respectfully mark these holidays through public statements and employee engagement initiatives, but product marketing tied to the holidays could be seen as insensitive and inappropriate.
---
MEASURED THOUGHTS
New data from Insider Intelligence and eMarketer shows that TikTok's growth is being driven largely by younger adults — no surprise there.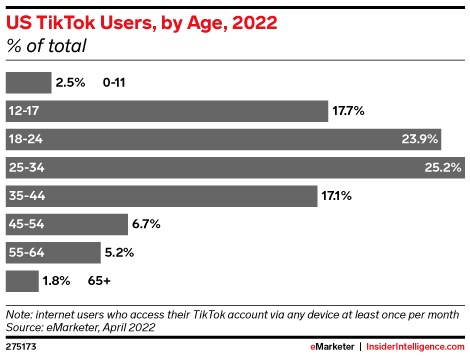 The data shows nearly 50% of TikTok users will be between 18 and 34 this year, with just 30% of users aged 35 and older.
The oldest and youngest age groups will see the most growth over the next few years since that's where TikTok has the most room to grow. Users ages 65 and up will increase by 13.4% this year, and users ages 0 to 11 will increase by 12.9%. More than half of all people in the US ages 12 to 34 are already on the app, so for TikTok to continue growing, it must appeal to users beyond that range.
Read more from the Insider Intelligence report here.
State Farm cancels LGBTQ+ children's books program following backlash           
Less than a day after announcing a program meant to expand access to children's books about LGBTQ+ people, insurance giant State Farm has canceled the initiative and backed down from its previous position supporting community conversations about queerness and trans rights.
In an email to all State Farm agents and staff members sent just hours after multiple news outlets revealed the book initiative, Victor Terry, chief diversity officer and vice president of public affairs, announced the cancellation of its collaboration with GenderCool, an organization that promotes LGBTQ teaching via speaking events, mentorship programs, DEI/HR consulting, and advising for parents of transgender children.

"State Farm's support of a philanthropic program, GenderCool, has been the subject of news and customer inquiries. This program that included books about gender identity was intended to promote inclusivity," the email, obtained by Libs of TikTok, read. "We will no longer support that program.
BREAKING: @StateFarm sent out a mass email to their staff today stating "we will no longer support that program" after they were exposed for supporting a project to push LGBTQ books into schools.
A source tells me "the agents were really upset when we found out." W pic.twitter.com/55P1QJ0oLa

— Libs of TikTok (@libsoftiktok) May 23, 2022
"Conversations about gender and identity should happen at home with parents," the email reads. "We don't support required curriculum in schools on this topic. We support organizations providing resources for parents to have these conversations."
Twitter users were split in their response to the news:
State Farm got targeted by a right-wing rage campaign and did a total 180 just hours after putting out a statement saying "At State Farm, we are committed to diversity and inclusion; they aren't just words, they are truly part of how we do business and lead our organization."

🤦🏻‍♀️ https://t.co/5mlRYyl0Tn

— Parker Molloy (@ParkerMolloy) May 24, 2022
So State Farm was attempting to push LGBTQ books onto kids as young as kindergartners until their program was leaked in an email. All companies need to listen, LEAVE OUR KIDS ALONE!

— Steven Crowder (@scrowder) May 24, 2022
Why it matters: Consumers want corporations to stand by their values, and flip-flopping on the LGBTQ+ book initiative sends a confusing message to State Farm customers and stakeholders. It's important to listen to your audience and act based on what they want, but be sure that you're not reacting to a few loud voices rather than many softer ones.
COMMENT