What Biden's all-women comms team means for the industry
The president-elect's staff announcement reflects one option that leaders of all organizations can take in the face of guaranteed uncertainty and doubt.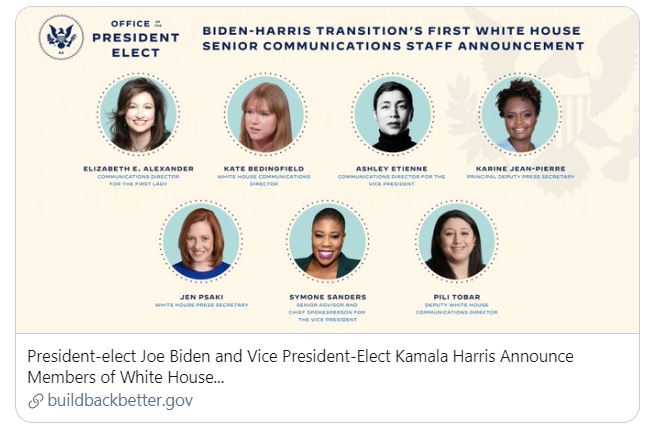 Communications from the White House are about to dramatically shift.
For one, the media is unlikely to receive a barrage of tweets in the early hours of the morning from the new commander-in-chief. Some have seen President-Elect Biden as a restorative figure, bringing back norms and standards to federal communications from the executive branch.
However, Biden's administration will also represent change. The communications team, announced Sunday, will field the first ever all-female department of senior staff, including experienced pros such as Jen Psaki as press secretary, Kate Bedingfield as White House communications director and Pili Tobar as deputy White House communications director.
Four of the seven top comms leaders for the new administration are women of color, and the representation marks a change from U.S. history.
President-elect Biden and Vice President-elect Harris today announced new members of the White House staff who will serve in senior communications roles.

For the first time in history, these communications roles will be filled entirely by women.https://t.co/SjWAWJg941

— Biden-Harris Presidential Transition (@Transition46) November 29, 2020
This is a team of some of the most talented, battle-tested communicators out there @KBeds, @K_JeanPierre, @SymoneDSanders, @AshleyEtienne09 @EAlexander, @pilitobar87—who are also all women, most diverse team in history and also 6 Moms of young kids

— Jen Psaki (@jrpsaki) November 29, 2020
It's not the first example of women having leadership roles within the White House press office, a point that was made vigorously by President Trump's press secretary, Kayleigh McEnany. However, while the grouping of senior leadership (and seniority of particular roles) can be debated, the team that will enter the White House in January has more women and women of color.
As plenty of people noted after McEnany tweeted what she did, Judd Deere carries the title of deputy assistant to Trump and deputy press secretary. Brian Morgenstern is also a deputy press secretary and deputy communications director. Biden's principal deputy press secretary will be Karine Jean-Pierre, while his deputy communications director will be another woman, Pili Tobar.

Reasonable people can disagree about whether those are technically "senior" roles. Deere for one seemed to agree that he's not in a senior role, retweeting McEnany's tweet and drafting his own version of the same complaint.

But the same is true when it comes to Vice President-elect Kamala D. Harris's press team. Her top spokesperson will be Symone Sanders. That job is now filled by Devin O'Malley.
What does the all-women team mean for the communications industry? The announcement might speak to the broader moment of change that is happening across industries in America.
"It was exciting to see the announcement as woman in the comms industry, says Michelle Olson, APR, PRSA's chair-elect who will take the baton from Garland Stansell in January. She notes that while the communications industry has skewed toward women, particularly at the mid-level, top jobs have still eluded women in the PR and comms industry.
Olson's strongest point on what this new comms team might mean for the industry—and the nation—is about the moment of change we face, something that she ties back to her priorities when she enters her new role next year.
"One of the things that I'll be focused on next year is diversity," she says, defining the term as diversity of thought, identity, background, gender orientation and race. She says she wants to help PRSA members "understand how to really support D&I and be allies in their daily lives." It's a message that has seen many iterations in the months since the death of George Floyd, as the industry has grappled with its role in addressing systemic racism in the U.S.
Biden's team, a victory for advocates of women leadership and representation for women of color, represents how an organization or individual leader could respond to what Olson sees as a pivotal moment to embrace change, inclusion and equality for all.
"The things that happened in 2020," she says, "to me as a 35-year veteran of this industry, it was a nice reset." The events of 2020 have made possible the many changes that might be on the horizon, a generational chance to move the needle on intractable problems in business and society from the gender pay gap to racial equality.
"The foundation got set in 2020, and now we can really grow from it," she says, "and I'm excited about that."
COMMENT
6 Responses to "What Biden's all-women comms team means for the industry"
Ronald N. Levy

says:

It means a reminder that PR stupidity can be practiced by government information offices as well (or as badly) as by the private sector.

Diversity is not just a "nice" or "safe" thing to do, or a common sense way to avoid the odor of prejudice, but is an intelligent way to get a broader range of views than one gender or ethnic group alone may provide.

Diversity is also a way to avoid the press asking whether other departments will also have a policy of "no men allowed" because the boss believes not so much in equal rights as in equal wrongs.

Deborah Radman

says:

This is not the first female Comms team in a presidential administration. Trump has had more women in Comms and key position FIRST. I think you should take a little history into account. Otherwise I'll start call BS loud and clear.
Ted Kitterman

says:

Hi Deborah. We address the Trump comms team in the story. It's the first time that both the President and VP's teams have been all women, and several senior deputies for the Trump team are men, and will be women in the new admin.

Thanks!
-Ted
Jennifer Hudson

says:
Hearing Olson describe the events of 2020 (murder of George Floyd, Breonna Taylor, the subsequent protests) as a "nice reset" was disconcerting. And while I appreciate her focus for 2021, seeing "race" as last in the list of her definition of diversity is frankly, annoying. I view it as a dilution of the real issue we must address. There is plenty of diversity of thought in PRSA. What is lacking are black and brown faces.
Aaron Putze

says:
Many women held major leadership roles, and continue to do so, in the current administration. Perhaps I missed those stories. Or perhaps they just didn't fit the narrative of the established PR press and the institutions they serve.
Ted Kitterman

says:

We mention those leaders, in this very story, including Ms. McEnany's complaints about the characterization of the incoming administration.