What comms pros can be thankful for in 2021
COVID-19 continues to keep us in somewhat of a holding pattern, but there's plenty to be grateful for this Thanksgiving season.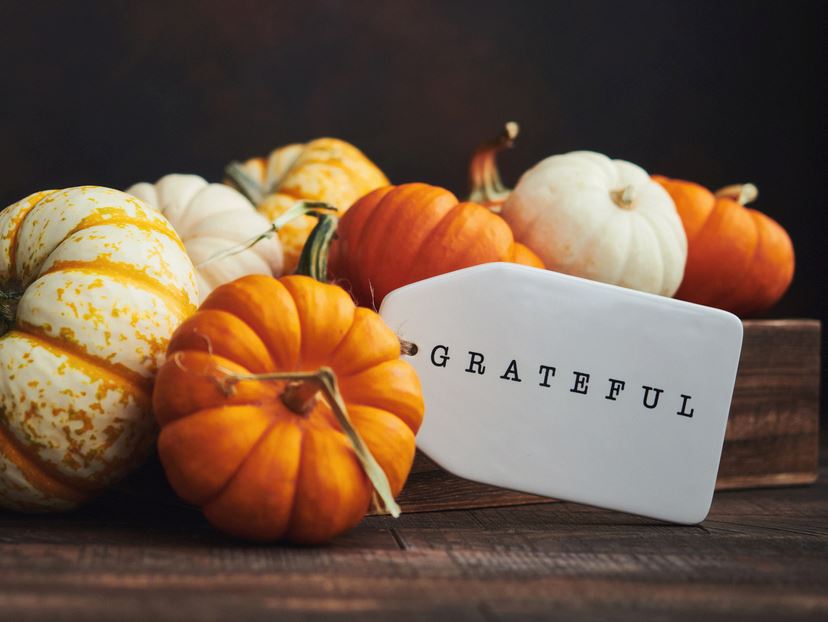 What a difference a year makes.
Last November, before vaccines and booster shots, in the immediate aftermath of a tumultuous presidential election, the future was uncertain. Many had to forego annual celebrations with family and friends, marring their Thanksgiving holiday in the U.S.
A year later, and millions of Americans have been vaccinated. And even though the Delta variant has postponed a full return to pre-pandemic life, there's more hope. There are booster shots. Airlines anticipate packed planes amid a busy holiday travel season. There are more hugs and fewer elbow bumps. There's much to be thankful for.
The Thanksgiving holiday traces its roots to the early colonists that settled the Northeastern U.S. and the Wampanoag tribe, which came together to celebrate an autumn harvest in 1621. While for more than 200 years, individual Thanksgiving celebrations were held in the nascent United States and its colonial forerunners, it wasn't until the after the U.S. Civil War that President Abraham Lincoln proclaimed a national holiday to be held in November.
It's important, in these extraordinary times, to remember the roots of this holiday: a time for mending fences, gathering family and celebrating life after years of bloodshed, grief and loss. A country devoured by war saw the promise of peace in a moment of gratitude.
And so, we can honor the tradition of this holiday be remembering the good in our lives, giving thanks, and taking a moment of gratitude to think about how far we have come.
What communicators can be thankful for
For the communications profession—the tireless women and men that we seek to serve at Ragan and PR Daily—there is plenty to be thankful for in 2021.
With the COVID-19 crisis came an elevation in the role of the communicator. CEOs and their organizations are turning to comms pros more than ever to glean strategic counsel on the challenges ahead.
There's also lots of good work to be done. With the rise of stakeholder capitalism, environmental, social and governance (ESG) issues and more emphasis on diversity, equity and inclusion (DE&I)—there are a lot of important stories to tell.
That's an exciting opportunity for the comms profession. Your voice matters more than ever before—and the work ahead of you has such import for the future of our country, even our planet.
And there's a new respect for colleagues and coworkers. The curtain was pulled back during the days of lockdown, revealing shared humanity rather than deep division. We met each other's children and pets, partners and spouses. We learned to know the difference between accidental interruption and professional insolence.
We learned to have empathy for each other.
Early signs show that this sea change in the workplace is only gaining steam. More and more, organizations and their leaders say they are responsible for the well-being of their employees. Now, employers are in a bidding war for talent, and companies are asking what they can do for their workforce, rather than just what their workforce can do for them.
It's sobering to see how much we've changed in two years and more of constant crisis. In many ways, we must rediscover who we are, reaffirm our values.
But we can also be grateful for the opportunity that comes from a seismic shift that reveals the stark and terrifying truth that anything really is possible.
Family, friends and being together
And even though it has been delayed, the promise of a future where we can spend time together—as friends and families, and as colleagues and neighbors—it's just around the corner. We're already gathering in groups again—and the big party seems imminent.
Ragan was able to celebrate Communications Week for 2021 with an in-person reception on Nov. 16—our first since the pandemic hit in March of 2020. We saw many faces—old friends and new ones—for the first time in a long while in New York City.
We're excited to do more of that in 2022.
There will be more ups and downs in the year ahead—everyone has gotten out of the predictions business in the last couple of years. However, there's plenty to give us optimism, and there's much to be thankful for.
As we head to our respective gatherings this year, let's have a moment of gratitude for the year behind us, for our colleagues and clients that saw us through the many pivots of the months so far.
And certainly, at Ragan and PR Daily, we know we are grateful for you.
Happy Thanksgiving!
COMMENT
2 Responses to "What comms pros can be thankful for in 2021"
Ronald N Levy

says:

We can be thankful to PR superstars at Walmart, Facebook, Amazon and elsewhere for making clear that a good response to accusing activists is not just to reply with factual arguments but accuse the accusers!

If you only defend, millions may think maybe you're right but maybe you're guilty. But if you accuse the accusers, the public looks at the possibility that not only are you not guilty but the accusers are the guilty ones.

Almost always, you can point out that accusers are guilty of telling the public only one side of a story but is that honest? Doesn't the public deserves to know both sides including the good things a company is doing?.

Also on your side is that accusers don't mention "the peril of the alternative." They tell how the public could benefit if government sticks it to a company but not how the public would lose as by higher prices, fewer American jobs, less product availability and many more perils damaging the public.

A reality on our side is that the accusers tell how a company could be better (although ALL of us could be better) but not all the GOOD things the company is doing to help the public, protect the public and supply what the public needs.
What the accusers are supplying may be, like a mother-in-law who is always annoyed, mainly complaints rather than good things.

BCW, Ketchum and Porter Novelli have recently been quoted by PR Daily with superb PR wisdom, original thinking, and it's time for one of the great PR firms to start the new year with a report on "PR Protection of Management: Prepare Eight Ways to Defeat Unfair Accusers." It's like national defense—the more prepared we are as by employing one or more great PR firms, the less likely it is that we'll be attacked. The Jungle Law of PR is that the strong attack the weak more than the fit and feisty.

Tory Elliott

says:

I really enjoyed this blog, especially how much we can be thankful for during these trying times. Our friends, family and coworkers are among many people who can help us succeed as professionals. Communication and public relations professionals are critical for a company to survive in these circumstances, particularly in maintaining vital relationships when so many businesses need them. I also think with the continuing conversation about DEI we are furthering our industry into a better environment for more diverse creativity and thinking.