What storytelling means to communicators
It's the foundation of our craft, but what does that mean?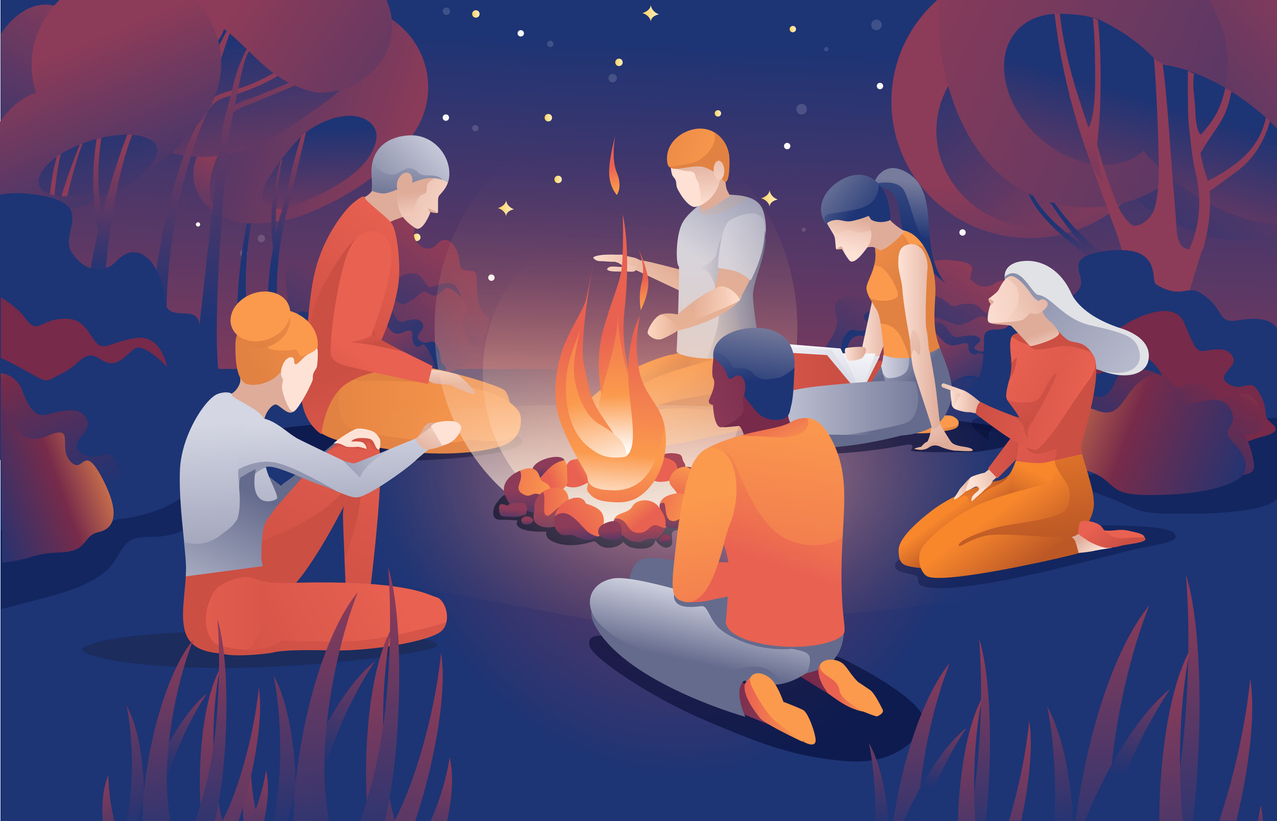 Storytelling is one of the most ancient and sacred concepts in all of human history. Starting with our long-distant ancestors weaving myths around fires that kept the darkness at bay and evolving through the centuries to include writing, painting, music, dance and more, it's a complex concept that still strikes at the very heart of who we are as a species.
In communications, we often say that one of our most foundational skills is storytelling.
But what does that mean in practical terms? Not just as a pie-in-the-sky concept, but as a skill we practice every day to improve our craft and reach our audiences?
I posed this question to my LinkedIn network and received an array of thoughtful, often intensely personal answers. Selected responses are provided below, lightly edited.
Let's "talk story". Those are three words my family uttered to me nearly every other day during my childhood growing up in the Pacific on the Island of Guam. It is an islander version of hello, how are you, tell me a story. An invitation of sorts.

My family in their own jolly way would mandate that every person they see walking on the street, accept an invitation to visit. And storytelling is an islander way of passing on history and wisdom. Every person in the culture can "talk story" which means every person is a teacher and every person holds wisdom to share, if you accept the invitation.
Amira Barger, executive vice president, Health Communications & DEI Advisory, Edelman
Storytelling is about finding a concise and emotionally impactful way to share information with your designated audience.

The most important storytelling questions are "who is this for" and "why is this important." Are you trying to delight your audience? Scare them? Inspire them? Is your audience job seekers, potential customers, others in your industry?

You may start a story with "once upon a time" if chatting with kids. You may start a story with an industry stat if chatting with investors. There is not one simple formula, but always consider how you can tell a story that is concise and compelling to the people you are talking directly to.
Mandy Menaker, director of communications, Orchard
Storytelling celebrates humanity in any situation. All of the basic concepts of a story are there, including characters, conflict, and overcoming challenges. A skilled PR practitioner has the unique ability to identify and tell the story found in even the most mundane, everyday events.
Chris Ehrhart, communications manager, Corcentric
I think the art of storytelling in business is less about entertaining your audience and more about using imagery and humanity to make your audience empathize and equate themselves to a protagonist whose problems you've successfully solved.
Jordan Whitt, senior manager, digital marketing, Apex Benefits
Storytelling is the basis of why we communicate in the first place. The story is the foundation of the "why." It is the bridge to connecting with audiences. Stories come in all shapes and sizes. We all have a story to tell because we have something to inform or persuade. To shapeshift narratives. Change perception. Generate conversations. We have the power to tell the "why" and get people to understand or even see your viewpoint. Storytelling also builds trust between you and your target audience. Without trust, people will not believe or care about your story. News is new. Storytelling and communications interconnect with one another.
Yesenia Reinoso, nonprofit communications manager
Storytelling is the careful transfer of information and emotion around a specific idea, topic, piece of news or opinion. In practical terms it is the art of communicating information in a way that paints a very clear picture for the receiver from a specific point of view. If crafted correctly, it should evoke authentic emotion, which removes bias. Storytelling should bring harmony between the messenger and the receiver. If done right, the use of imagination, prompts, questions should all kick in and the receiver should be left with enough detail to make an informed, high-level, opinion on what's being shared.
Sarah Mawji, independent PR & marketing consultant
What are the throughlines in these responses?
Storytelling unites us as humans.
Storytelling draws on empathy, emotion and authenticity.
Storytelling requires a clear idea of audience and purpose.
Storytelling paints pictures.
Stories can be found in everything.
What does storytelling mean to you, and how do you incorporate it into your communications practice? Let us know in the comments, or connect with me on LinkedIn.
COMMENT
One Response to "What storytelling means to communicators"
Renea Morris, M.Ed., APR, Fellow PRSA

says:

Storytelling is in the telling. It is purposeful and intentional. It's easy to recognize a good story and a good storyteller because there is an arc that gets you someone.