WHO announces end to COVID emergency declaration, Biden wants generative 'Al 'guardrails' and more 
Plus: Sesame Street talks about mental health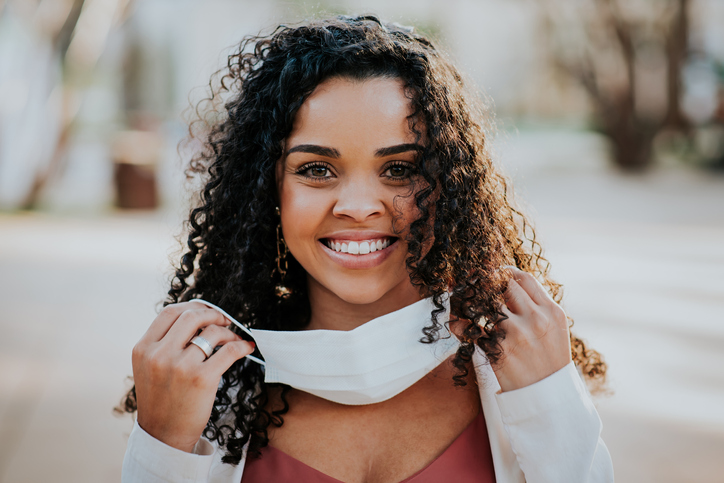 The World Health Organization said it's time to say goodbye to the COVID emergency declaration, NBC News reported.  
WHO initially issued the declaration in January 2020 and nearly three and a half years later the public can breathe easier now and hopefully for a long, long time.  
NBC News explains:  

WHO Director-General Tedros Adhanom Ghebreyesus said he made the decision following a recommendation from the WHO's emergency committee, which met on Thursday for the 15th time.  

"I have accepted that advice," Tedros said. "It is therefore with great hope that I declare Covid-19 over as a global health emergency."  

  
While the emergency declaration is done with, it's not completely in the rearview mirror as people have died from COVID "every three minutes" in the last week of April, according to NBC — and that's just the deaths that were reported.  
Don't let your guard down and stay safe and smart, Tedros said in the article.  
Why it matters: With COVID somewhat behind us, it's time to start thinking of ways to update your messaging to reflect the WHO declaration. Restructure communications about your COVID safety protocols and ensure the public knows to keep abreast of any changes as they come down the pike. Stay safe out there. 
White House advancing AI plans to protect masses 
President Joe Biden wants the government to be more active in regulating artificial intelligence, Axios reported  
To do so, Biden wants AI architects like Google and Microsoft (among others) to ensure their generative AI is sound and safe for the public, the article adds. The White House invited these tech giants in to discuss progressive steps to make these notions a reality for the future.  
According to the White House invitation, obtained by Axios:  

We aim to have a frank discussion of the risks we each see in current and near-term AI development, actions to mitigate those risks, and other ways we can work together to ensure the American people benefit from advances in AI while being protected from its harms.  

Other AI safety nets are in the works, too, Axios noted.   
Why it matters: There is a lot of talk about brands deploying generative AI and PR pros using it to their advantage. The government taking stock in how to harness its power while keeping the public protected is encouraging for many wanting to add clear policies around broader AI use. Be on the lookout for what the government delivers with legislation surrounding artificial intelligence and what that could mean for you in the not so distant future.  
Tyson addresses chemical leak injuries 
Tyson Foods has a chemical leak problem with ammonia gas and employees working in poultry plants are bearing the brunt of it, CNN reported.  
Anhydrous ammonia, used to refrigerate meat, can be dangerous based on exposure levels, the article says, and issues have cropped up at Tyson plants due to an alleged lack of safety protocol or maintenance.  
A CNN investigation also revealed that "dozens of employees" were injured due to ammonia leaks during the last 10 years.  
"Of the 20 facilities that reported the most chemical release-related injuries to the EPA over that period, five are Tyson meat plants, more than any other company," according to the article.   
CNN explains:  

In total, Tyson reported 146 ammonia leak-related injuries between 2012 and 2021 – about 57% of ammonia injuries reported at all meat processing facilities in that time period. But the company's locations only accounted for about 25% of the stored ammonia that the meat industry reported to the agency.  

"We follow all federal regulatory requirements and fully investigate all ammonia-related incidents," Derek Burleson, a Tyson spokesman, told CNN in a statement, adding that the company's investigations include "a root cause analysis and a corrective action plan."  
Burleson told CNN that Tyson informed the U.S. Environmental Protection Agency about these issues more in comparison to their counterparts, however, there's been some mixed messages with alleged underreporting from particular incidents, the article adds.  
Why it matters: Gaining back trust and confidence is not always an easy task, but Tyson needs to communicate better and be upfront about how it portrays itself ethically to stakeholders and employees. Accidents do happen and the message it should be sending out needs to be heavy on accountability, compassion and empathy toward workers.  
Sesame Street gets adorably serious about mental health  
During Mental Health Awareness Month in May, Sesame Street is taking on being more mindful, Sesame Workshop announced recently.  
Sesame Workshop, the nonprofit organization for Sesame Street, debuted a variety of initiatives all in the name of mental health, such as a PSA campaign and a colorful YouTube special, Elmo's Mindfulness Spectacular, according to the press release.   
The announcement explains:  
Responding to the growing mental health crisis for young children and building on decades of experience developing social-emotional learning content for families, the Workshop will address this critical need through a wide range of activities and engaging content designed for the whole family and available on multiple platforms to reach children and families wherever they are.  
Why it matters: Sesame Street used its platform to promote the importance of mindfulness to its target audience of young children who have faced their share of issues as of late. This cute campaign is a great reminder to consider how your brand can communicate in the most relevant and effective way about plans or initiatives while tying it all back to the brand.  
Sherri Kolade is a writer at Ragan Communications. When she is not with her family, she enjoys watching Alfred Hitchcock-style films, reading and building an authentically curated life that includes more than occasionally finding something deliciously fried. Follow her on LinkedIn. Have a great PR story idea? Email her at sherrik@ragan.com. 
COMMENT
Tags: COVID, Sesame Street