Who's buying the Victoria's Secret rebrand?
The lingerie company's effort to remake its image with new advisors like Megan Rapinoe—and dropping its trademark fashion show—reveals the difficulty in finding a new brand voice.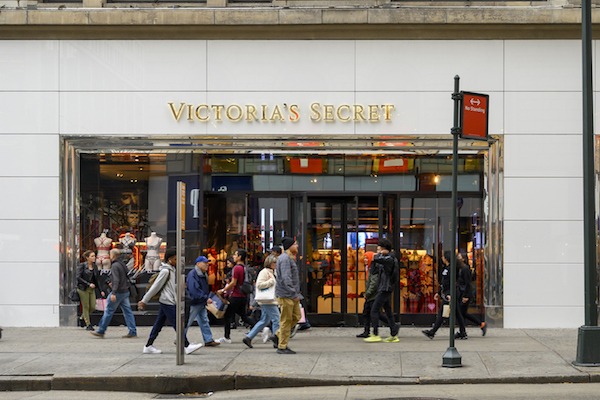 Editor's note: This article is a re-run as part of our countdown of top stories from the past year.
Is it too little too late for Victoria's Secret?
It feels like Victoria's Secret has been falling out of favor for years, first gradually and then all at once. The decline was precipitated by former exec Ed Razek's transphobic, body-shaming remarks and the subsequent cancellation of the VS Fashion Show as we all know it. For a few years after, the heritage brand was relatively silent and unchanging as its competitors revolutionized the space, from Aerie's game-changing shift away from retouching photos to Savage x Fenty's Vol.1 Show at New York Fashion Week.
That silence ended two weeks ago, when the brand introduced The VS Collective. The Collective's seven founding members represent multiple age groups, races and careers, and include World Cup soccer champion Megan Rapinoe, activist Paloma Elsesser and journalist Amanda de Cadenet, among others. The announcement is part of the brand's break from its previous image in an effort to execute a 180-degree rebrand.
There is plenty to learn from the heritage brand's revamp. Here are some of the top takeaways:
1. Share the process: That's where transparency lives.

CEO Martin Waters admitted that Victoria's Secret has been slow to change with the pace of culture. Explicitly recognizing the time lag and genuinely committing to change may be precisely what turns a skeptic into a supporter. More than that, sharing the process behind a rebrand is more than an empty PR commitment. It shows that a brand isn't just talking about the work, it's actively thinking about its meaning and actually doing it.
By sharing the process behind their rebrand, Victoria's Secret can not only show their impact but also shed light on its intentions every step of the way, laying bare precisely what it is they want to achieve.
2. You can't (and shouldn't) appeal to everyone.

The announcement of the VS Collective inspired ire from conservatives and liberals alike; it seems the brand is simultaneously doing too much and not enough, and changing both too quickly and too slowly. That's how it goes for a lot of rebrands, and especially for a culture-defining brand like Victoria's Secret.
The fact is, the company's rebrand will lose some customers. In this case, that's not a bad thing, it's necessary.
With a pivot like this, to try to appeal to everyone would be counterproductive to a commitment to change. And because VS is going to inevitably lose people along the way, there's no reason for the brand to not go further in its pivot and actively stand for deeper issues beyond loosely advocating for women's empowerment. Otherwise, the rebrand will fail to be revolutionary.
3. Don't just reflect the current culture; shape the future landscape.

Finally, while the VS Collective is diverse in terms of race, age and body shape, that diversity is the bare minimum in the current landscape. In an era where the meaning of brand safety has radically shifted and brands are taking more of a stand on a multitude of issues, Victoria's Secret is doing the least and calling it the most.
In selecting members of the collective, the brand could have pushed itself further, partnering with individuals that don't just fit within the brand's currently limited size offerings but that could truly provide the guidance and creative vision to bring new product ranges to life. In doing so, they wouldn't just be reacting to the cultural shifts, they'd be creating them.
Victoria's Secret isn't the first mall brand to refresh its image for the digital age; so has Abercrombie & Fitch and Aeropostale. Still, time will tell if the new Victoria's secret will make it or be marked as an attempt that came too little, too late.
We'll give them the benefit of the doubt, especially since there are some elements of their rebrand that do feel like a massive change, like the new nearly all-female board of directors.
Rebrands are more than just a name change or a visual redesign. They represent moments of deep reflection, a refocusing of values, and a re-imagination of ideas. At this current cultural flashpoint, a rebrand is the recognition that to remain unchanged doesn't make you a heritage brand—it leaves you behind.
Brenda Martinez is a junior creative strategist at creative agency New Moon.
COMMENT
2 Responses to "Who's buying the Victoria's Secret rebrand?"
John Notran

says:

This article author says it is necessary to lose customers in doing a rebrand of this sort? That creating a woke VS Collective – including an America-hating washed up lavender-colored hair soccer player that other corporations want to wash their hands – as the prime spokesperson is insanity. And, there was no mention of Sampaio in the article. Because to mention what Sampaio is will bring controversy and cancellation.

But returning to the point, planning to accept the loss of more market share and imply it is good to "fall off the metaphorical ledge" to improve the brand… is never a good fiscal objective. It is idiocy.

And communicating that information to shareholders AND customers is not going to gain any PR value for the brand.

This is a total fail.

Carla Thomas

says:

Victoria's secret is completely missing why sales were down..it had nothing with wanting to see men and fat women in bras and panties it was simply a marketing failure of coordinating bras and panties being difficult to find. This is the nail in the coffin..they are losing the clientele that spent money there and gaining those that won't. I knew I would never look like the women in the ads but wearing the same made me feel good