Leaving what wasn't working before COVID in the past
In the excitement to get back to 'normal,' one PR pro urges colleagues and clients to consider what wasn't serving them in the daily grind of 2019.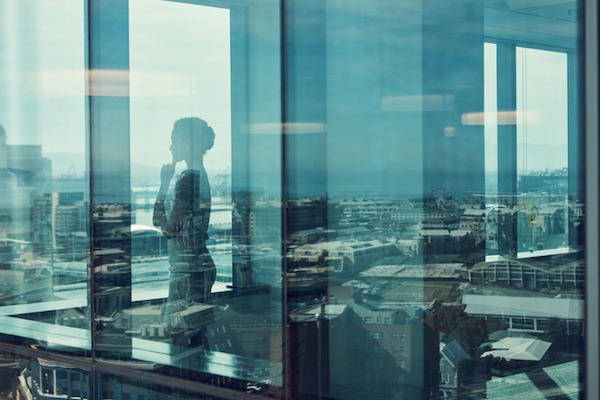 It's hard to take a step back and prune tasks that no longer serve a purpose. In the hectic scramble of many PR agendas, it's easier to be additive.
Yet, the COVID-19 pandemic and lockdown offered a once-in-a-generation chance to reconsider the to-do list that comprises the work life of so many industries. And for PR pros, it's an important moment to consider what was actually worth the effort in those days before COVID, and what should be abandoned.
That's the message from Vicky Boudreau, CEO and founding partner with bicom inc. She caught up with us recently for our latest in the Day in the Life series and here's what she had to say about making the "new normal" more productive—and PR life more manageable.
1. What's the first thing you do every day when you wake up?
Boudreau: I wish I could say I meditate, take time to reflect on the starting day and catch up on the news, but with two young kids (3 & 7), the first thing I do is plan on getting myself ready while managing to prepare them. It sometimes feels like a sprint to pack snacks, mixed with a treasure hunt to find two identical gloves. I usually manage to check my email on my phone before we leave the house, but I sometimes arrive at the office wearing only one earring–and not as a new style statement!
2. Who is the most important person you talk to every day?
Boudreau: Picking only one feels unfair! My husband always has a strong opinion and happens to own his own advertising agency, Human, so he is my favorite sounding board. My business partner, a.k.a. work wife, Marie-Noelle helps to keep me grounded while making sure everything runs smoothly at bicom. I also speak with my cousin Mirka every week. We were raised together, and today she is the fearless CEO of an international consulting firm in the mining and construction industry, Int-Elle. Together we laugh and unwind while sharing our entrepreneurial journey!
3. When do you plan to go back into the office? Do you want to go back?
Boudreau: Since May 2020, I have been back at the office almost every working day while applying the required sanitary measures. Working from home is great once in a while, but I realized I function better if I have a physical separation between work and my personal life. I am more focused this way. A lot of employees enjoyed working from home, so the new offices we are building in Montreal will be a mix of coworking and conference spaces.
4. What's a new tool you have discovered that you just can't live without?
Boudreau: We were already using a lot of innovative working tools to facilitate remote collaboration. But something that I rediscovered during the pandemic was listing to audio books. It allowed me to keep up to date with the latest business and marketing trends while giving my eyes some well-deserved rest! I even started listening to audio books while running. I feel like assimilating new information while in this mental "zone" is super effective.
5. What was your favorite work memory from the past year?
Boudreau:  Definitely being awarded Strategic Public Relations Agency of Record for Volkswagen Canada. After receiving the call, I was so excited and emotional because I knew how much we as a team had put into this project. There was a challenging transition to online pitches, which really added a layer of difficulty for me personally! There were also a few early setbacks, like these two extensive RFP final rounds that we did not win.
This really demoralized the team. When the VW opportunity came along, we totally shifted our mindset. We pushed the boundaries of our expertise and typical brainstorming process to come up with a holistic and thorough proposal. I was so proud of how everyone pushed themselves—and it paid off! Receiving this great responsibility, the year bicom marks its 15th anniversary is proof that we still have the startup spirit and drive but that we are well equipped with an all-star team to deliver.
6. What has been the biggest "lesson learned" from 2020?
Boudreau: I developed a new sense of gratitude for the solid network of support that I have built in all aspect of my life. By learning to ask for help, I was able to pursue my ambitious career and grow the agency while still being there for my two young daughters. I rarely felt torn or guilty thanks to their loving grandparents, their wonderful baby-sitter, our generous housekeeper that even cooks them some frozen meals. They are all part of our little ecosystem that helped me calm the storm of my hectic schedule. On the business side, the great relationships we built over the years with our clients helped keep the lines of communication open. In total transparency and agility, we continued our work despite the challenges and the team was just amazingly dedicated.
7. What's your No.1 message to clients, co-workers or employees for 2021?
Boudreau: As the "new normal" slowly starts to feel more and more "normal", let's pause to think about what wasn't serving us "back then" so we don't take those attitudes and actions with us into the next chapter. On the business side, when we think about our clients' mindsets and those of consumer at large, we have to address that their values have evolved during the pandemic. Listen carefully to the different signs of this evolution. It's a new era and what worked well prior to the pandemic might not be of relevance now. We need to be thoughtful about this. It's going to take some trial and error, no doubt. I also feel that relatability and human connection will be more important than ever in client and consumer relationships; brands and agencies that stick to their purpose will be sought after.
8. What makes you hopeful about the future of PR?
Boudreau: After many years of information overload, impacting the public's attention span and fostering the rise of fake news (thanks to the click-driven economy!), I am hopeful that people are now more conscious of their news sources! We also see the rise of hyperlocal information about consumers within specific demographics – it will give brands relevant new channels and touchpoints to connect with their audiences in timely and engaging ways.
COMMENT