3 content creations tips to avoid overwork and burnout
Is the content hamster wheel running you ragged? Here are three tips for how to plan and post smarter content and preserve your sanity.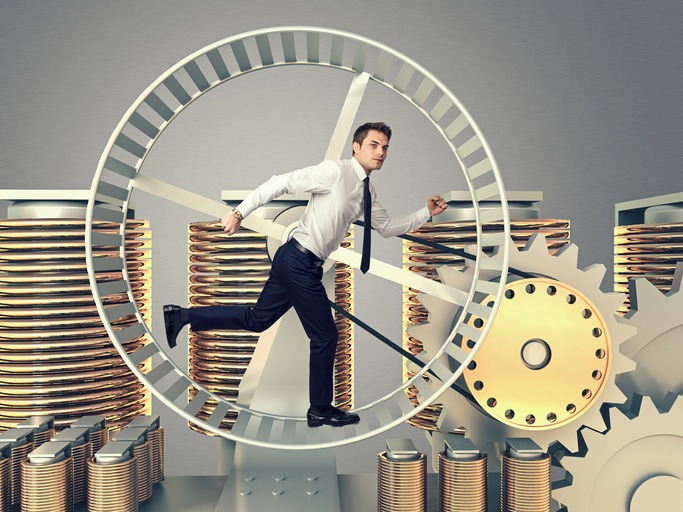 Producing a steady stream of copy and content can be exhausting.
So how do you keep up and deliver at a higher level without burning out or missing a deadline? Here's how elevate your brand with a smarter content strategy that won't turn you into a content pump:
1. Flip the 80/20 rule. "We all live by the question, 'What's next?'" says Samantha Rideout, marketing director at Pharmaceutical Strategies Group. "I can't be the only one on this hamster wheel because I see communicators having this problem all the time with content. As soon as content launches, everyone is looking to the next thing."
Part of the problem is the traditional 80/20 rule, according to Rideout.
"There are endless applications, but in communications it's when you spend 80% of your time creating content and 20% distributing it," she says. "In reality, that ratio should be flipped."
Her advice: "For every hour spent on content creation, spend four hours focused on building campaigns and other distribution strategies to deliver content."
2. Do less; focus on the best. "The best way to make your content more successful is to separate the good ideas from the great ideas," Rideout suggests. "Produce less busywork and focus on targeted content that wholeheartedly supports your content strategy."
She advises planning your content strategy early.
"In other words, get started now for 2022," she says. "Before you write anything or make any plans, decide what topics your brand will own in the coming year. Lean into those core topics and thread your communication design through the lens of those carefully curated choices. This is how to create authority in the market and position your brand as an expert in the subject matter."
In terms of regular editorial meetings, Rideout holds quarterly "growth" meetings with key leaders by segment. "We divide the discussion into groups that are hyper-focused on specific customer journeys—and that means there will be more discussion that is catered to each unique journey."
Whether you call it an editorial meeting or a "growth" meeting, it's good to ask these questions:
How is our audience responding to our content? "Digging into the key performance indicators (KPIs) keeps the conversation fact-based," Rideout says. "Anecdotal feedback from client-facing stakeholders is incredibly useful, too."
What do we plan for Q3 (if meeting in Q1)? "Discuss the plan for content launching at least three months from now," she says. "Further ahead is even better."
What should we lean into?
How do we need to pivot?
What tactics are delivering success?
How are our audiences or niche opportunities evolving?
How do we best execute our strategy?
Rideout also advises against chasing down fleeting news.
"Keep your meetings focus on the initial framework ordained by the leadership team at the outset of the year," she says. "If the 'hot topic' or idea du jour doesn't fit with one of those core topics, it isn't going to contribute to the overarching goal. It doesn't get you any closer to the position you want to own in the market."
Her point: "The alignment of content and your organization's go-to-market (GTM) strategy increases the effectiveness of communications," says Rideout. "Organizations don't pile on new objectives to the GTM strategy, so communicators shouldn't pile on tangential content, either."
3. Solve your "Orphan Annie Syndrome." The traditional 80/20 rule and "what's next" thinking foster a cycle where your create content, publish it with slapdash distribution and rush to the next project.
 "That does a disservice to your efforts to create marquee content—and actually results in orphan content that goes nowhere, because it's forced to stand on its own," says Rideout.
She shares these quick ideas for combatting what she calls "Orphan Annie Syndrome":
Embrace event marketing. "I never launch a report without an event," Rideout says. "Face-to-face events are still a gamble and webinar fatigue is real, but a gimmick like a 'Jeopardy!' theme or a wine tasting can break through the noise."
Amplify and advertise. "Put your money where your mouth is and spend on advertising when you see content that would benefit from a boost," she says.
Slice and dice. "Create bite-size recaps of reports based on user journey hot buttons," she suggests. "Every bite-size recap can have a download form and link to the report landing page. Think of the report as the 'mama content' and the recap articles as the 'baby content.' Ten pieces of content seems like a big lift, but the heavy lifting only happens with the first drop (the report)."
Pen a press release. "Press releases can feel like overkill for every piece of content you release," she admits, "but it transforms a report into an announcement."
Don't diss snail mail. "Direct mail is having a come-back tour," Rideout says, "Pair your content with a unique gift to stand out. Even writing a real note to accompany content landing in a mailbox puts you in a new league compared to everyone fighting for attention in the inbox. Personality will get you everywhere."
Tap internal ambassadors. "Influencer marketing doesn't have to involve an Instagram star," she says. "Use internal thought leaders to post social media commentary about your content. Resharing thought leader content from your corporate account carries more weight than recycled marketing copy. User-generated content (UGC) is perceived as more interesting and authentic than polished marketing posts (even if the copy comes from the same place!)."
Brian Pittman  is the Dean of Ragan Training a Ragan Communications event producer. For more information about Ragan Training, contact him at brianp@ragan.com.
COMMENT