3 tactics for building brand authority on social media
When it comes to bolstering your reputation, what social media platforms, content types and messages will pack the biggest punch?
Building authority often isn't the No. 1 priority of a growth department, but it's something every single marketer and branding professional should be thinking about.
The way people view your brand can make a huge difference in whether they decide to consume your content, trust what you're saying, and ultimately make a purchase. Thankfully, there are plenty of ways to build authority while simultaneously working on other marketing objectives, including on social media.
We're living in uncertain times, and now more than ever, people are turning to social media for camaraderie, distraction—and facts.
Here are three ways you can build your authority via social channels:
1. Share your data and expertise.
My agency Fractl partnered with BuzzStream to study what kind of content is perceived as being authoritative.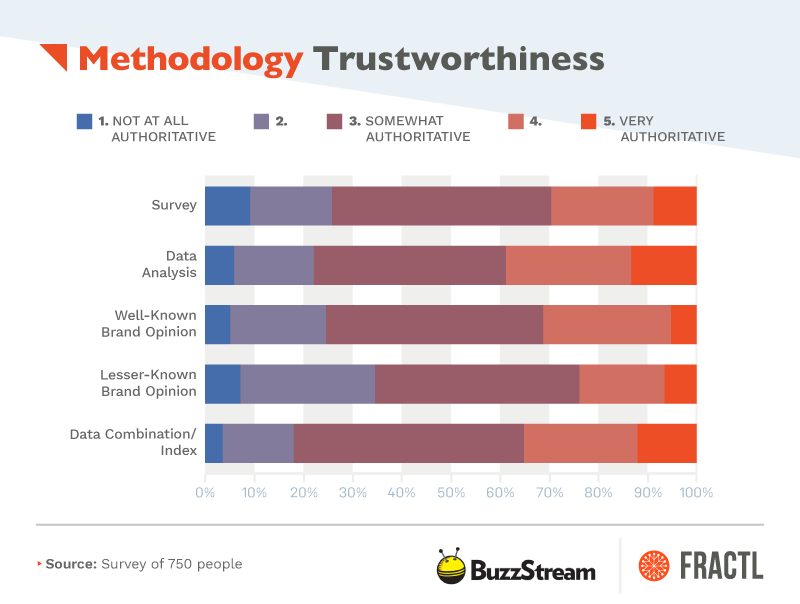 (Image courtesy of Fractl)
Content that has its foundation in data is what people find the most authoritative. A brand that people recognize can also appear authoritative in their communication, but those numbers change when we're talking about brands no one has heard of.
So, instead of sharing your opinion and just hoping people will trust you, share information that is based on data-centered research.
At Fractl, we're continually doing original research and pitching it to marketing publishers who we think would be interested in our results. Then we use social media to share out the coverage. It's a double whammy: Not only are we showing our research, but we're showing another publication vouches for that research.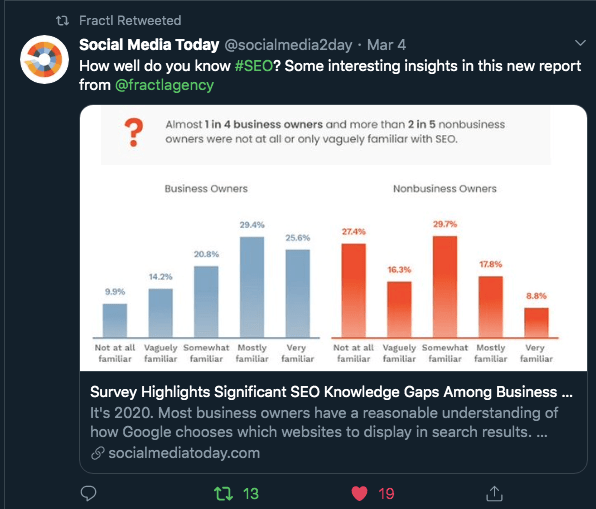 Do you work for a local business? Or maybe you don't have the budget to be producing large-scale data projects? There are other ways you can demonstrate your expertise.
For example, my local pet store, The Big Bad Woof, shares their knowledge on pet care via social media, including hosting a webinar/Facebook live video about understanding dog nutrition.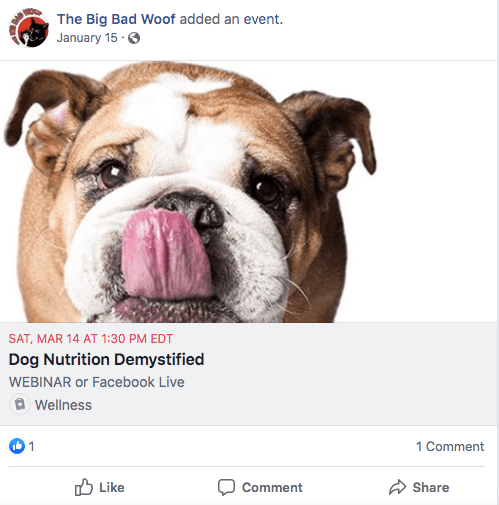 In offering to share information you're intimately familiar with and that can benefit your audience/community, you'll not only gain respect but also recognition for knowing what you know.
2. Share information from external experts.
You're not going to be able to constantly share your own information. You can keep doing research on an ongoing basis to show you're dedicated to research in your industry and providing value to your audience, but you can also supplement your social feeds by sharing information from other respected sites.
This way, you're demonstrating that you are part of the greater industry and know what sources of information to trust. The Anthem does a seamless job of using other articles that are written to promote shows that are going to happen at their venue.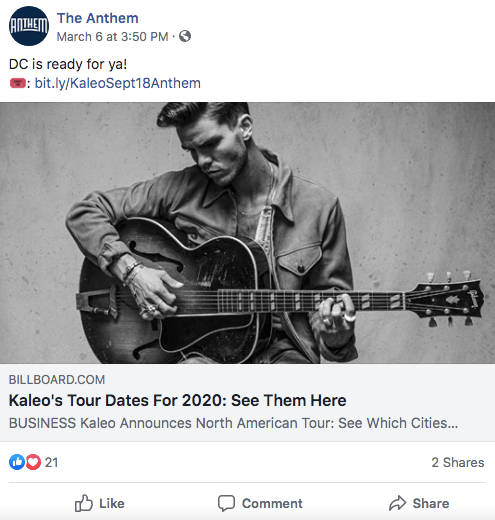 It's not their content, but Billboard is known to be a top music brand, and the content they're sharing is relevant to their fans.
3. Be human—not branded.
In general, your audience is more likely to trust another person than a brand.
Now, can a brand be authoritative? Of course. But if someone on your leadership team is willing to become the face of a brand, that can put you on the fast-track to brand authority. Some of the most obvious examples include Steve Jobs for Apple and Elon Musk for Tesla, but this also exists on a smaller scale.
Take the PR industry for instance: Rand Fishkin built up Moz's credibility, as did Ann Handley for MarketingProfs and Joe Pulizzi for Content Marketing Institute. They're all respected professionals who built their personal brands along with their company brands.
John Doherty, founder of Credo, does a good job of sharing his expertise and adding a personal element on his Instagram account.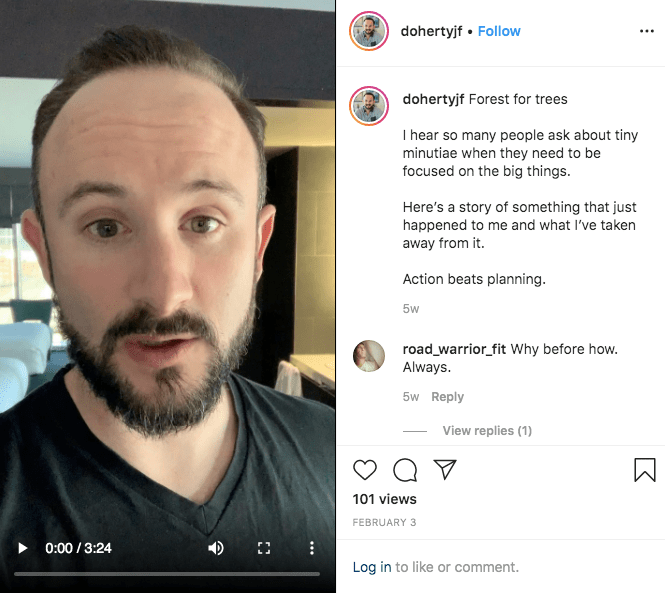 He already has 33,000+ Twitter followers, but he moved to Instagram to try a different type of more personal content (by talking directly to viewers via video and also incorporating more of his personal life). By talking about your expertise and positioning yourself like a real human being, you could potentially build more trust than if you simply talk at people from behind a logo.
Building authority on social media is about finding the balance between information sharing and showing more of the authentic, human side of your business. If people can trust you and you're providing really high-quality, data-backed information, it's the perfect combination for developing authority quickly.
Amanda Milligan is a marketing director at Fractl and hosts the weekly podcast "Cashing in on Content Marketing."
COMMENT
One Response to "3 tactics for building brand authority on social media"
I enjoyed this article. As communicators, we must focus on authenticity to build relationships with our audience. Thank you!