3 tips on navigating the metaverse
A brand strategist shares how to see through the hype—and when to make the jump.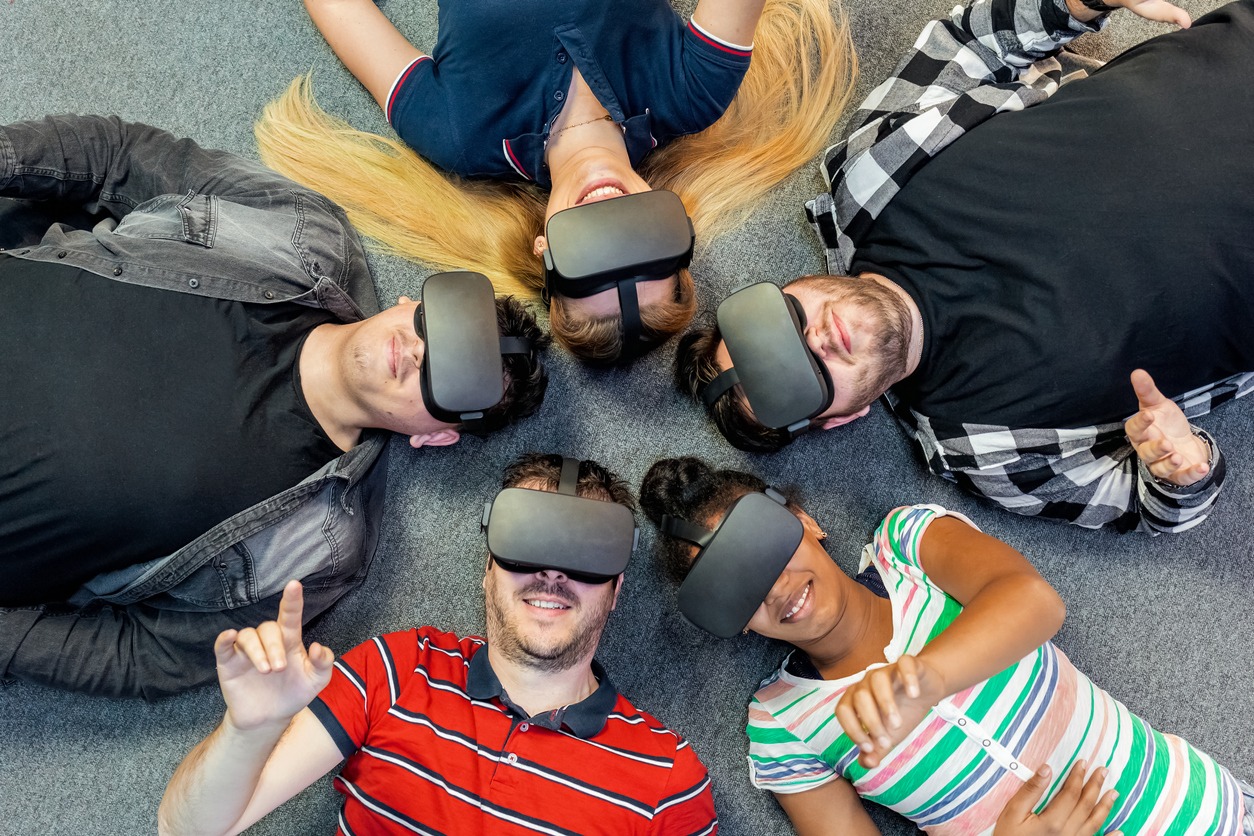 Don't worry, you're not late to the party. It's still early days as far as the metaverse is concerned, despite the breathless buzz and relentless media coverage.
"Now's not the time to chase shiny objects or fall victim to FOMO," says Tamra Knepfer, founder of Metabrands. "However, it is a great time to do your research, see what peer companies are doing, begin mapping out your short- and long-term plans, and for most companies, take modest initial steps into the space."
Here's her advice for taking your first steps into the metaverse:
1. Brush up on the basics. "The birth of the metaverse started years before the pandemic," says Knepfer. "The pandemic just sped things up—and that includes stirring up a lot of different opinions about what exactly the metaverse is."
For example, "some people believe it's one, fully connected world—not various different disjointed virtual spaces," she says. "Others, like me, believe it can include self-standing elements like virtual events and concerts—and when you are fully immersed in that interactive 3D world, you are 'in the metaverse.'"
The confusion extends to mainstream media and sites like Wikipedia, which defines the metaverse as "a network of 3D virtual worlds focused on social connection."
Compare that to Investopedia, which says it's a "virtual reality combining aspects of social media, online gaming, augmented reality (AR), virtual reality (VR) and cryptocurrencies to allow users to interact virtually."
To start, make sure everyone on your team is reading from the same piece of music.
"Having your team working from the same definition is a good start," says Knepfer. "Companies should also be exploring different ways others are using this new technology to engage with their consumers, build fan communities, sell IRL [in real life] or offer virtual products."
Her point: "Many brands are planting their flags into this nascent world to stay relevant and reinforce their brand as being on the forefront," she says. "But that doesn't mean you should chase all the 'cool things' that other companies are doing in the metaverse."
2. Clarify your objectives. "If you jump in without a clear understanding of the space or without measurable goals, you'll have no idea what success will look like," Knepfer says. "It's difficult to build a successful roadmap for your presence in the metaverse if you aren't sure where you want to go."
 More specifically, her advice is to:
Know your audience. "If you know your target market spends time in the metaverse, great—but that's just the tip of the iceberg," says Knepfer. "You need to know where they are, how they're spending their time—and their money."
One example is with non-fungible tokens (NFTs).
"NFTs are currently selling to an older, more affluent market," she says. "While the audience for NFTs is certainly evolving quickly, you might want to ask if that is really the demographic you want to go after today."
Know your options. The opportunities in the metaverse are limitless, ranging from digital goods and skins for avatars to bespoke collectible NFTs and even interactive games and live concerts.
So where to start?
"First determine whether your initiative will be short-term—like for a new product launch—or a longer-term plan for your brand," Knepfer suggests. "Are you going to sell virtual products as a one-off test? Or are you going to buy land and build a virtual store in Decentraland or create a new game in Sandbox?"
Sandbox started as a game but shifted into the metaverse space in November. Decentraland is an open-source 3D virtual world platform that opened to the public in 2020. Like most current metaverse worlds, both feature their own cryptocurrencies.
Know your appetite for investment. "Similar to IRL real estate and retail, you can't just buy land, build a store, celebrate its opening and then leave it," warns Knepfer. "You need to keep refreshing it with new merchandise, displays and experiences to make sure people keep coming back."
That, of course, takes resources. "I recommend exploring options that align with your goals, then determining your appetite for investment," she says.
For example, you can put branded skins in Roblox for a few thousand dollars or less. However, a top-notch virtual store or other major VR presence can require an investment in the millions.
"Building bespoke VR worlds is definitely not the place I'd send companies for the best bang for their buck—not in the beginning," Knepfer says. "A better first investment for most brands is to be additive to existing platforms."
Non-fungible tokens (NFTs) are another matter entirely.
"They're considered part of the 'metaverse' because they're built on blockchain technology," she explains. "NFTs can also be a ticket to different items and experiences in virtual spaces. Just creating an NFT is easy and low-to-no cost, but the costs come in with building the marketing and functionality around it—and continuing to support the community you built out of NFT owners."
3. Partner and participate. There's way too much going on in the metaverse right now to become an expert overnight. Even the pundits and top tech gurus struggle to keep up.
That's why Knepfer suggests researching what brands in your space are already doing and tapping into metaverse professionals who have their ears to the ground.
"The best way to learn about the metaverse is to put yourself out there and participate," she says. "Go into Decentraland and just run around and explore. Create your avatar and get comfortable. You'll find brands that you're familiar with. You'll see exhibits with NFTs on display. Don't be afraid. Nobody will know that it's you!"
Her point: "It's never too early to experiment," says Knepfer. "While your core target consumers might not be in the metaverse today, they will probably be there in a few years—or even months if things continue at this extraordinary pace."
Brian Pittman  is the Dean of Ragan Training a Ragan Communications event producer. For more information about Ragan Training, contact him at brianp@ragan.com.
COMMENT