4 digital content takeaways from BET's 'Super Bowl Gospel Celebration'
The media network's videos racked up millions of views across social media platforms, so take these insights to heart for content that can make your brand's engagement soar.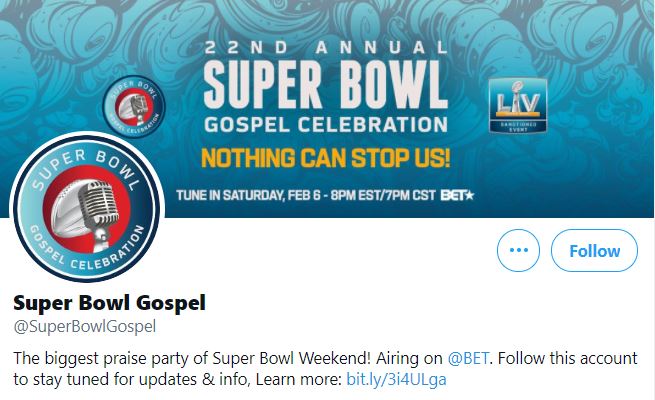 As communicators gear up for Super Bowl LV, many are embracing social media content to boost their efforts.
BET Networks is gearing up for its annual "Super Bowl Gospel Celebration," which is a star-studded "ultimate praise party" on Feb. 6 that features National Football League athletes, artists, content creators, celebrities and more:
The lineup of talent for this year's Super Bowl Gospel Celebration is amazing!
Be sure to tune in this Saturday, Feb. 6 at 8/7 pm CST. Only airing on @BET. #SuperBowlGospel #music #faith #gospel #gospelmusic #BET #SBLV #TampaLV #NothingCanStopUs pic.twitter.com/3xSb9KnhGz

— Super Bowl Gospel (@SuperBowlGospel) February 3, 2021
Whether you're crafting content to accompany the big game or are looking for ways to boost your messages and creative efforts, consider these four takeaways from T.J. Barber, director of social media and strategy for ViacomCBS' BET Networks:
1. Create content that your audience considers valuable.
 For last year's Super Bowl, BET produced a video featuring social media influencer "NotKarltonBanks" quizzing celebrities and athletes on biblical trivia, which racked up a combined 2 million views across social media platforms:
The network also grabbed more than 3 million views with another video promoting its "Soul Train Awards," which featured actresses and co-hosts Tisha Campbell and Tichina Arnold in a "mukbang"—a popular online show format from Korea where hosts eat food as they discuss various topics. The secret to BET's success? Create videos your audience actually cares about.
Barber says:
We've provided our audience with content they love consuming (i.e., Mukbang, comedy, trivia and never-heard-of stories) in [formats] they don't often see on the BET Networks platform. "What the MUK is going on?" was our first ever mukbang attempt and the series "Church Card Revoked" captured on the "Super Bowl Gospel Celebration" red carpet in 2020 allowed us to have fun with faith and spirituality.
When producing videos or other social media content, consider your audience first, then brainstorm ways you can weave your brand's voice and messages into the content and trends your fans love. Remember: It's not all about you or your organization.
"We met the audience where they are instead of asking the audience to join us for the content the creators like to produce," Barber says.
2. Lean into insights, data and trends.
Newsjacking and internet trends can provide many opportunities for social media pros to make a splash and strengthen brand loyalty, but you have to know the latest fads before you can brainstorm ways to infuse your organization's offerings and brand into them.
"Don't be afraid of data," Barber says.
Dig into social listening and brand sentiment across digital media channels or dig into audience segmentation analytics to help you better understand, reach and resonate with your target audience(s).
"Use data to learn more about the audience you have and the audience you hope to obtain," Barber says. "Let the data help you create content to reach your audience and create a community."
Data and insights can help you uncover tastemakers and emerging trends, too. "Work with the originators of trends instead of those who become famous for copying them and not providing credit," Barber says.
You can also use data and insights, along with a history of showing the ROI of your efforts, to position yourself as a trusted expert within your organization. This can help you to redirect requests that won't help you meet your campaign and engagement goals.
3. Select the right partners.
Influencers are an important part of many organizations' content creation efforts—and choosing your content creator cohort shouldn't be a decision you make lightly. Do your research, and look beyond vanity metrics.
"Don't choose an influencer and/or content creator solely based on their numbers," Barber says.
Instead, consider the influencer's online community, engagement, previous content and overall brand—and ask yourself if those items align with your goals and organization's values. Also, map out your ideal partnership and whether that influencer will be able to produce the desired results.
Barber says:
Make sure your content will resonate with their audience. Does the partnership truly make sense? Will they actually engage with the content once posted? Do they actually deliver on the impressions promised?
Once you find the perfect influencer partner, ensure your relationship is mutually beneficial.
Barber says you must pay content creators what they are worth: "Stop trying to get individuals to do the most for the least bit of money."
Barber also cautions against stealing from BIPOC content creators and claiming their work as your own. These actions can quickly destroy trust and brand reputation.
Selecting the right partners extends past your chosen content creator or influencer, too. Look for was you can partner with social media platforms, industry veterans and more—especially as you grapple with engaging consumers throughout the COVID-19 crisis.
Barber says:
Work with your vendor platform partners to know their best practices. If you're spending money in a platform, make sure you have a rep who can work with you. If that isn't possible, gather with your counterparts to share best practices, join groups where your peers are willing to share what they know, and/or read, read, read.
 4. Repurpose and promote your content across social media platforms.
Last year, BET created a 2020 "Super Bowl Gospel Celebration" YouTube playlist, featuring videos from the show and red carpet, but also distributed and repurposed the content for social media efforts that lasted long after Super Bowl weekend.
"The content you create should have a long-lasting shelf life," Barber says, "which may mean adjusting contracts with talent so your content isn't specific to one creative."
With every piece of content you create, consider how you can repurpose and distribute it on other social media platforms and channels. Barber says this could include crafting GIFs or memes from your videos, remembering to tailor each piece of repurposed content to the platform and audience.
BET's Tenor profile and GIPHY channel are treasure troves of GIFs from its series and award shows. Some even include the BET+ branding, such as this GIF from the network's "First Wives Club" series:
BET's stickers also provide fans with its series' characters and moments, in a format meant for Snapchat, Instagram and Facebook stories:
BET is also promoting its "Super Bowl Gospel Celebration" this year with tweets on its Twitter profiles, including @BETGospel, @SuperBowlGospel and a pinned tweet on its main Twitter account:
Join us for a night of faith, family, football, and inspiration with the 22nd Annual NFL Sanctioned #SuperBowlGospel Celebration hosted by @RickeySmiley, Saturday February 6 8/7c! Let's go! pic.twitter.com/ckHCKOKUkL

— BET (@BET) January 30, 2021
A short-form video touting performer Koryn Hawthorne's appearance also appears on BET's Instagram feed, and the hashtag #SuperBowlGospel enables Barber and her team to monitor the conversation across social media platforms:
View this post on Instagram
You can learn more social media and digital content insights from Barber at Ragan's Social Media & Digital Communications Conference, March 16. She will be joined by speakers from Dropbox, Microsoft, UPS, Chip and Joanna Gaine's Magnolia, Dictionary.com, LinkedIn and more. Register by March 2 to save $100.
COMMENT