A sneak preview of the 'Better Call Saul' Guide to Employee Experience
Worried that your employee experience isn't cutting it? S'all good, man –- our guide has you covered.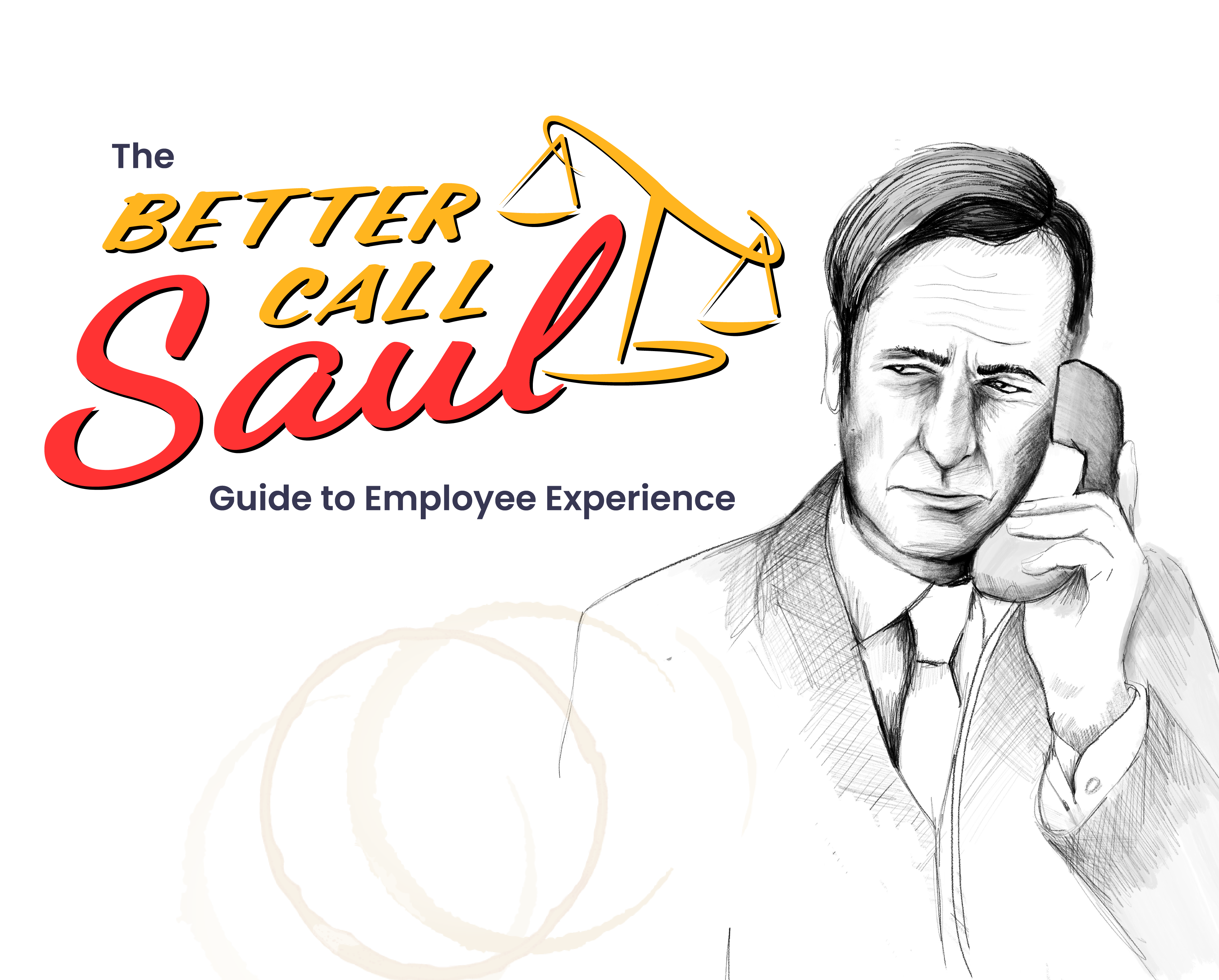 Who'd have thought that a spin-off about the origins of a corrupt lawyer could capture the hearts of so many? We love "Better Call Saul" almost as much as we love talking about employee experience. So we've taken the natural next step -– bringing them together in our most ambitious
handbook yet.
What is employee experience and why should you care? Employee experience is exactly what it says on the tin: it's the impression your company leaves on your employees. It starts as early as when they apply for a job and lasts until the day they leave (and beyond).
The experience your employees have impacts every single part of your company. Productivity, recruitment, retention, customer satisfaction… the list goes on. And it makes all the difference in uncertain times; it's what keeps staff retention steady and prevents quiet quitting. It's what helps you recruit and retain people as passionate and talented as Kim Wexler.
Even Jimmy McGill –- the con artist who tries to leave his unsavory past behind – just wants the respect, trust, and compassion his hard work for the bar exam has earned him. When he doesn't get that, it sends him down the slippery slope toward Saul Goodman, and we all know
how that ends.
Not with Texas Blue Bell chocolate chip ice cream, sadly.
Gene, Cinnabon, and the power of purpose at work. Today's employees want a sense of purpose, and our friends in Albequerque (and Omaha) are no different. We've seen what happens when Jimmy, AKA Saul Goodman, AKA Gene Takavic, dons an apron and clocks into his job at Cinnabon. His spark is gone, and so is his signature look; without the colorful, clashing suits, Gene's heart simply isn't in his work.
With Gene clearly lacking a sense of purpose, it's clear that this new role is not going to end well. But what makes us feel purposeful is subjective, right? Right. However, people don't have to feel like they're inspiring world peace to enjoy their jobs. Sometimes giving an employee
purpose is as simple as empowering them to use their unique talents or help those around them.
On a good day, Gene leads a soulless life of anonymity, only clocking into work to keep up his new identity. On a bad day, he's seconds from being uncovered as the colorful corrupt lawyer from Albuquerque who took pleasure in orchestrating his own brother's terrible downfall and
went on to join Walter White's inner circle. Gene feels no responsibility to Cinnabon, nor is he aligned with the organization's mission and
goals.
Of course, Gene's true calling never involved supplying the people of Omaha with tasty glazed cinnamon rolls. But it's also a failing on Cinnabon for not recognizing the lack of purpose he was feeling in his work and taking action.
Who is to say that a highly engaged and motivated Gene Takavic wouldn't have done everything he could to save his job at Cinnabon, as opposed to focusing on hiding his past? Maybe an employee recognition and engagement platform (like Workvivo) could even have helped Gene Takavic become the best-darned employee Cinnabon Omaha ever saw. With the right tools, Cinnabon could have given Gene easy, immediate access to connect with his colleagues across the US, but also to the 'why' of his work. What difference was he making by showing up every day? How successful was the new flavor his branch came up with, and what impact was it having? What positive reviews were coming in from the customers he served?
Without an employee experience app, Gene and his coworkers will never know the answers, let alone get the chance to celebrate them. And for that, Cinnabon lovers throughout Omaha are the ones who have to suffer.
The learning we take from this chaotic tale is that no matter how talented an employee may be, allowing a misalignment in purpose and goals to fester will almost certainly end in tears. Or in Gene Takavic/Saul Goodman's case – an 86-year prison sentence.
Read the full guide at www.workvivo.com.
COMMENT